Triple Registered Stallions

Top O'The Meadow Honey Rum On The Rocks
(Rum Runner)
ASPC/AMHR/AMHA TRIPLE Registered Bay Shetland Stallion
AMHR 2017 NATIONAL TOP 3 WEANLING STALLION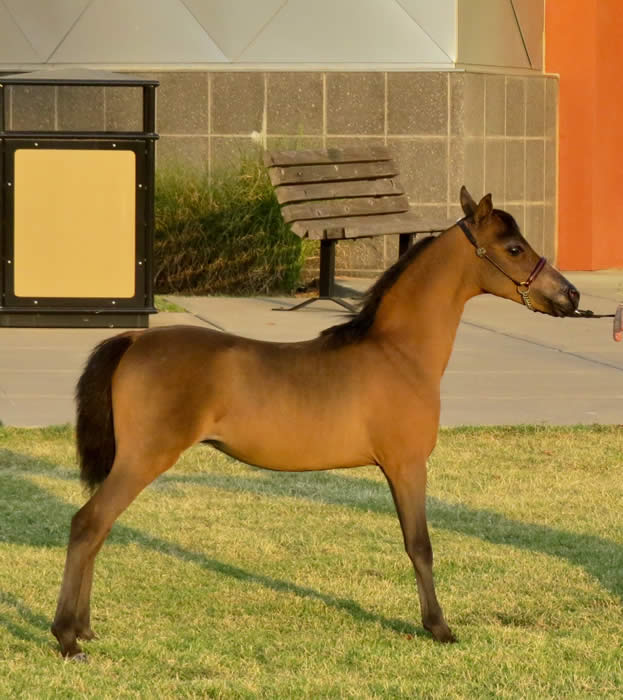 Humhill Barcardi On The Rocks x Timber Ridges Honey Toy
Foaled 4/23/2017
Looking for a AMHA, AMHR, ASPC registered yearling colt?
RumRunner placed 3rd in a competitive 28" and under class at the 2017 AMHR National.
He measured under 28" at national and is a red bay.
He is a sweet colt with a pretty refined head and a long sleek neck.
RumRunner also likes to show.
Would make a nice cross to your AMHA mares for that touch of Shetland.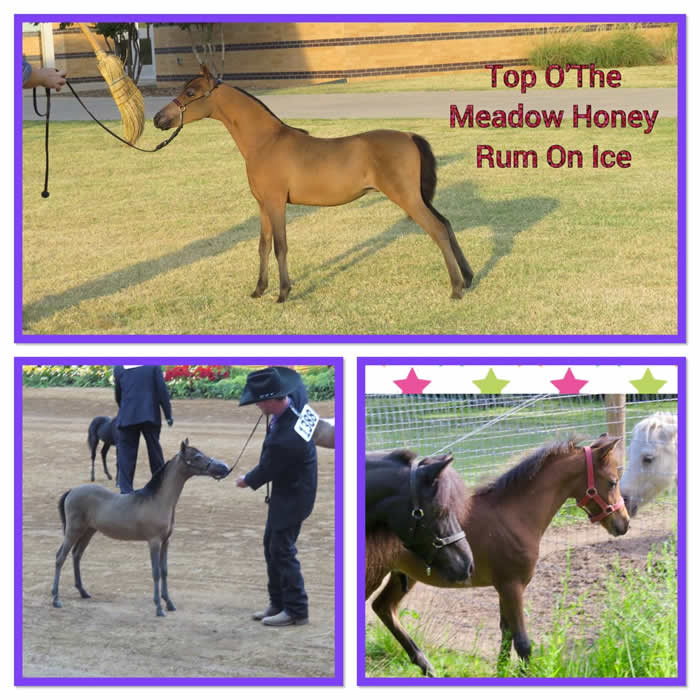 He is futurity nominated. His sire Humhills Barcardi On The Rocks is a two time National Champion.
RumRunner is Looking for a show home. Also special pricing for a gelding contract.
How about a Triple Registered stallion prospect?
Top O'The Meadow Honey Rum On The Rocks (AMHR/ASPC) aka Top O The Meadow Honey Rum on Ice (AMHA) is a 2017 AMHA/AMHR/ASPC Colt with a bright future.
He's already been successfully shown -
- In fact Rum Runner placed 3rd at 2017 AMHR Nationals in the competitive Weanling Stallion 28" and under class.
Rum Runner is a rare find!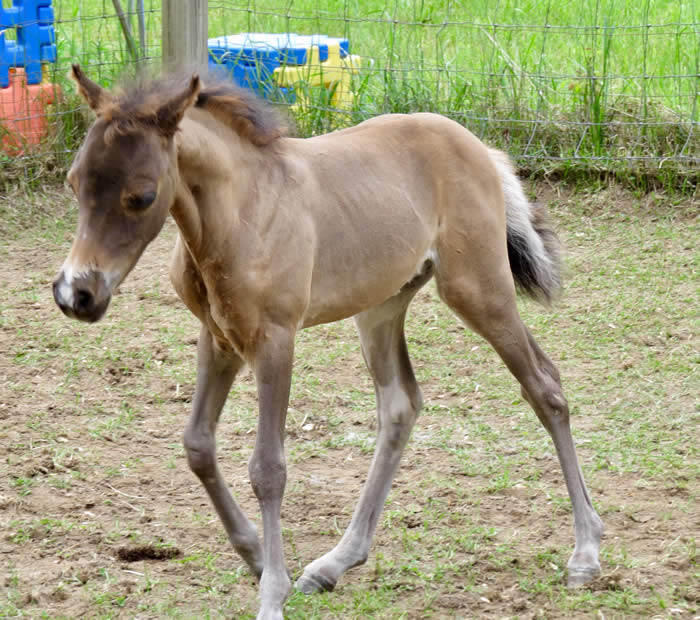 His sire is National Grand Champion under Stallion Humhill Barcardi On The Rocks -
- a stallion who boasts is heavy Arenosa and Rock E breeding.
This beautiful colt has a great show attitude, and the looks to go with it.
He is smooth bodied, Long archy neck and a beautiful expression.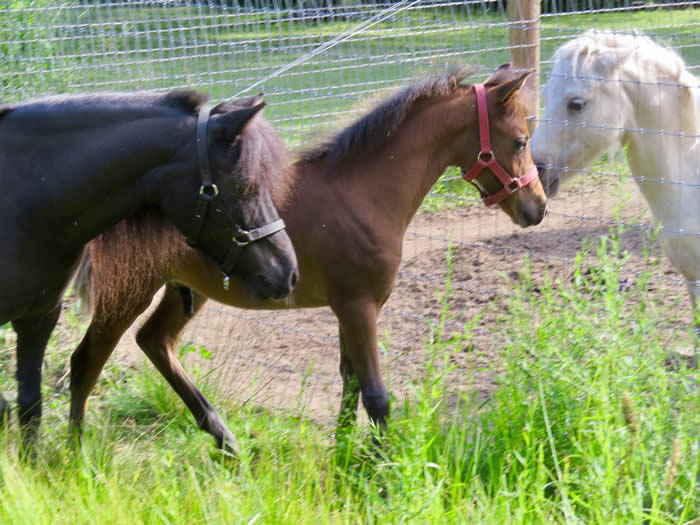 He is that desirable FULL Shetland elegance in a small package.
Runner is getting prettier and prettier and should be a show stopper next year as a yearling.
Rum Runner is visually a dun (dorsal stripe, primative leg markings and all!)
He is registered as a dun in the ABRA but his DNA states he is in fact BAY.
He measured 28" at AMHR Nationals in September and should mature safely under 34"
Asking Price is $3,500.00

TOP O' THE MEADOW FARM
Dianne Connolly
Hancock, New Hampshire
llandian3@yahoo.com
www.topothemeadow.com
(603) 525-3250
Located in Hancock, New Hampshire
Trailer Heading to KY from Mass soon! Please inquire!
(1217) Ad updated 2/12/2018
Macallan AN (Pending)
(Mac)
ASPC/AMHR/AMHA Triple Registered 2017 Black Stallion
SIRE IS A MULTI AMHA GRAND CHAMPION PRODUCER
*** COMES WITH A $3,500.00 SHOW TRAINING CREDIT! ***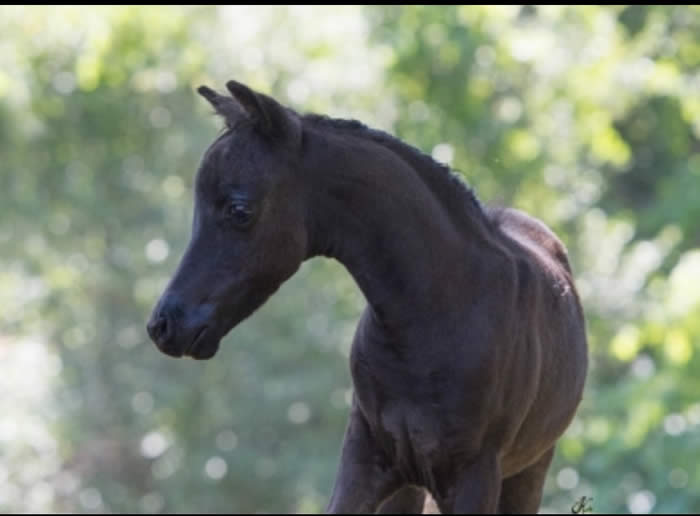 Establo Martini On The Rocks x Walking Ds Muy Bonita Of Arenosa
Foaled 2017
Here's what happens when you combine ARENOSA with a 2x National GRAND CHAMPION Triple Registered Shetland stallion!
This colt is EVERYTHING you could ask for in a future herd sire -
in an "under 34" at maturity" package!
He's stretchy and showy with a pretty face, tiny muzzle and well set, ultra long neck.
Of course with his pedigree, that's no surprise.
Mac's sire is the Triple Registered sensation, ESTABLO MARTINI ON THE ROCKS.
He produced this year's AMHR National GRAND CHAMPION Stallion, Over.
THIS is the type of colt that you can SHOW and win with then use him to produce champions for your farm.
I'd buy him in a heartbeat of I had the funds!
DO NOT MISS THIS ONE!
++++ BONUS - THIS COLT COMES WITH A GENEROUS $3,500.00 TRAINING CREDIT IF PLACED WITH A TOP, APPROVED TRAINER FOR 2018! ++++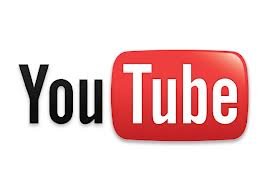 PLEASE INQUIRE FOR PRICE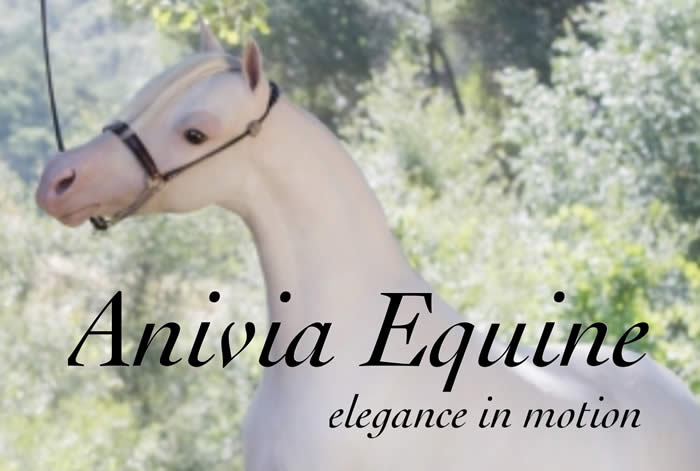 ANIVIA EQUINE
Stacy Sachen
www.anivia.com
sachen_s@yahoo.com
(773) 251-1445
Located in California
(1117) Ad updated 10/24/2017
Double K's Maddox The Kid
(Maddox)
ASPC/AMHR/AMHA Triple Registered 2015 33" Grey Shetland Stallion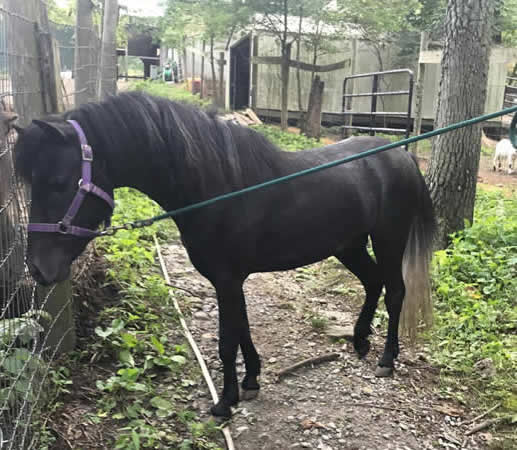 Double Ks Cassanova Kid x FRH Fancy Shanna
Foaled 4/01/2015
Triple Registered and Triple Aweome!
SO much to love about this 2 year old stallion!
He's like a diamond in the pasture -
Current owner has NO time for him and now time for nice pro pics so YOU can benefit from his extremely affordable price!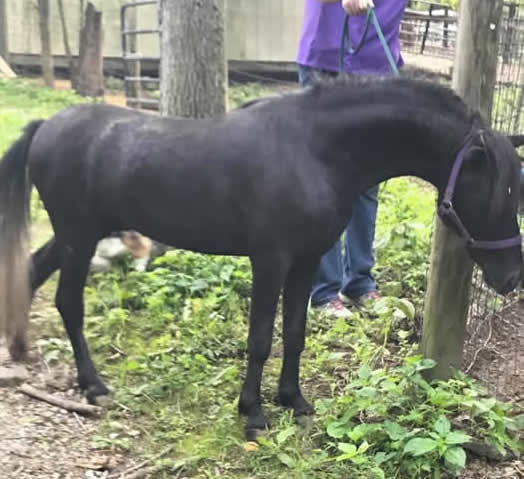 Maddox has an impressive pedigree of top SHETLAND lines.
His sire is a son of WILLOWLAWN'S FOXXY KID (HOF) who is DOUBLE BRED on KID LEE.
Maddox's dam has been a top producing mare for Limestone Miniatures.
This young stallion is totally raw and fresh -
- imagine what he will be like clipped and fit up! He's SO stretchy and elegant with tons of leg and a mile long neck.
Maddox should mature at 34" as he measures an easy 33" as a two year old.
$4,500.00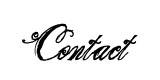 Cage Carlsen
Skyfall Minis
skyfallminis@gmail.com
(385) 224-5799
Located in Gallatin, Tennessee
(917) Ad uddated 8/16/2017
Rakvik JoCo's Triple Motion
(Trip)
ASPC/AMHR/AMHA Triple Registered 33" Shetland Chestnut Stallion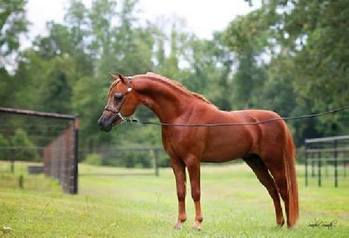 Rayvik/ D&S Jocomotion x D&S O'Mama
Foaled 6/01/2015
THIS JUST MIGHT BE THE MOST EXCITING OFFERING ON OUR WEBSITE AT THE MOMENT!
Rayvik JOCO's Triple Motion is a son of AMHR National Grand Champion Stallion D&S Jocomotion.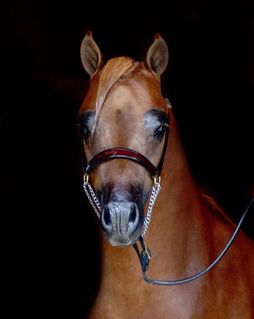 Jocomotion is also the sire to 2015 World Grand Champion Senior Stallion Rayvik Primetime of D&S owned and shown by Jonathan Whitt of JSW Farm.
His dam is the beautiful mare, D&S O'Mama.
She is a direct daughter of BHR Chocolate Sundae (HOF).
Trip is ready to follow in the foot steps of his sire, grand sire, and siblings and win at the national level and produce offspring that will do the same.
OFFERED AT $7,500.00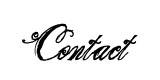 OFFERED BY OUR CORPORATE PARTNER RAYVIK MINIATURES & SHETLANDS

Vickie Tobin or Kyle Edsell
viskie@rayvik.com
(618) 578-4769
Located in Judsonia Arkansas
(817) Ad updated 7/13/2017
TWF Toms Armani Code Red
ASPC/AMHR/AMHA Triple Registered Sorrel Pinto SHOW Colt
MEASURES 30.75" AS A FULL YEARLING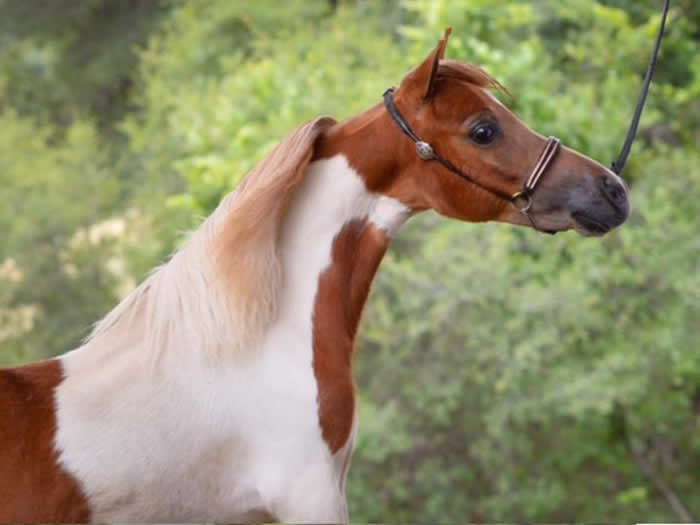 D&S Peeping Tom x Wisereria El Monterry Arenosa Julia
Foaled 5/17/2016
The person who buys this colt better add more shelves to thier trophy cabinet!
This colt really is the total package!
His pedigree is unparalleled - boasting the best of Establo/Arenosa SHETLAND lines combined with World Grand Champion producer, Peeping Tom.
Tom is also a multiple AMHR National Champion in Halter and Pleasure Driving & he's also the AMHR Horse of the Year, Under.
He's a 33" QUADRUPLE Registered stallion who is as sweet as he is beautiful.
"Tom" offspring are winning WORLDWIDE - and producing elegant, Shetland type Miniatures that will mature under 34".
On this colt's maternal side, "Julia's" offspring are setting the show ring on fire.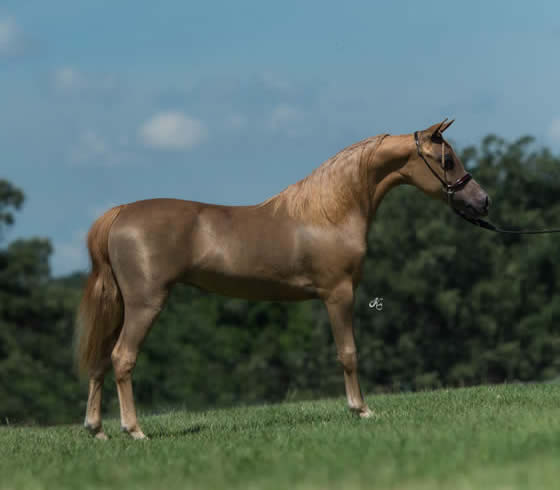 Her 2014 daughter, TWFs Rosa Pepita, was shown to many wins in 2015 with Alliance Training Center (her photo at left)
Julia's 2015 colt was awarded GRAND CHAMPION Junior Stallion at the AMHA Western Regional Championship Show this summer.
TWFS Bolero Del Fuego is pictured above, right.
This young stallion is a lot like his winning siblings -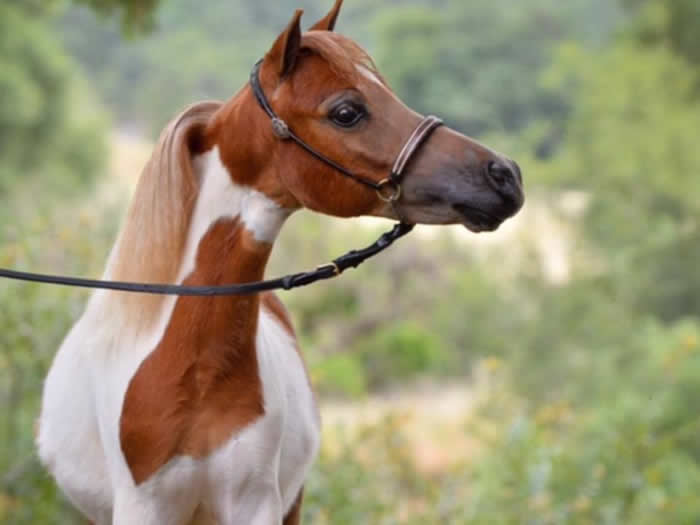 - he's got TONS of show with expressive ears and a wonderful, willing attitude.
PRICED AT $4,000.00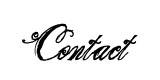 Thornwood Farms
Patty Diehl
phone 937-974-8261
Thornwood24@gmail.com
Currently located in California
(1016) Ad updated 6/15/2017
Riverdances Im Sexy And I Know It
(Sexy)
ASPC/AMHR/AMHA Triple Registered Smoky Black 2017 Stallion
ARENOSA SHETLAND BRED - TRIPLE REGISTERED SHOW PROSPECT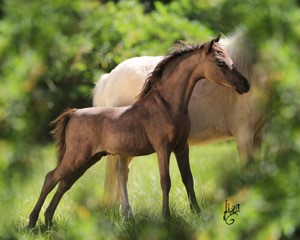 Grahams Little Hoss x Buckeye WCF Golden Nugget
Foaled 1/22/2017
On track to mature around 33"
(sire is 32" and dam is 34")
His sire's pedigree boasts the BEST of Arenosa and doubles up on KID LEE lines.
Sexy's dam is also Arenosa bred as well.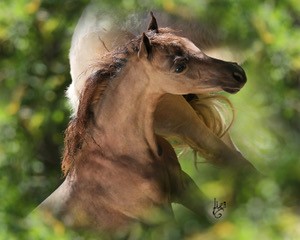 Golden Nugget is an AMHR National Champion producing mare.
We LOVE how this cross turned out!
Sexy is as showy and stretchy as they come!
He has tons of "snort & blow" and should command attention in the show arena.
We would love to see "Sexy" in a serious show home!
PRICED AT $4,500.00
- LET'S TALK!
CONSIDERATION GIVEN TO A SERIOUS SHOW HOME AND/OR HORSE PLACED WITH TRAINER!

Riverdances Triple Wicked
(Trip)
ASPC/AMHR/AMHA Triple Registered Black 2015 Stallion
ARENOSA SHETLAND BRED - 32.25" as a 2 Year Old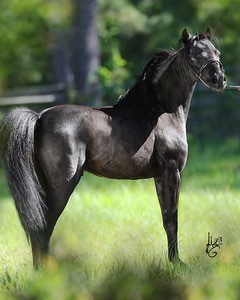 Grahams Little Hoss x (D&S) Buckeye WCF Tequilla On The Rocks
Foaled 4/12/ 2015
So tiny and so correct!
This young stallion is the whole package -
His pedigree boasts the BEST of Arenosa and doubles up on KID LEE lines.
Check out his sire's pedigree below!
Better yet - Trip's dam is a direct daughter to World SUPREME CHAMPION sire, D&S JoCo Lil Admiral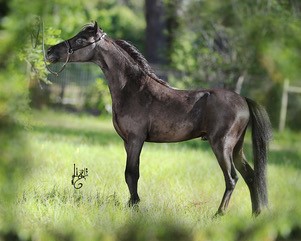 "Trip" is a perfect example of what a Triple Registered horse should look like.
He's the ideal combination of Shetland elegance and refinement, coupled with classical Miniatures characteristics -
A tiny head, huge eyes and tight, tippy ears.
PRICED AT $4,500.00
LET'S TALK!
CONSIDERATION GIVEN TO A SERIOUS SHOW HOME AND/OR HORSE PLACED WITH TRAINER!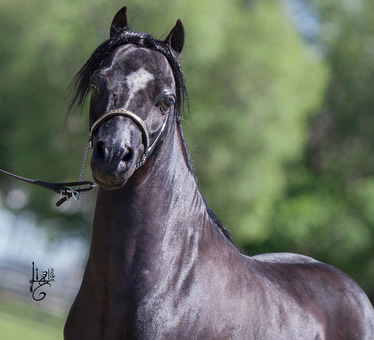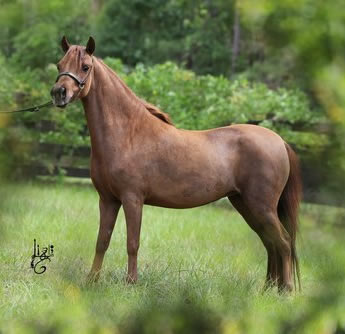 SIRE: TRIPLE REGISTERED DAM: NATIONAL CHAMPION PRODUCER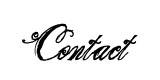 Sue Brooks
Riverdance Miniatures
(386) 688-2261
sbrooks@pclink.com
OFFERED BY OUR CORPORATE SPONSOR RIVERDANCE MINIATURES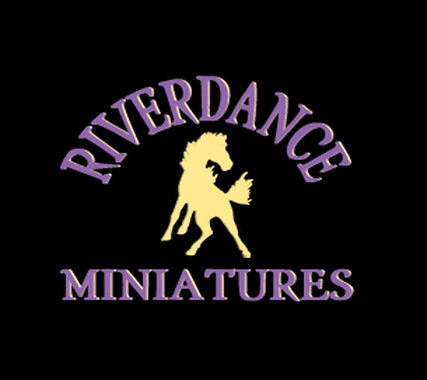 Welcome to Riverdance Miniatures!
Located on 21 green acres in northern Florida, Riverdance is home to multiple Triple registered stallions and mares.
Our breeding stock consists of Shetlands and Shetland blend Miniatures. We strive to produce Arabian type Miniatures by crossing the BEST of both lines.
We have incorporated the pedigrees of BOLERO, Ragtime, Admiral and "Rules"
Visit our website to view our horses and learn more about our breeding program.
Located in Florida
(617) Ad updated 11/22/2017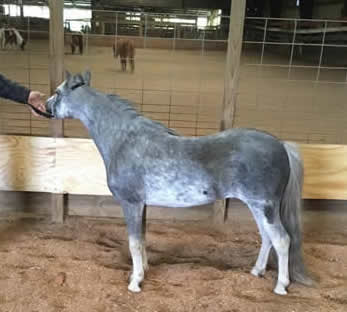 Owsley Fork Grey Gambler (HOF)
(Gambler)
ASPC/AMHR/AMHA/PtHA Registered 34" Gray Sabino Pinto Stallion
Multi National Champion & National Champion Producer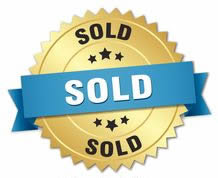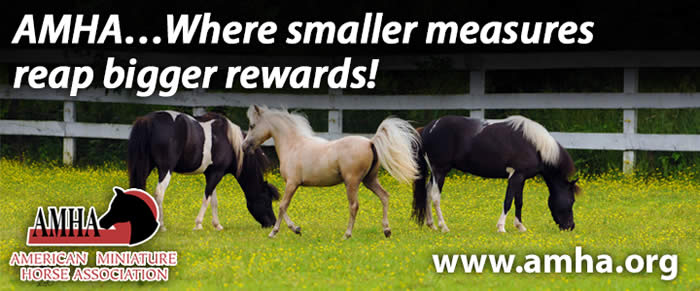 SOLD FROM THIS PAGE
LM Country Loco
Amore Toms Supreme Majesty
LM Big & Rich (September 2016)
Owsley Fork Grey Gambler (August 2016)
Have a TRIPLE REGISTERED stallion to sell?
Email karen@minihorsesales.com to have him featured on this page!