Shetland Stallions for Sale

ASPC (Shetland) STALLIONS (ALL AGES) as well as ASPC/AMHR Stallions listed on this page!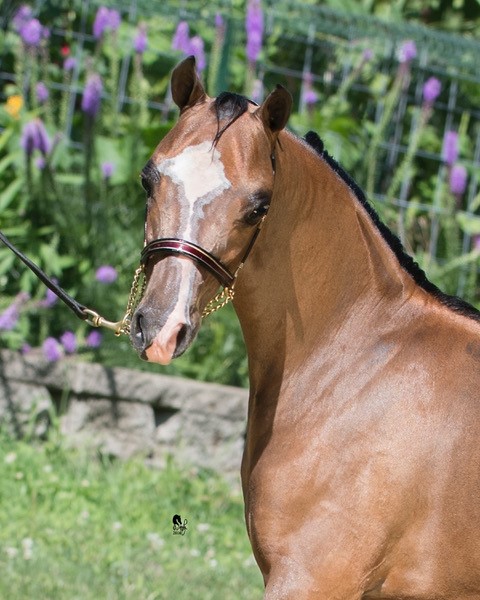 Rhapsody's Inherit The Wind
ASPC/AMHR 2016 Bay Stallion
ASPC CONGRESS CHAMPION AS A WEANLING!
Rhapsody's Fashion Heir x Rhapsody's Sweet Lolita
SOLD
TF Hershey's For Pleasure
(For Pleasure)
ASPC 2016 Bay Grand Champion SHOW Stallion
ALREADY A MULTI OVERALL GRAND CHAMPION IN 2017!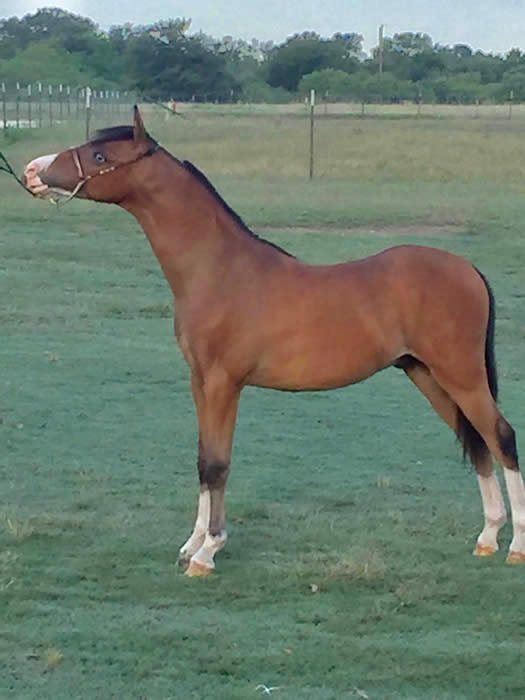 B&L Bar G's Rock "E" Hershey Bar x B&L's Rock "E" Rainy Doll
Foaled 6/04/2016
Check out this stallion!
His sire is the famous B&L Bar G's Rock "E" Hershey Bar, Congress Grand Champion, Hall of Fame Stallion, Pony of the Year and Congress Grand Champion Sire.
His dam is the Rock "E" bred mare B&L'S ROCK "E" RAINY DOLL.
"Doll" is by the legendary Bar G's Rock "E", Hall Of Fame Stallion, 4 x Superior Sire, Congress Grand Champion Sire, National Grand Champion Sire and Hall Of Fame Sire.
FOR PLEASURE has a bright future!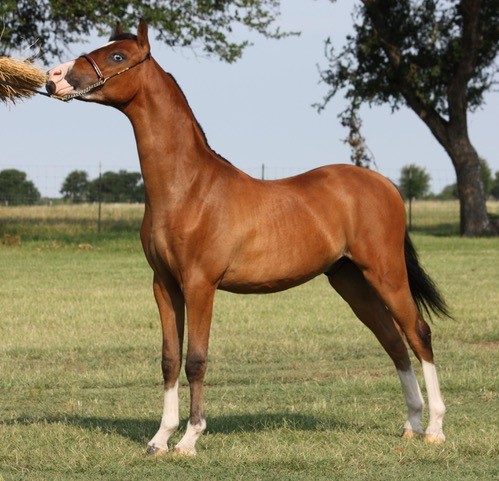 At his first show in April 2017 he was awarded 2x Overall GRAND CHAMPION Stallion.
Don't miss this special young stallion with Rock "E" blood on both sides and a world-class pedigree.
This colt is entered at Shetland Congress soon and his price will go up accordingly.
ACCEPTING OFFERS ON THIS FINE COLT.
INQUIRE TO karen@minihorsesales.com
Horses are owned by TF Miniatures and located at Marystown Miniatures
OFFERED AS PART OF THE TF MINIATURES FINAL DISPERSAL EVENT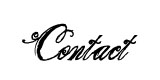 AGENT: KAREN RUDOLPH
(617) 320-3313 (text)
karen@minihorsesales.com
Located in Lutz, Texas at Marystown Miniatures
(717) Ad updated 6/22/2017
H-Lynnes Earth Wind And Fire
(Ernie)
ASPC/AMHR 2915 FOUNDATION Certified Bay Pinto Shetland Stallion
2016 NEW YORK STATE FAIR CHAMPION STALLION
~ 6 judges for him so far in 2017 ....... 3 GRANDS and 3 RESERVE GRANDS Foundation stallion!
Ernie will line at Congress and is proudly being offered for sale !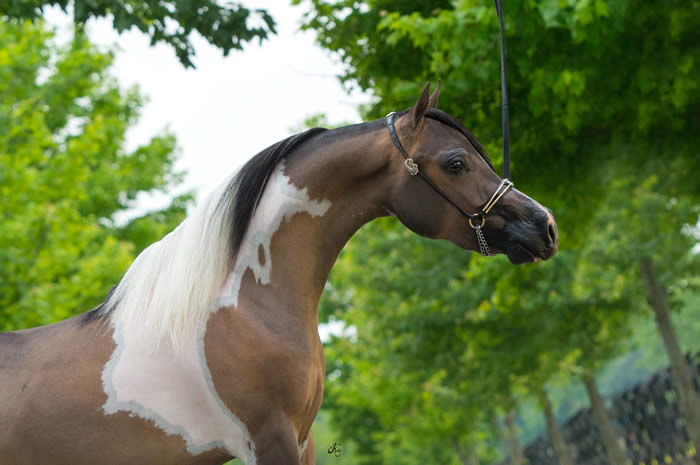 Lymricks Prospero x McCarthy's Dance Hall Girl
Foaled 4/11/2015
WILL MATURE AROUND 35"
This exciting young prospect is FIT & winning in 2017!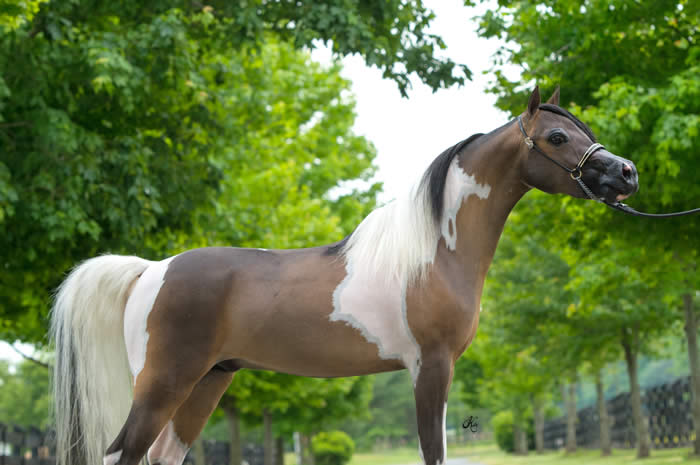 "Ernie" is currently in the expert hands of Danielle Hill (DHTC)
and he's heading to Shetland Congress soon!
We'd love to see Ernie STAY in training and will offer a substantial price reduction to ensure that can happen.
Buy him NOW and let them announce YOUR name as his lucky owner!
Ernie should mature around 35" yet he gives the impression of a much taller Shetland.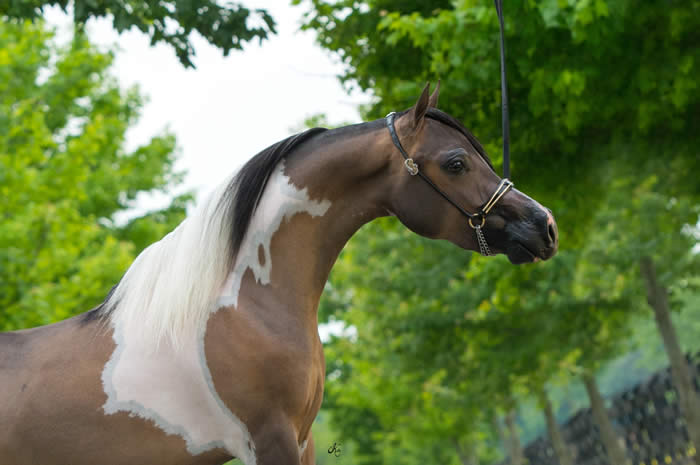 He's elegant and sleek with a tight, trim barrel and a mile long neck.
Ernie has a beautiful face & huge eyes.
Of course his good looks are no accident -
- his pedigree is peppered with HOF (Hall of Fame) horses and Grand Champion winners.
And Ernie is following in the hoofprints of his ancestors.
His HOF dam is a paternal sibling to the epic MCCARTHYS JESSE JAMES OF RIVENBURGH.
He's ALL boy and has a a "look at me" attitude that will draw attention in the show ring.
PRICED AT $3,500.00
BUT LET'S TALK!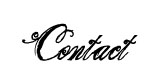 Holly Knopp
(570) 998-2976
htroutrun@aol.com
Located in Delaware at Danielle Hill Training Center
(617) Ad updated 6/20/2017
Finchwoods In Perfect Stetson Style
(Stetson)
ASPC/AMHR 37" Black Shetland CHAMPION Stallion
2015 AMHR RESERVE NATIONAL CHAMPION STALLION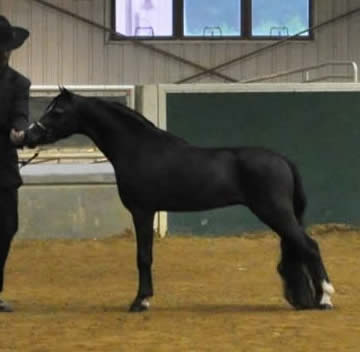 WA-FULL UNIQUE STYLE x BUCKEYE WCF CHRISTY STEEL
Foaled 6/16/2014
I'm a HUGE proponent for gelding all stallions -
- a great stallion makes a fantastic gelding.
But THIS boy is so fantastic it would almost be a shame to geld him.
He has a stellar pedigree, a Champion show record AND he's beautiful.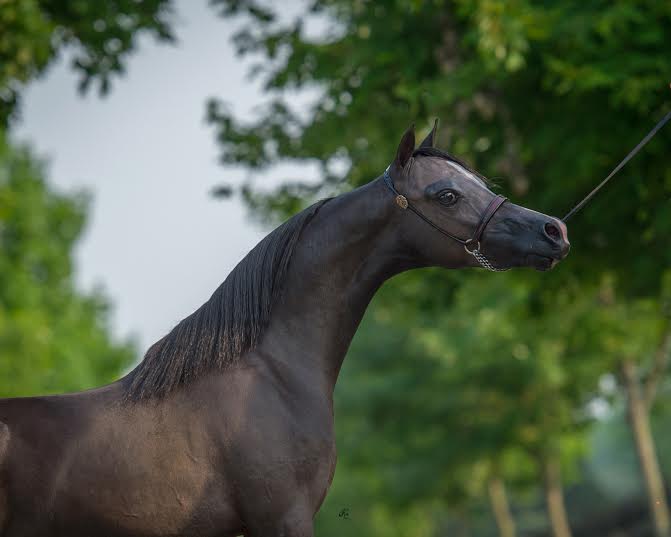 So YOU decide.
His "show ring photo was taken April 2017, where he won AMHR CHAMPION MODEL STALLION in Williamston NC with Matt Johnson.
Stetson could be your future herd sire or the most amazing gelding prospect out there.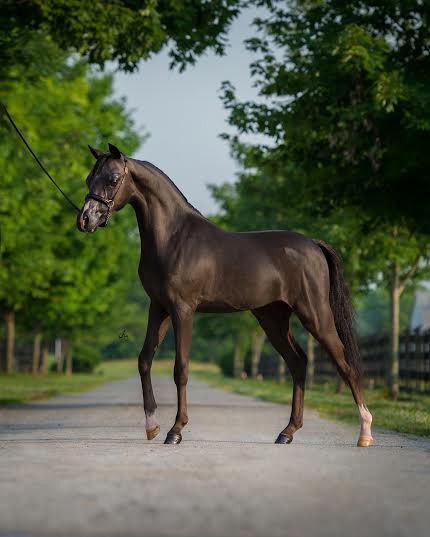 His sire is the Grand Champion producing stallion "LEGEND" -
- who stamps his get with ultra long necks, clean, straight legs and super show attitudes.
Stetson's maternal side is loaded with Hall of Fame (HOF) horses with top MICHIGAN bloodlines.
Stetson is a VERY good boy.
He's calm and easy to get along with.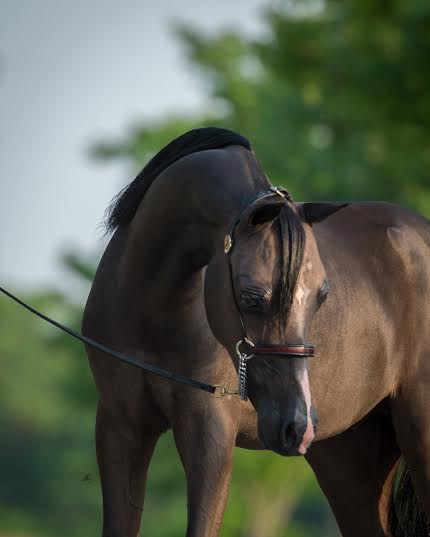 Stetson is fully dropped and ready to breed.
He successfully bred his first mare in 2016.
You can see Stetson at the FLETCHER, North Caroloina show in June -
- connect with his owner and see him for yourself!
He's the real deal!
OFFERED AT $3,800.00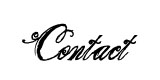 Laura Beavers
(336) 301-3776
beaverspottery@gmail.com
Located in Staley, North Carolina
(617) Ad updated 5/25/2017
Sunswept's King's Blazing Knyght
(Blaze)
ASPC/AMHR 2011 36" Liver Chestnut Pinto PROVEN Stallion
PROFESSIONALLY TRAINED TO DRIVE BY MIKE MCCABE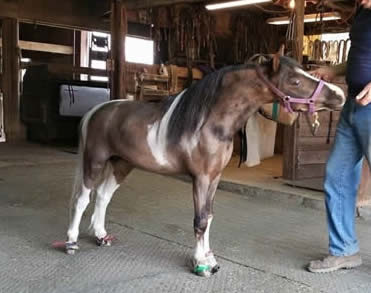 Graham's King Of Kings x Graham's Sunswept's Destiny
Foaled 4/05/2011
This Kid Lee/Arenosa cross is amazing!
Blaze is a typey, correct stallion, blending the best of both bloodlines.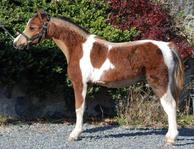 His beautiful dam (pictured below, at right) is a paternal sibling to World SUPREME CHAMPION stallion, GRAHAM'S RAGTIME.
Her pedigree is loaded with HOF (Hall of Fame) Champions.
Blaze goes back to the great RED ROCK KID LEE 2x on his sire's side.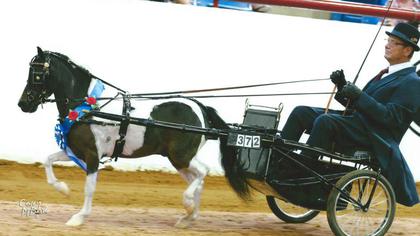 His sire, pictured at left, is a World Champion Driving Horse.
Blaze has been professionally trained to drive by the well respected Mike McCabe (see his driving video below)
This talented young stallion will excel as a fancy driving horse and is pretty enough to halter.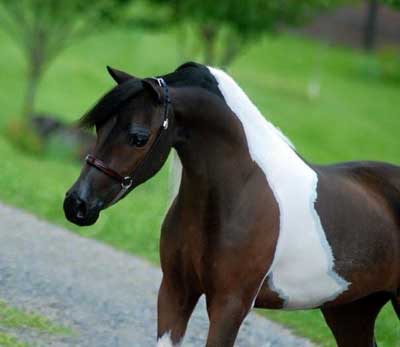 He was bred once and produced a show quality palomino colt.
Blaze is such a RICH dark liver chestnut he almost appears bay.
(photo above, right is a yearling photos and he has darkend with age)
He has just the right amount of "chrome" to really stand out as a driving horse.
Blaze's talents are being wasted since his owners have too many young driving prospects - no time to devote to this boy!
Add some KID LEE & ARENOSA Shetland to your breeding program - AND have a super fun driving horse at the same time.
OFFERED AT $4,000.00
POSSIBLE LEASE TO THE RIGHT SITUATION
See BLAZE move here!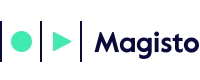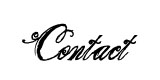 Mary Susany
(330) 398-8575
msews2@yahoo.com
Located in Edinburg, Pennsylvannia
(617) Ad updated 6/3/2017
Lilac Hills Trot On The Dark Side
(Harley)
ASPC/AMHR 2015 Dark Bay SHOW Stallion
Should mature 35" +/-
AMHR RESERVE NATIONAL CHAMPION IN 2016!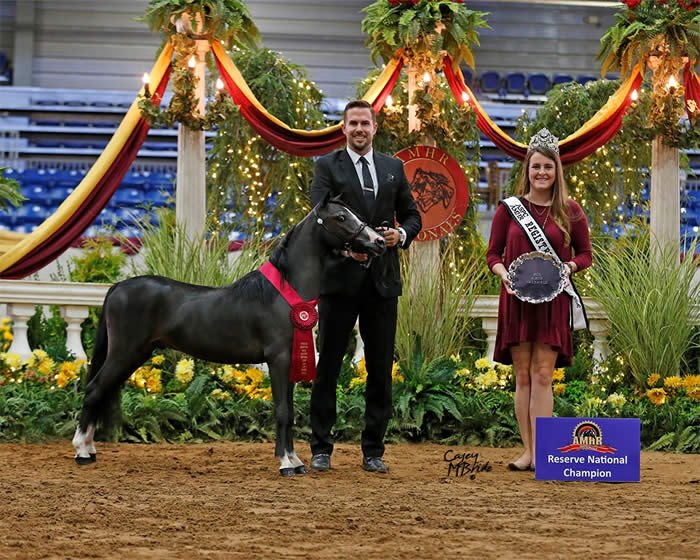 Ericas Tiny Trotter Of WallStreet x McCarthys Bit O Hershey
Foaled 5/12/2015
2016 AMHR RESERVE NATIONAL CHAMPION YEARLING STALLION, 32"-34"
2016 AMHR NATIONAL FUTURITY TOP 5 OUT OF 49 BEAUTIFUL YEARLING STALLIONS!
He is priced well below market value as his owner is currently unemployed and needs income to pay household expenses.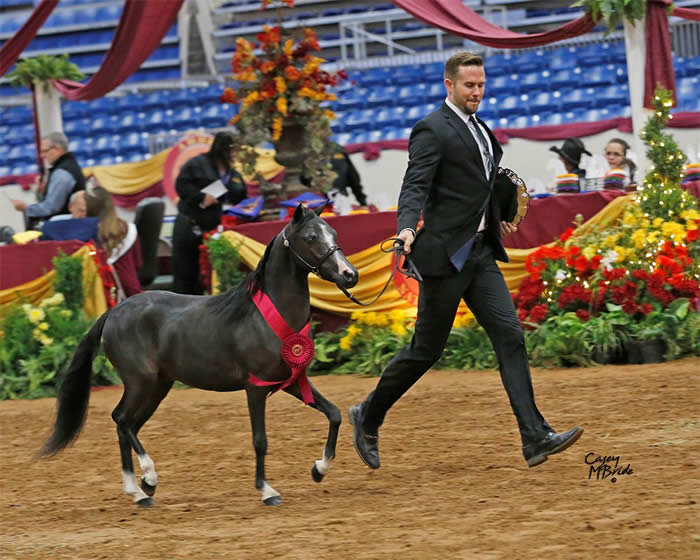 Harley is already a Reserve NATIONAL Champion with a pedigree full of National and Congress Champions!
This young stallion could be your fast train to the winner's circle!
Harley has been professionally trained by Wingate Training Center.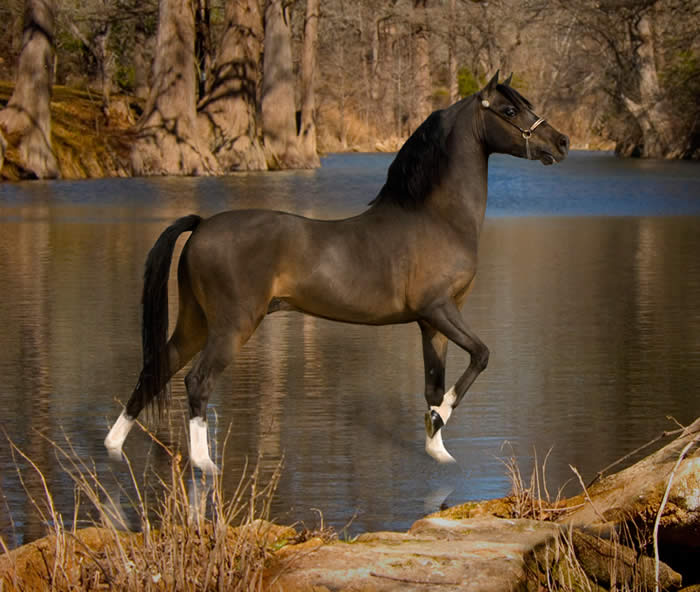 He's a dream to show!
This stallion carries the bloodlines that have produced winners dominating the show ring today.
Harley is Rock "E" bred, top and bottom.
His sire is National Grand Champion producer and a multi-titled show horse himself.
Harley's dam is a direct daughter of B & L'S BAR-G'S ROCK "E" HERSHEY BAR (HOF) (pictured above, at left) - a Rock "E" son.
No doubt, Harley is the spitting image of his famous Rock "E" bred grandsire with just a bit more added CHROME!
Regretfully selling due to financial difficulties. Priced well below fair market value.
OFFERED AT $2,500.00
Carrie Waldron
SILVER W MINIATURES
(979) 292-4383
clwaldron11@gmail.com
Located in Washington, Texas
(117) Ad updated 5/3/2017
Buckeye Kakos King Of Hearts
(Lover Boy)
ASPC/AMHR 38" 2013 Silver Smokey Black PROVEN Stallion
50% ARENOSA BRED STALLION BY LEELAND ROYAL GRAND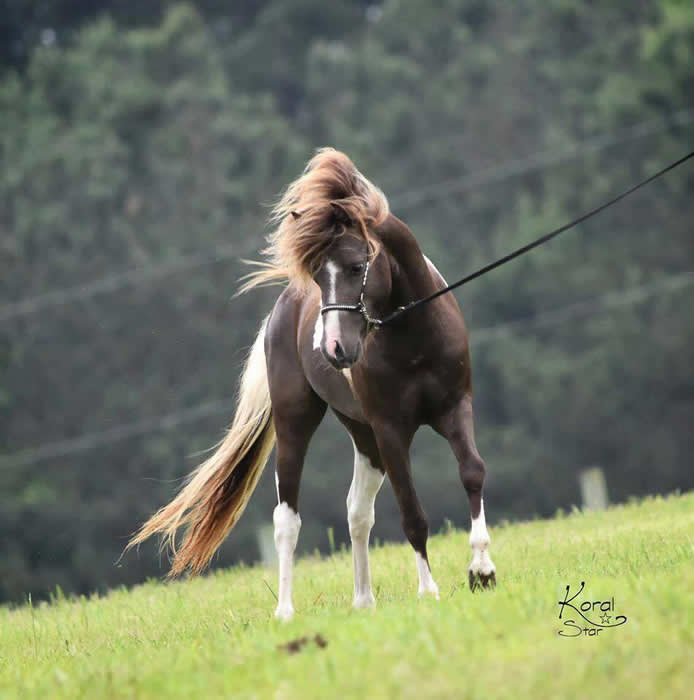 Buckeye WCF Leeland Royal Grand HOF x Delicia Of Hells Canyon
Foaled 5/26/2013
++ OUTSTANDING PEDIGREE ++
++ IMPRESSIVE SHOW RECORD ++
++ CORRECT CONFORMATION ++
Seriously AWESOME opportunity to acquire a stunning young stallion with a genetically POWER PACKED pedigree!
"Lover Boy" is by Grand Champion producing stallion, Leeland Royal Grand (now overseas).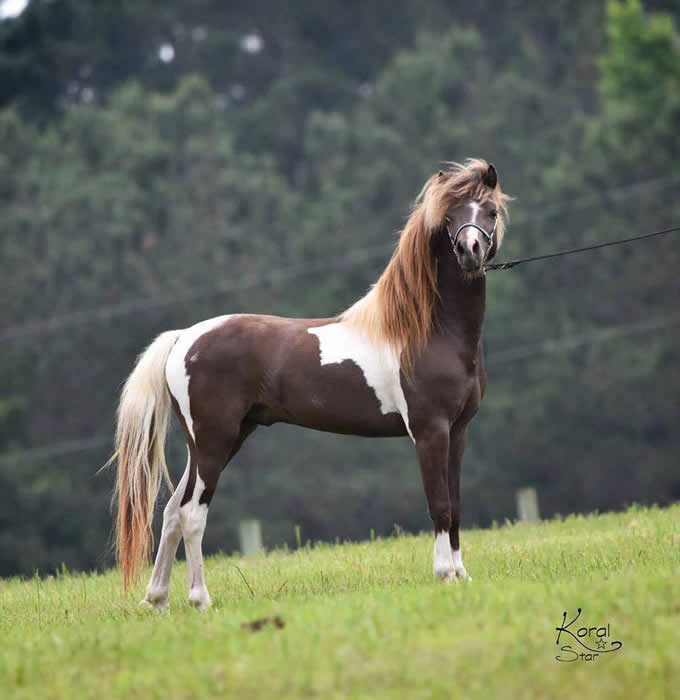 "Lover Boy's" dam is a 00% ARENOSA bred Shetland mare.
She is sired by BRISTOL PEPITO -
- best known for his multi World and National GRAND CHAMPION producing son, Oak Bay Salsamio.
The ARENOSA lines are famous fo exotic heads and refined, elegant bodies.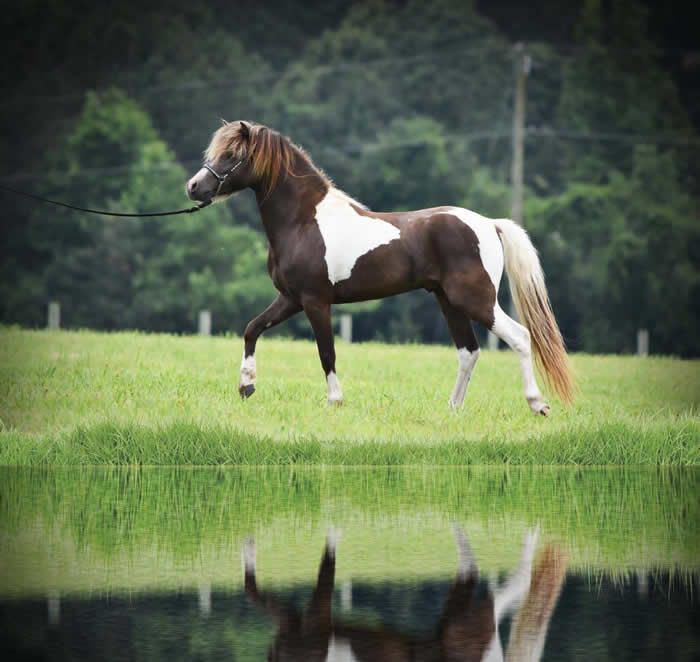 This cross of Shetland to the smooth, Arabian type bloodlines carried by the Hall of Fame stallion, ROYAL GRAND is proving to be a win-win in the show ring and the breeding shed.
Lover Boy is the most unique silver smokey black pinto .
He's ultra upright with a long, hooky neck and the classical ARENOSA head.
He's already a proven stallion.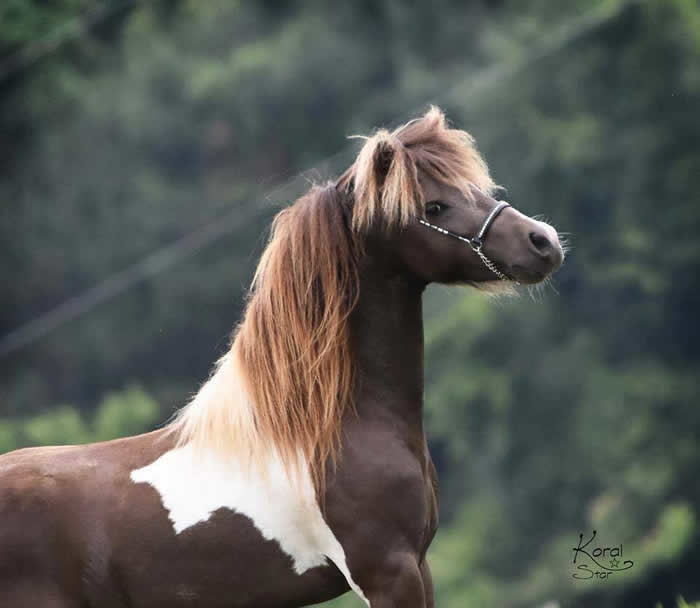 In fact, he's only for sale because Kakos has decided to retain one of Lover Boy's foals as a future breeding stallion.
This stallion could easily head back into the show ring. He was AMHR National Top Three as a yearling and has only got better as he matured.
Lover Boy should become a valued addition to any top breeding program.
$4,000.00
or Best Offer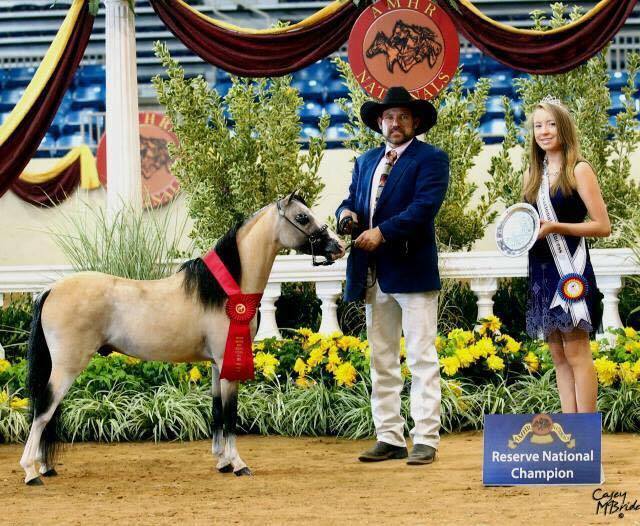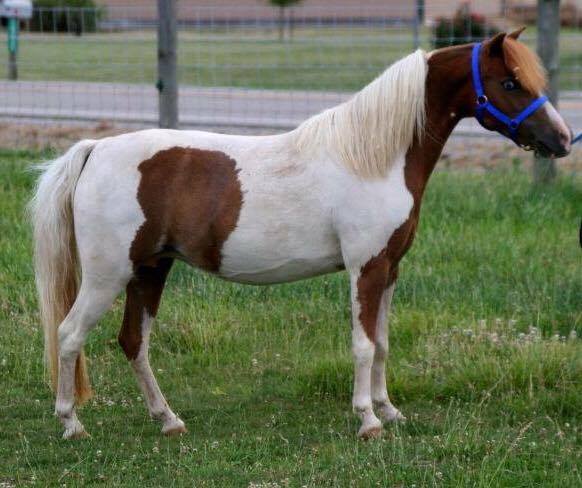 Sire: Leeland Royal Grand Dam: 100% Arenosa bred mare

Koral Star Wilner
(919) 247-0732
koralstar@yahoo.com
Located in Selma, North Carolina
(417) Ad updated 4/3/2017
Ozark Hawks Southern Comfert
(Whiskey)
ASPC/AMHR 2014 34" Shetland Black Pinto CHAMPION Stallion
Son of TSL's Ravens Nighthawk
GRAND CHAMPION SENIOR STALLION IN 2017!
TSL's Ravens Nighthawk x Kitty's Chili Lou S.R.
Foaled 4/24/2014
MEASURED 34" AS A SENIOR STALLION IN 2017!
SIRED BY ONE OF THE HOTTEST STALLIONS IN THE INDUSTRY!

And this may very well be the HOTTEST listing on our website -
- a direct son of Ravens NIGHTHAWK (owned by Jill Comfert) - National GRAND CHAMPION producing stallion!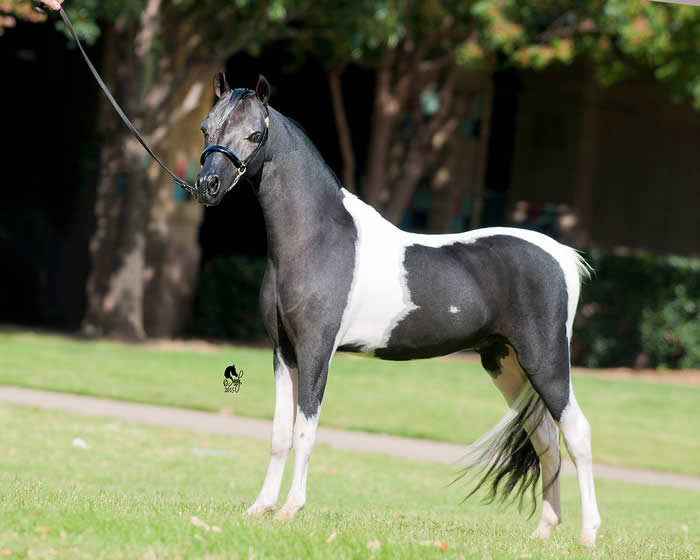 He is a small Shetland that will bring the extreme modern look of the American Shetland to your AMHA mares.
He will cross beautifully with your taller AMHR/ASPC mares.
Whiskey is extremely refined with an incredible head and long hooky neck, tight barrel and long fine legs.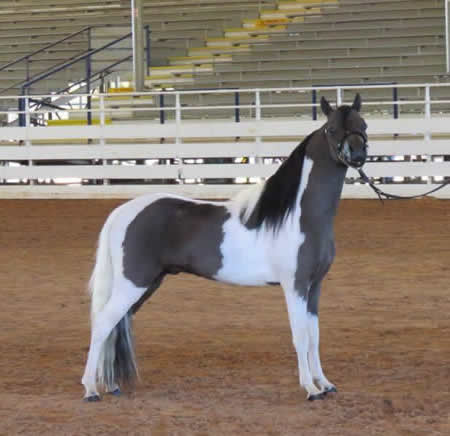 Whiskey is a 2016 & 2017 Grand Champion.
This two year old stallion measured under 34" at AMHR Nationals where he placed 5th in the Futurity class.
He placed third in the large Open Junior Stallion 34" and Under class with some beautiful stallions.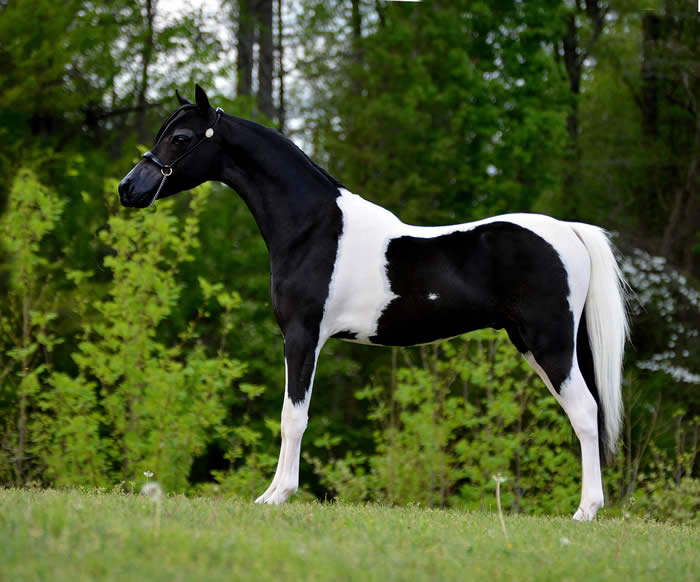 Talk about the TOTAL package! This stallion has the PEDIGREE and ATTITUDE to win at the highest level -
- PLUS he has picture perfect conformation and the ideal 50/50 Pinto markings.
Whiskey is in training and shown by James Walsh of RHA Training.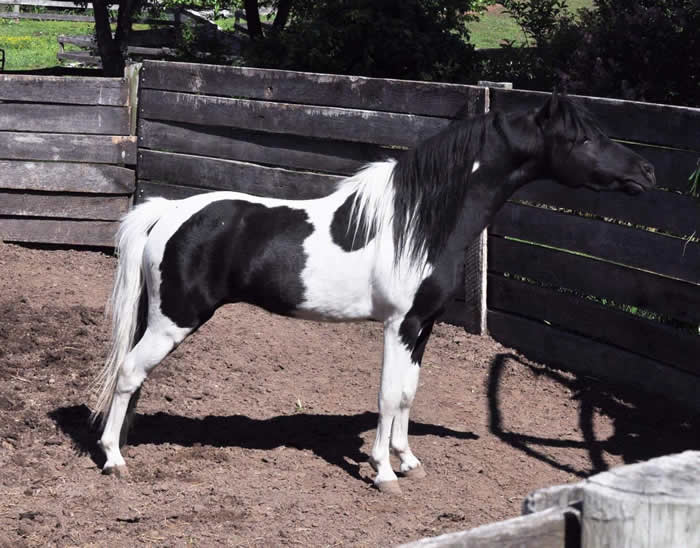 Whiskey has his Coggins and health certificate ready to go to your farm NOW
He is qualified for this years Nationals.
We can help with transportation to some local shows or to the National.
He is futurity sustained and was third place in Futurity last year $$$.
The last photo is of Whiskey just taken out of his stall and put into the round pen, all natural photo.
His beautiful sire is a producer of winning foals, TSL's Ravens Nighthawk.
Show him at the National this year than take him home to your mares.
He is located in Maryland in the show barn of James Walsh, RHA Training Stable.
Contact me privately or James Walsh. Have some flashy pintos foals next year !
Asking $3,500.00
Reasonable offers considered
REDUCED 6/7/2017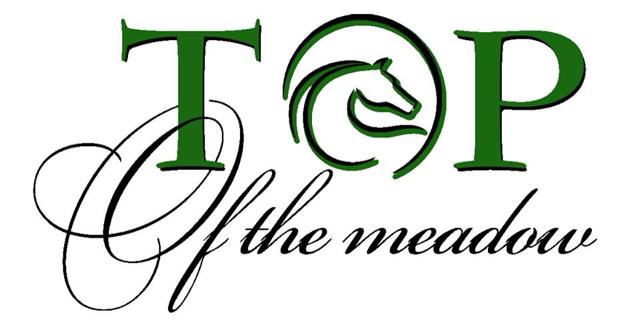 Contact:
Dianne Connolly
Top O' The Meadow Farm
Llandian3@yahoo.com
603-525-3250
Located in Maryland
(1116) Ad updated 6/7//2017
Woodland Acres Kings Majestic
(Majestic)
ASPC/AMHR Shetland 2014 37" Bay SHOW Stallion
2x AMHR NATIONAL TOP TEN STALLION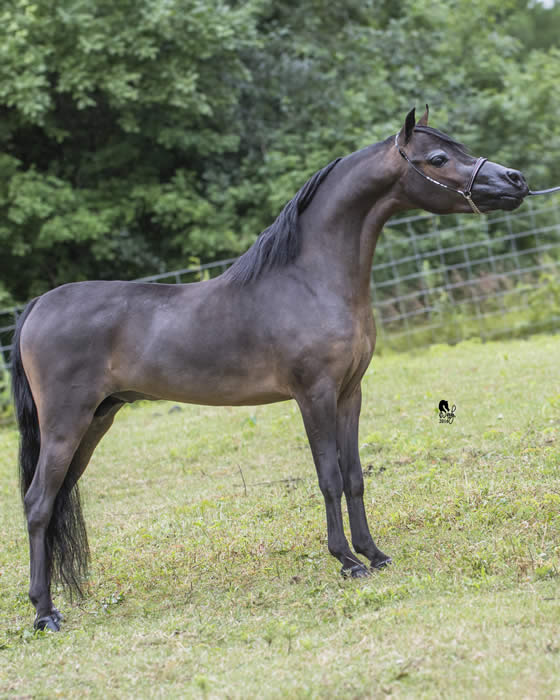 McCarthys Return Of The King x Amore Rose
Foaled 5/23/2014
Like his younger brother & sister (also for sale on our website) "Majestic" is the culmination of years of selective breeding to produce elegant and athletic Miniature Shetlands.
Shetlands THIS nice do not happen by chance.
Woodland Acres has invested many years and dollars into producing the type of horse that is winning in the show ring today.
They are not only beautiful, but extreme athletes as well.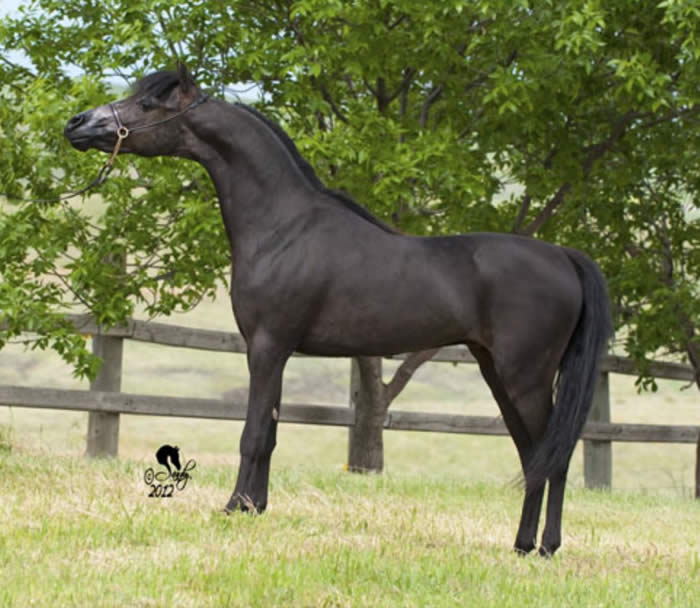 Majestic's sire (pictured at left) is an incredible Shetland stallion by MCCARTHY'S HEIR TO THE THRONE.
"Return Of The King"'s pedigree includes WINKS SHOWDEO KID II (x2) and the great H.P. JERICHO'S NEW IMAGE (HOF).
Majestic's dam is a lovely mare from the prestigious AMORE breeding program.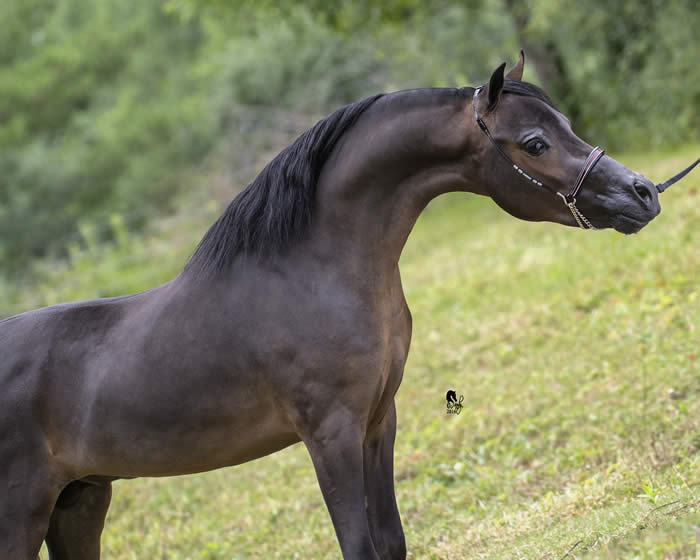 Continue his show carrer or use him as a herd sire to improve your Shetland/AMHR breeding program.
Majestic is fully descended and ready for his own band of mares.
PRICED TO SELL AT $3,500.00
Jeanne Krug
WOODLAND ACRES MINIATURES
(715) 560-0117
starlitestarbrite66@yahoo.com
Located in Medford, Wisconsin
(117) Ad updated 12/22/2016
OFFERED BY OUR 2016/2017 CORPORATE SPONSOR STRASSLEIN CLASSIC SHETLANDS & MINIATURE HORSES
Vermilyea Farms Rock E Road
(Chip)

ASPC 2014 Classic Shetland Bay Fancy SHOW Stallion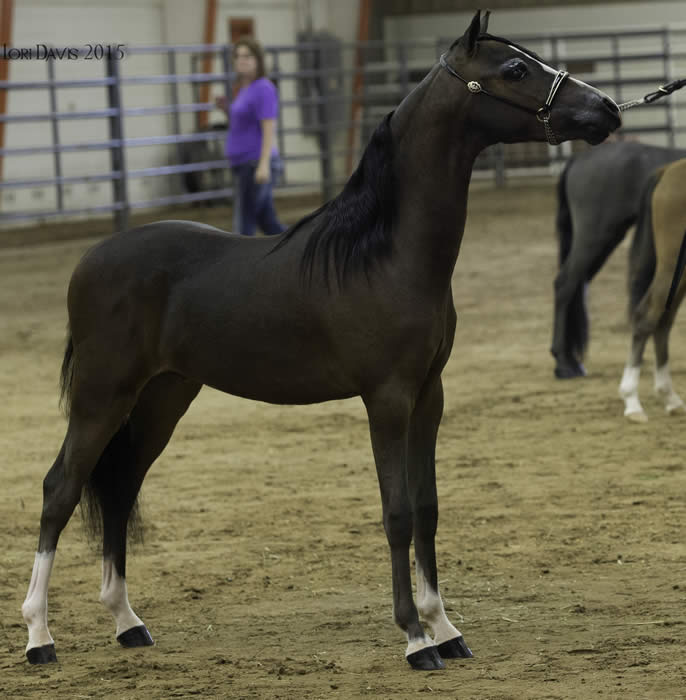 B&L Bar-G's Rock "E" Hershey Bar x Wall Street Rock E Jitters
Foaled 6/02/2014
Vermilyea Farm Hersheys Rock E Road is the 2015 ASPC Congress Reserve GRAND Champion Classic Stallion.
He was beaten by a half brother also sired by B & L Bar-G's Rock "E" Hershey Bar.
Chip has a dynamite pedigree for those seeking the winning Rock E bloodlines.
Hershey Bar needs no introduction as a Congress Grand Champion and Congress Grand Champion producer.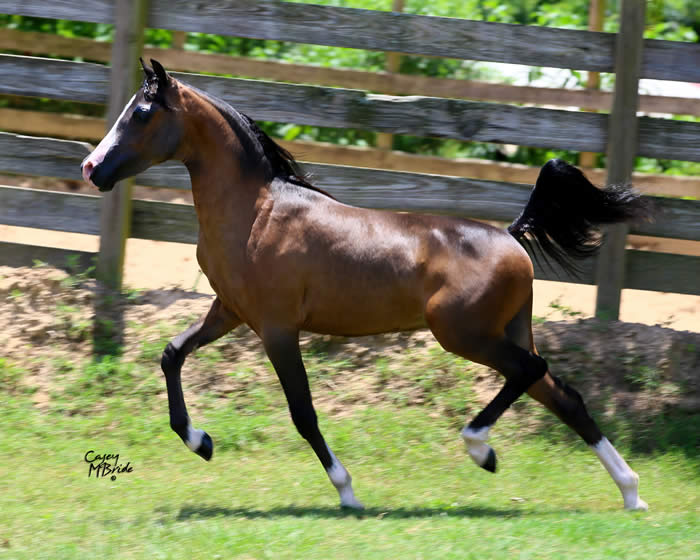 Rock E Road's dam, Jitters, is a full sister to several Congress Grand Champions herself.
Chip has demonstrated that he too is a Champion, earning the title of Congress Reserve GRAND Champion Classic Stallion at the 2015 Congress.
Chip is a gentleman, easy to handle, and a delight to show.
He is ready to finish his HOF as a Senior Stallion, breed his own group of mares, or would also make a knock-out youth/amateur gelding.
Priced at $4,000
Discount available on a Gelding Contract.


STASSLEIN CLASSIC SHETLANDS & MINIATURE HORSES
Lisa Strassle
Ponca City, Oklahoma
lisa@strasslein.com
(832)693-1765
The daughter of a cattle rancher, Lisa has been working with animals all her life..
She began horseback riding at 2 years old and fell in love with quarter horses.
This led to barrel racing and other rodeo events.
Lisa began her life in the show ring in 3rd grade. Throughout the years she has shown Quarter Horses, Appaloosas,
Hunter/Jumpers, Classic Shetlands, Miniatures, Rabbits, Pigs, and Market Beef Steers. If you stand still for too long, she might slap a halter on you and drag you in the arena!
Lisa wanted to learn all she could about training and showing.
n 1989, she began working for and studying under one of her idols, legendary Miniature Horse Trainer, Portia Sue Kalinka.
It was through Portia that Lisa was first introduced to the Miniature Horse.
She spent money she earned from Market Beef Steers to obtain her first mini to call her very own...a Bay Pinto Gelding named Martin's Doctor Z. Together,
Lisa and Martin's Doctor Z claimed the 1989 AMHA National Reserve Championship in both Youth Pleasure Driving and Youth Roadster their first year together.
Lisa went on to win several more National Championships while working under Portia and, later, on her own.
Lisa was also one of two recipients of the first AMHA Youth Scholarships in 1994.
Following the completion of her degree from the Colorado School of Mines, Lisa went to work for a large energy company which eventually led her to Ponca City, Oklahoma where she bought her first little ranch so that she could reenter the Miniature Horse world that she missed so badly.

Located in Oklahoma

(1216) Ad updated 11/21/2016
Ten Ls Tigers Night Tide
(Night Tide)
ASPC/AMHR 2013 37" Black Shetland Stallion
AMHR National Top Ten as a Weanling & Yearling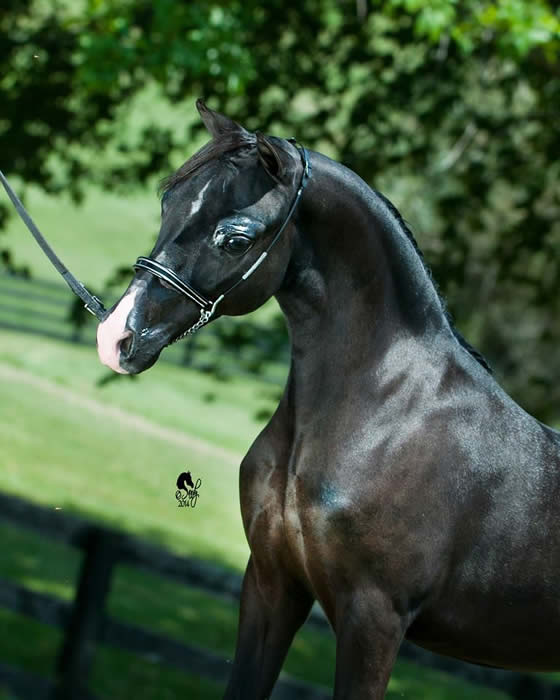 Ten Ls Eye Of The Tiger x Grahams Calender Girl
Foaled 5/20/2013
Ultra refined and elegant -
- this unreal stallion is a perfect blending Arenosa bloodlines.
Night Tide has Arenosa on both sides of his pedigree.
He has the signature chiseled head, so prevalent for those lines.
Night Tide is smooth bodied and balanced with a table top topline and high set tail.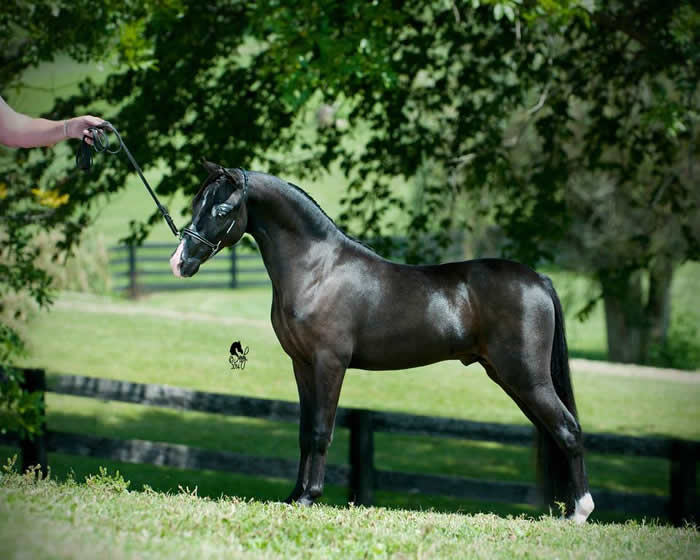 His neck is set well on his shouders and his throatlatch is naturally trim.
Night Tide is a multiple AMHR National Top Ten, winning as a weanling and as a yearling.
He could easily continue in the show ring but we feel his true value will be realized as a herd sire.
Own "The Black Stallion" in Miniature!
Priced fairly at $3,500.00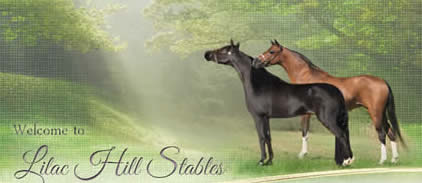 Located in Central Minnesota, Lilac Hill Stables is owned and operated by John and Jenny Christensen.
We are home to a handful of AMHR/ASPC ponies. We have been drawn to the amazing beauty and talent these ponies offer. We love producing a small number of foals each year and watching them grow up. It is not our goal to be as big as possible but to produce a handful of the best quality we can produce. We strive to produce foals that are of the highest quality and that are competitive on a National level. We both work full time jobs and see our ponies as a hobby. We love meeting new people at the shows and the network of friends we have made around the world is amazing and so special! We are very excited about the future of AMHR/ASPC ponies. Not only are they intelligent and fast learners, but one can not help but to be drawn to their style and grace.
We strive for pretty headed ponies and they have long necks, long legs and beautiful movement.
We see lots of opportunity for growth among ASPC registered ponies and look forward to being a part of that.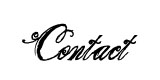 Lilac Hill Stables
Jenny Christianson
320-583-0029
jenny@wildbluecoop.com
Buffalo Lake, Minnesota
Located in Minnesota
(616) Ad updated 6/14/2016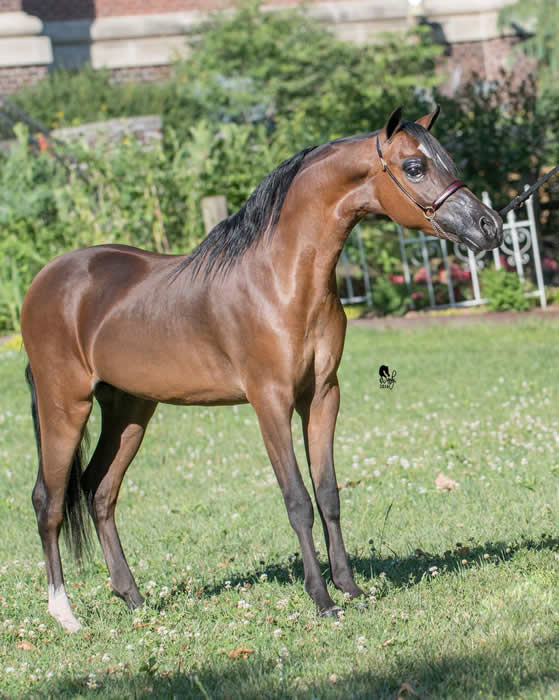 +++ NOW A 2016 AMHR NATIONAL CHAMPION STALLION! +++
Justified AN
ASPC/AMHR 2015 Bay SHOW Stallion
ASPC CONGRESS RES CHAMPION WEANLING STALLION
+++ 2016 ASPC CONGRESS CHAMPION +++
SOLD!
SOLD from this page
Wetrock Race With A Passion (December 2016) Congrats to Kara Barker - Ontario
Strasslein Red E To Rumble (October 2016)
Pheasant Run - Mr, Tea (June 2016)
Platinum Image Roadmaster (May 2016)
Vermilyea Farms Dice's Black Jack (April 2016)
Ozark Mtn's Currys Treasure (March 2016)
Ozark Mtn's Rock E Charlie May (February 2016)
Erica's Pharaoh's Limitless (August 2015)
Cross Country Conquistador (June 2015)
Aalin Watch Me Wauk Away (February 2015)
MJM Wicked Pistol (October 2014)
JC's Gametime (October 2014)
Graham's Raise The Bar (Summer 2014)
SMHC I'm Just Fabulous (March 2014) Heading overseas!
Terry Jean's Fort Knox (February 2014)
Jubilations Lighting (November 2013)
Michigan's Never Out Of Style (September 2013)
Graham's Little Stylemaster (August 2013)
MJMs I'm Super Slick (August 2013)
Establo Capitan
Caldwell's Photo Finish
Shneighs Phantom Of The Opera
Caldwells Cruzin On In