Triple Registered Miniature Horse Mares For Sale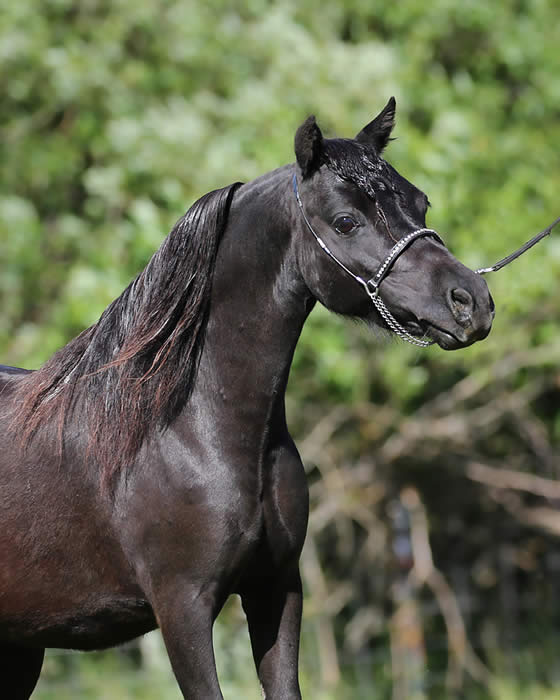 Sundance LB Magical Delite
(Magic)
ASPC/AMHR/AMHA Triple Registered 34" BLACK Shetland Mare
FRH Fancy Wizard x Sundance LB Trully Delighted
Foaled 5/31/2010
This true under 34" mare has just been hardshipped into AMHA.
We're excited about what she has to offer as a broodmare for a breeding program for AMHA sized Miniatures.
Her pedigree speaks volumes on her quality and value.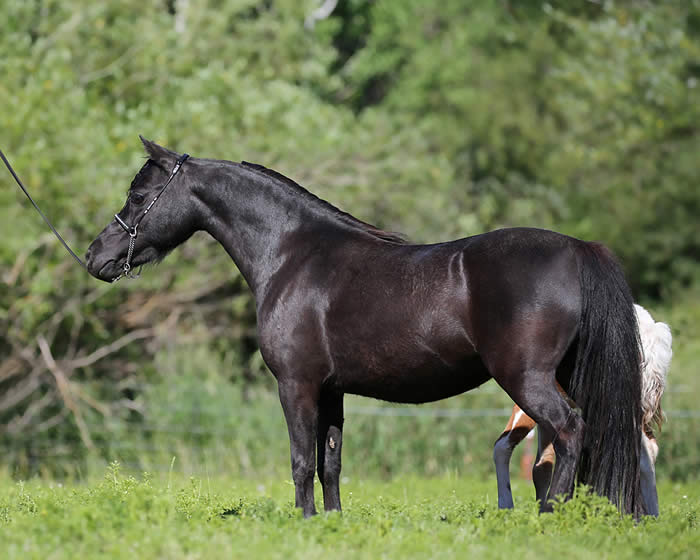 She has ARENOSA and the best of DON OBERLAENDER breeding behind her.
Her price is includes an all-expense paid trip to AMHR Nationals in September with entries paid in the BROODMARE class as well as Solid Color class.
She'll be in Tulsa early enough for her new owner to show her in AMATEUR if they choose.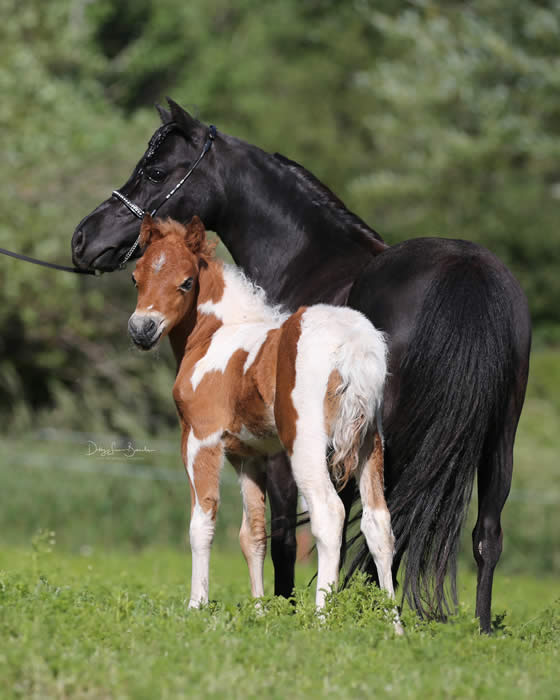 Magic has already shown in Solid Color class in 2018 but has not shown in the broodmare class as her foal was too young.
She will continue to show in both classes until Nationals.
This mare does need an experienced handler but is being worked with daily.
She's hard to catch now but should be so much better by Nationals with her constant handling and training.
Magic has a gorgeous head with big poppy eyes and a lovely, well set neck that she uses like a true show horse.
PRICED AT $8,000.00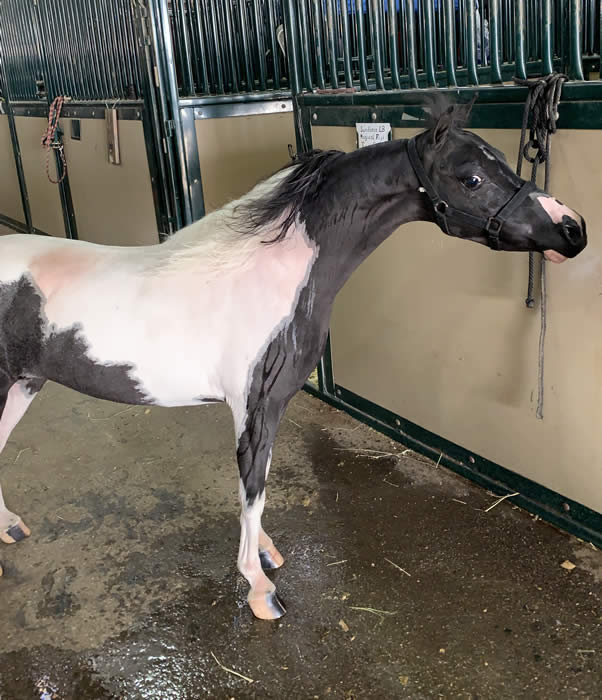 Sundance LB Magical Fiji
(Fiji)
ASPC/AMHR/AMHA Triple Registered 2011 34" Black Pinto Mare
3x AMHR 2019 AMHR NATIONALS TOP TEN CHAMPION
GOING SUPREME IN 2019!
FRH Fancy Wizard x Sundance LB Jakarta
Foaled 6/10/2011
Fiji is a very refined young mare with a long elegant neck that doesn't require sweating.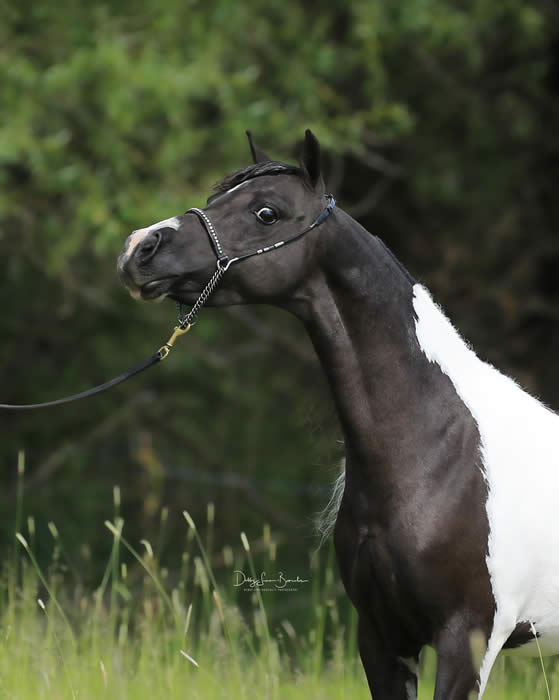 Fiji is friendly & willing to learn.
She will still need an experienced handler for a little longer as she has only been a broodmare.
Fiji was shown successfully in 2019.
Fiji won SUPREME Champion multiple times.
At the 2019 AMHR Nationals won 3x TOP TEN -
and remember that was as a 3x PROVEN BROODMARE!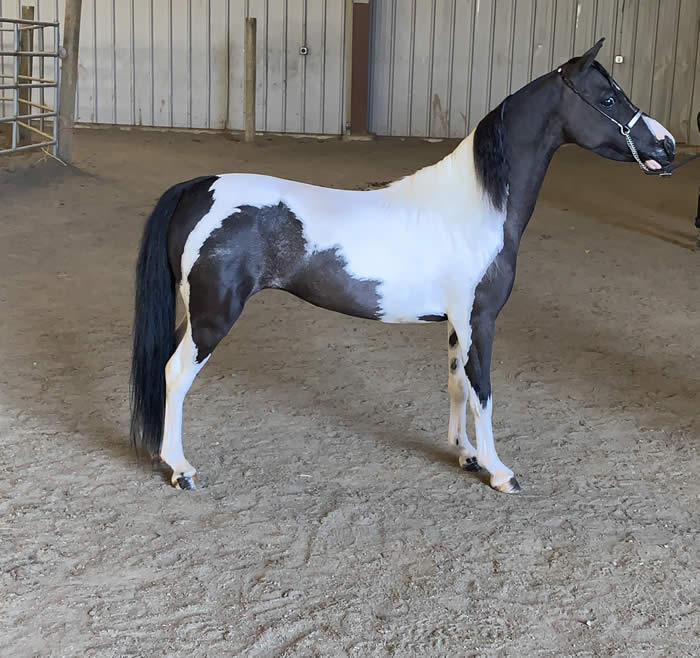 Her Arenosa pedigree could add consistent refinement to any quality breeding program.
She foals & settled easily, gets along great in a herd environment.
POSSIBLE 2-IN-1 - BEING BRED TO TRIPLE REGISTERED SUNDANCE LB ASSURED FOR 2021
CAN'T GO WRONG WITH THIS TRIPLE MARE
PRICED AT $8,500.00
OFFERED BY OUR CORPORATE SPONSOR

Jessica Matheson-Vassar
SPIRIT THUNDER TRAINING
(208) 446-8816
pinaraloosa@aol.com
Located in Idaho
(010619X) Ad updated 1/20/2020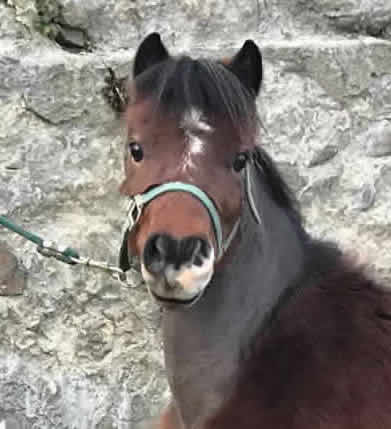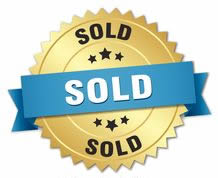 TMF Bombay Sapphire On The Rocks
ASPC/AMHR/AMHA 34+" Triple Registered Bay DRIVING Mare
SOLD FROM THIS PAGE
TMF Bombay Sapphire On The Rocks (July 2019)
Wa-Full Buddys Crescent Tonya (March 2019)
McCarthys Diamond Lil Of Rivenburgh (June 2018)
Elevens Blue Dahlia (March 2018)
KoKanee Cool Finesse (March 2018)
Our Farms Esmerelda (September 2017)
LM Gypsy Rose
Amore Toms Ms Dior (September 2016)
Arenosa Resilence AN
Rivenburghs Jess Sunrise Surprise