Premier Miniature Stallions

Stallions listed on this page are the PREMIER stallions located in the USA & Canada.
They are priced at $7,500.00 or more.
Offered to serious show or breeding homes
Wingates Sinister Silhouette
AMHA/AMHR 2016 32.5" Black SHOW Stallion
FIT & READY TO SHOW AT WESTERN REGIONALS THIS MONTH!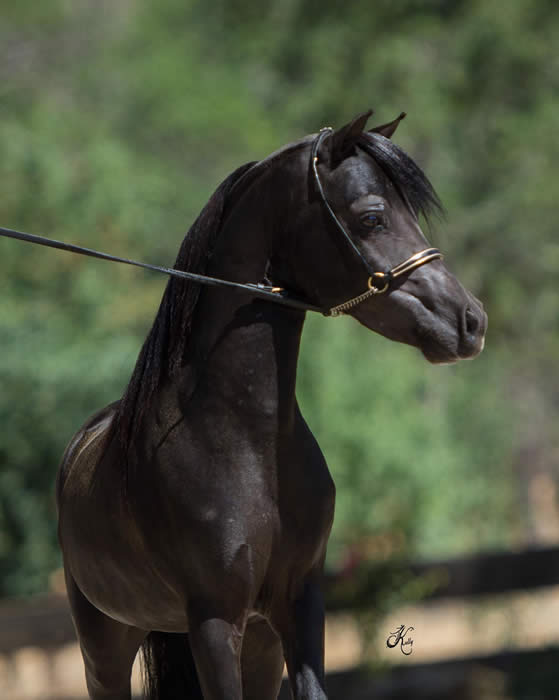 Establo Martini On The Rocks (HOF) x Hillside Farms Reign N Hail
Foaled 6/06/2016
++ IN TRAINING WITH WINGATE TRAINING CENTER ++
Headed to Western Regionals and can be purchased there OR delivered free of charge to Worlds or Nationals!
He's the REAL-DEAL!
This Shetland Blend stallion is the IDEAL horse in Miniature!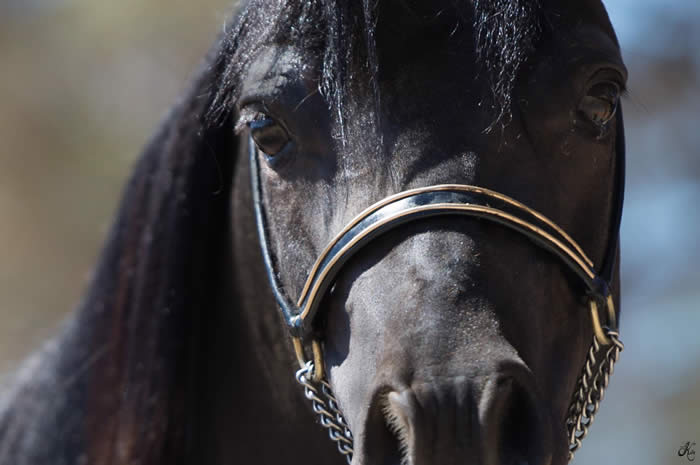 From his baby doll head to his perfect leg to body ratio -
- SIN is what's winning in the Show ring today!
He can win for YOU - he's fit and showing in 2018.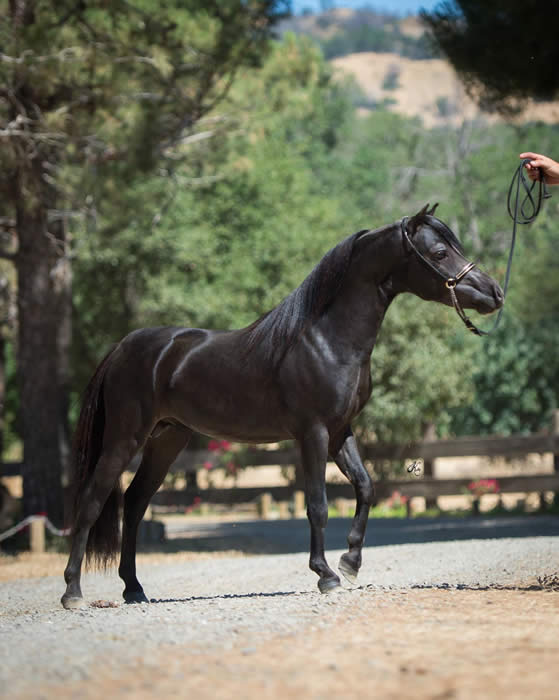 Measures under 33" and ready to dominate the 2 Year Old Stallions class.
He's all boy, from his showy, arrogant attitude to his bold and confident aura.
Winning is in his blood.
Sin's DAM is a National & World GRAND CHAMPION producer.
PRICED WELL AT $7,500.00
WHICH INCLUDES FREE TRANSPORT TO WORLDS OR NATIONALS!
Contact Casey Campbell for details!
OFFERED BY OUR CORPORATE PARTNER

RANCHLAND ACRES
Erin Henson
(530) 917-4636
e.erin@sbcglobal.net
Located in Vacaville, California
(010319X) Ad updated 7/3/2018
Wall Street Admiral's Perfect (HOF)
(Storm)
ASPC/AMHR 2009 Bay PROVEN Stallion
ASPC CLASSIC HALTER HOF - ASPC RES CONGRESS CHAMPION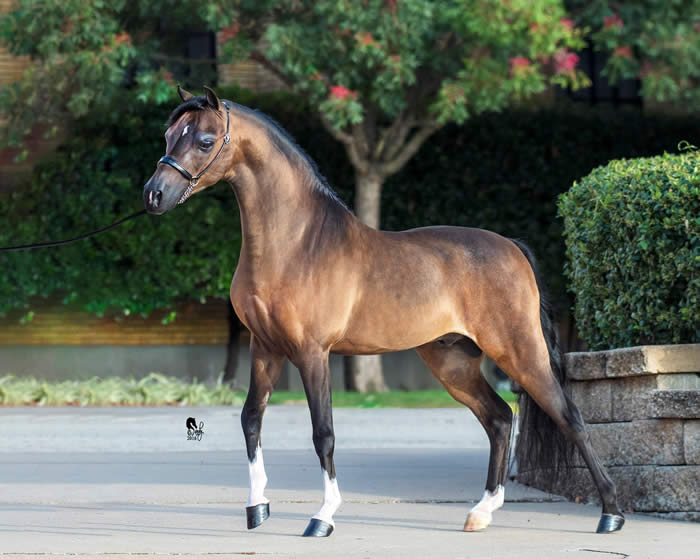 B & L's Rock "E" The Admiral x B & L's Rock "E" Rainy Day
Foaled 5/15/2009
Measures 36" (Miniature) - 38" (Shetland)
Storm is the only intact son of the iconic B&L's Rock E The Admiral.
"The Admiral" is a ASPC Congress GRAND CHAMPION in Driving.
Admiral's dam is a full sibling to Congress GRAND CHAMPIONS in halter.
Storm is a paterna sibling to Wall Street Admirals' Lambee Pie -
a breathtaking AMHR Res National GRAND CHAMPION and ASPC Congress Res GRAND CHAMPION.
Storm is an exquisite Arabian-type Miniature with a beautiful face & bold, strong presense.
He would be an ideal addition to any farm wanting to add the Rock "E" bloodline to their breeding program.
OFFERED AT PRIVATE TREATY
INQUIRE FOR PRICE PLEASE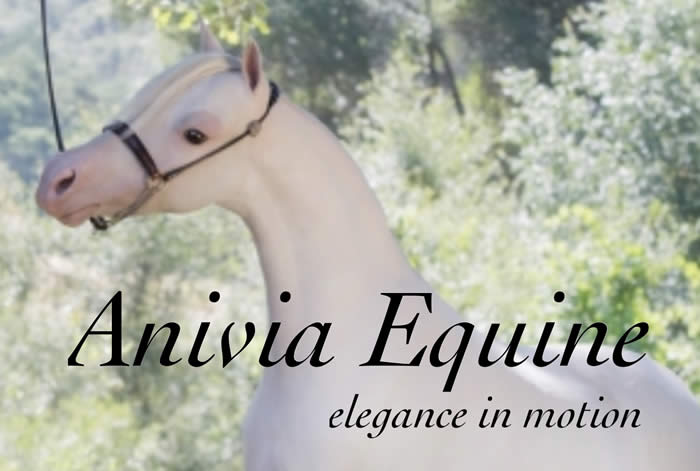 ANIVIA EQUINE
Stacy Sachen
www.anivia.com
sachen_s@yahoo.com
(773) 251-1445
Located in California
(110118X) Ad updated 5/3/2018
2018 Triple Registered Colt by World Supreme "Country Boy"
ASPC/AMHR/AMHA Triple Registered Shetland Bay (Going Grey) SHOW Stallion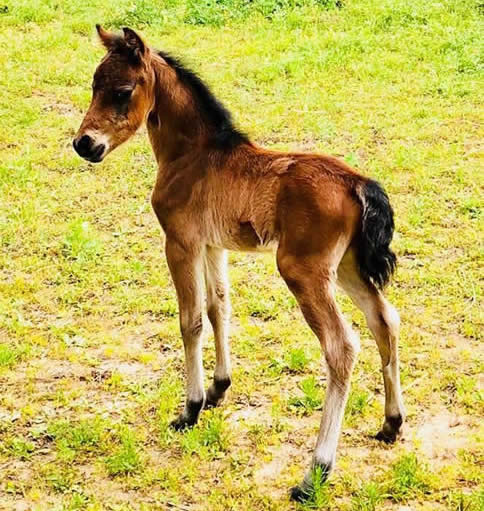 D&S TG Ima Country Boy x FRH Fancy Shana
Foaled 4/17/2017
Buy him before we clip him and his price goes UP!
Stunning and exotic TRIPLE REGISTERED stallion for sale to a show home!
This colt is by COUNTRY BOY who is a son of D&S Lil Admiral.
"Admiral" also produced National GRAND CHAMPION Rayvik Jocomotion (A National GRAND CHAMPION producer as well!)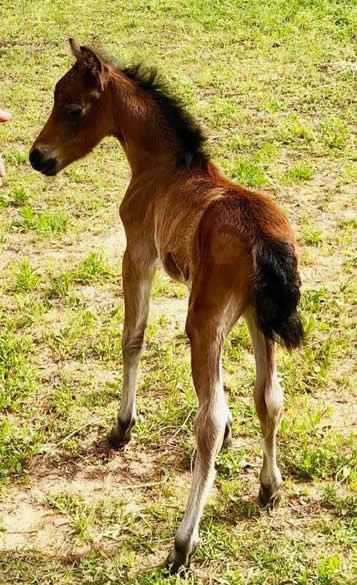 This colts's dam is the lovely Shetland "Fancy Shanna" whose 2017 son is now in training with ALLIANCE TRAINING CENTER and ready to set the show ring on fire in 2018.
This 2018 boy is just unfolding but already exhibits the qualities needed to excel at the World and National level.
Professional photos in June/July (unless he sells by then!)
INTERNATIONAL INQUIRIES INVITED!
OFFERED AT PRIVATE TREATY
SERIOUS SHOW HOME INQUIRIES ONLY PLEASE!
++ Serious inquiries only please ++
OFFERED BY OUR CORPORATE SPONSOR:
Janet King
3837 FM 1643
Winnsboro, Texas 75494
903.629.3234
606.584.4231
jfk657@yahoo.com
Located in Winnsboro, Texas
(101718X) Ad updated 4/18/2018
Tibbs Java By Tango
(Java)
AMHR 2015 33" Shetland Blend Bay Stallion
BY NATIONAL GRAND CHAMPION PRODUCING STALLION "TANGO"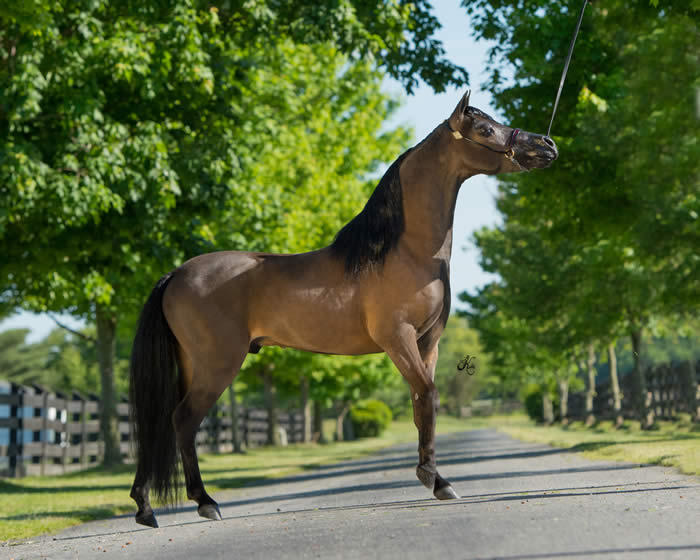 Rhapsody's Latin Tango x A Stable Business On Broadway
Foaled 5/30/2015
UNIQUE OPPORTUNITY TO ACQUIRE AN AWARD WINNING STALLION WITH TOP PEDIGREE!
"Java" is a beautiful and balanced son of the award winning TRIPLE stallion, RHAPSODY'S LATIN TANGO.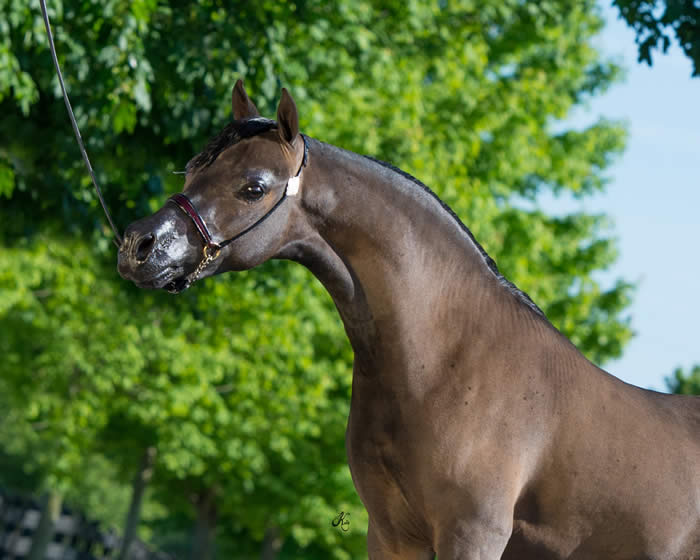 He's on track to mature well under 34" and will be a candidate for AMHA Hardship when he's 5.
Java is a multi GRAND and CHAMPION of CHAMPIONS winner.
He is an AMHR Res National Champion Futurity winner with National Top Fours in deep OPEN classes there.
He's a prime example of why TANGO get our cleaning up in the show ring.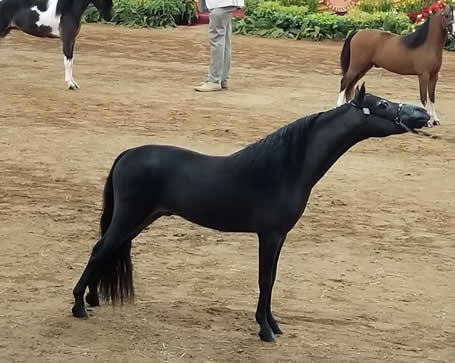 Java is smooth bodied and balanced with am elegant, "Shetland" long neck and beautiful, expressive head.
Java has been shown successfully by Danielle Hill Training Center and is eagerly welcomed back if his new owner chooses.
Java is ready for his own group of mares in 2018.
He has the pedigree and looks to become a top breeding stallion.
He is regretfully offered for sale as his current owner is forced to reduce numbers.
FAIRLY PRICED AT $9,500.00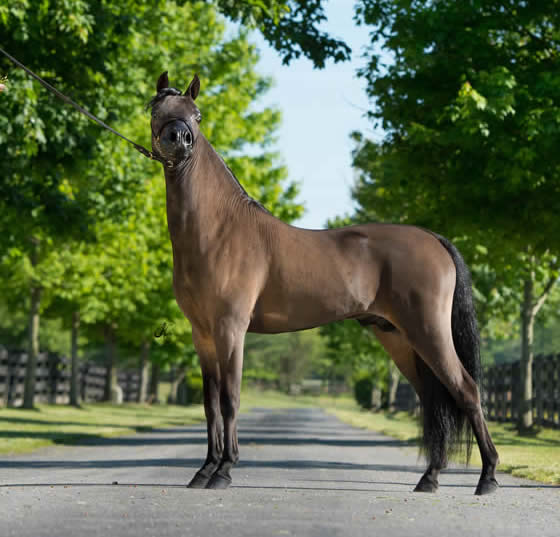 CHANCE OF GOLD FARM
Paige Mehlhope
Pmehlhope@gmail.com
(513) 235-2223
OR CONTACT DANIELLE HILL @
www.daniellehilltrainingcenter.com
Located in Goshen, Ohio
(62118X) Ad updated 5/21/2018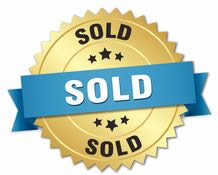 Carefrees Triple Sec
ASPC/AMHR/AMHA 2017 Triple Registered BLACK Stallion
4x GRAND CHAMPION IN 2018 - NEARING HIS AMHR HOF (HALL OF FAME) ALREADY!

Reeces Geneses
(Geneses)
2008 AMHA/AMHR Res World Champion Chestnut Stallion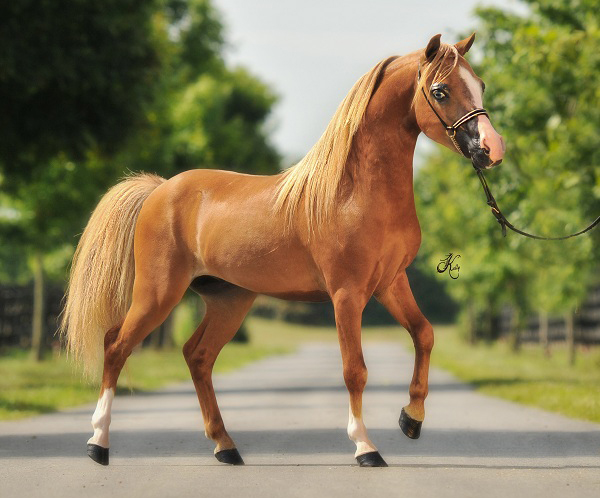 Grosshill EK Undisputed Creation x Reeces Ebony Hawk
Foaled 5/11/2008
Where do I start?!
If pictures speak 1,000 words, then Geneses photos should tell the story -
- he is A-M-A-Z-I-N-G!
Geneses has been a premier breeding stallion at Reece Family Miniatures for the past few years.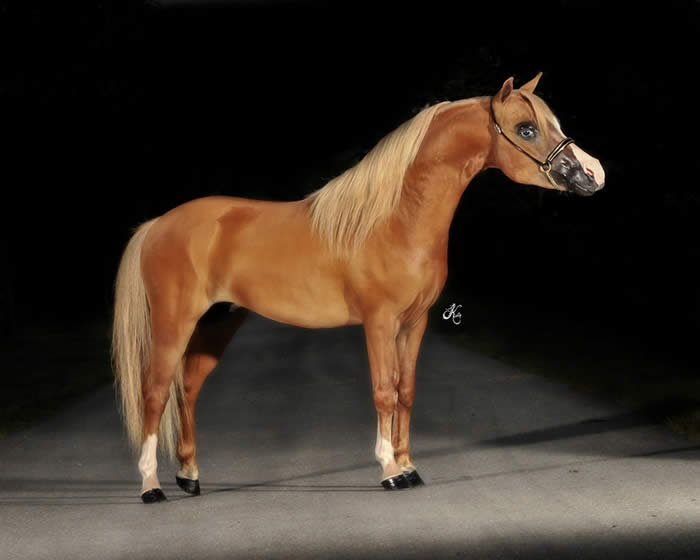 He is proudly offered for sale, as RFM has retained many of his offspring to continue his legacy.
This fine stallion boasts the bloodlines of Egyptian King & the epic "Hawk" ( 4 GS LITTLE KINGS ALFALFA PLEASURE)
His dam, Ebony Hawk is an AMHA World Champion & Res World Champion.
Geneses is a Res World Champion. He's also a multi-Grand Champion producing stallion. He is a FULL sibling to 7x World Champion, Reeces Undisputed Cowgirl.
He passes on his vibrant color and crystal blue eye to many of his offspring.
Priced at $10,000.00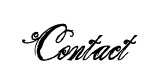 REECE FAMILY MINIATURES
Toni Reece
302-420-5330
Clayton, Delaware

Located in Delaware
(116) Ad updated 9/16/2017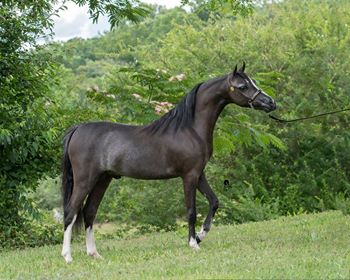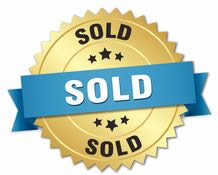 Comferts One Night Stand
ASPC/AMHR 2016 GRAND CHAMPION Black Stallion
DIRECT SON OF TSL's RAVENS NIGHTHAWK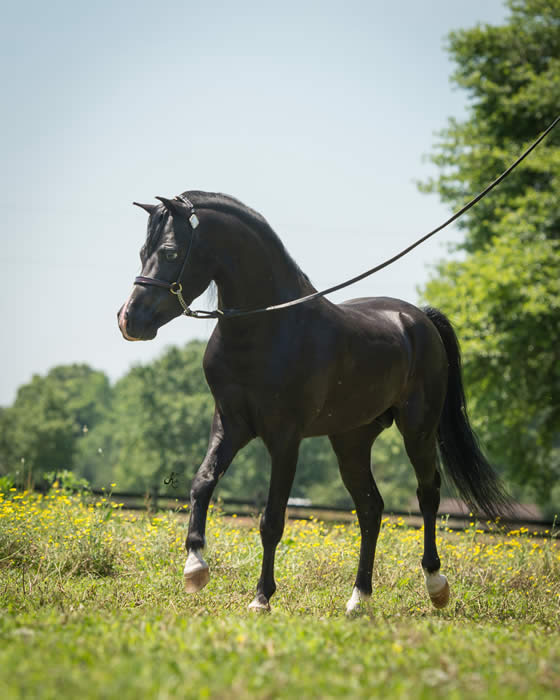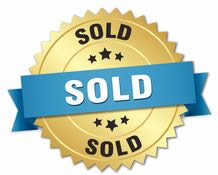 CONGRATULATIONS TO TONY BENVENUTO & JANET LEWIS
STANDING OVATION FARM
VIRGINIA, USA
Nirvanas Talisman De Suerte
AMHA/AMHR 2012 Black PROVEN Stallion
AMHA WORLD CHAMPION TITLED SON OF "BOLERO"
Introducing the PREMIER Stallions of MiniHorseSales!
The stallions presented on this page are the highest caliber Miniature Horses on the market and offered to show homes only. If you want to win at the TOP, this page is where you need to look! Serious inquiries only please.
For information on listing YOUR premier stallion, please e-mail karen@minihorsesales.com with PREMIER as the subject line. Value of horse MUST be $7,500.00 or more.
Listing fee $75.00 per horse.
SOLD FROM THIS PAGE:
Carefrees Triple Sec (June 2018)
Comferts One Night Stand (April 2018)
Lucky Four Rebelsupreme GoodLooker (February 2017)
Lymricks Irresistible Force (January 2017)
Hunterberry Hill Impressive Artwork (January 2017)
Wall Street Rock E Red Red Hot (August 2016)
Erica's Pharaohs Heart Throb (June 2016)
Marystown McDreamy (May 2016)
Modern Candymans Inferno (March 2016) Congratulations to Megan Mahoney!
Hunterberry Hill Josies Keepsake (March 2016)
Aloha Acres The Lites On Me (February 2016) Congrats to Jere Olsen
LM Idols Hawks Burton (January 2016)
Oak Bay Salsa Chipotle (January 2016)
Oak Bay Salsas Silverado (December 2015) Going to Holland
LM Idols I Of The Tiger (November 2015)
Hunterberry Hill Jess Marvelous (November 2015)
Aloha Acres Lite Over Yonder (October 2015)
HumHill's Rich & Rare On The Rocks (September 2015)
ALOHA 2015 ASPC/AMHR Colt out of Q.P. Dolls Abril Necia Of Texana (July 2015)
Avantes Chasing The Ace (July 2015)
JSW Beaus War Cry (July 2015)
MiniEquine Code Of Silence (April 2015) Heading Overseas!
At Last Surastars Lil Rebel (April 2015)
Ten Ls Legacys In The Spotlight (March 2015)
At Last Surastars Crescendo (February 2015)
LM Idols Revelation Hawk (December 2014)
RFM Thunders Iniki (October 2014) Heading Overseas!
LM Idols IBN Hawk (November 2014) Heading to the West Coast!
Alliance Boleros Sergio (November 2014)
Ravenwood The Chips Are In (November 2014)
Alliance Boleros Enrique (October 2014)
Brookhavens Knight Dreams (September 2014)
Conders Exception To The Rules (September 2014)
LM Hawks Deuce (May 2014)