Premier Miniature Horse Mares

The BEST of the BEST offered for your consideration
Top Quality mares of all ages, priced at $7,500.00 or more.
These mares are for the serious show competitor, or top notch breeding program.
Serious inquiries ONLY please!
LM Hawks A Love Song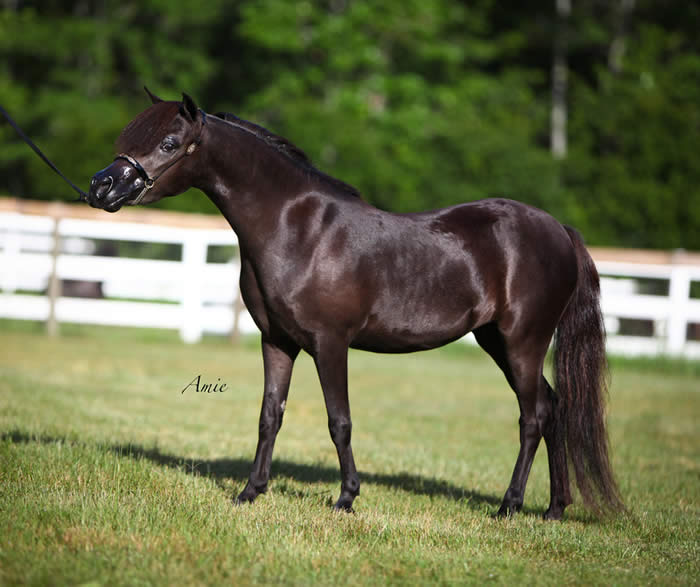 Registration #: AMHA #A194897 AMHR #299110A

Color: Solid Black
Foaling Date: 4/12/2009

CHAMPION FARMS NIGHTHAWK X FLYING W FARMS BLUE BOYS SECRET LOVE

Rare opportunity to acquire a PROVEN broodmare who is a direct daughter of 2x AMHA Get-of-Sire World Champion, NIGHHAWK

Her offspring includes proven show champions:
COVERGIRLS IDOLS A LOVE STORY HAWK
COVERGIRLS IDOLS DRAGONSLAYER HAWK (multi SUPREME Champion & World Top Ten)
COVERGIRLS SINATRA IZE THIS (2017 AMHA Res World Champion Driving)
COVERGIRLS LOVE POTION IZE THIS

Love Song sells with a breeding to any one of Covergirl's Champion stallions or to BILLY IDOL.
$10,000.00
SERIOUS INQUIRIES ONLY PLEASE

Mulligans Run Jaden Al Emira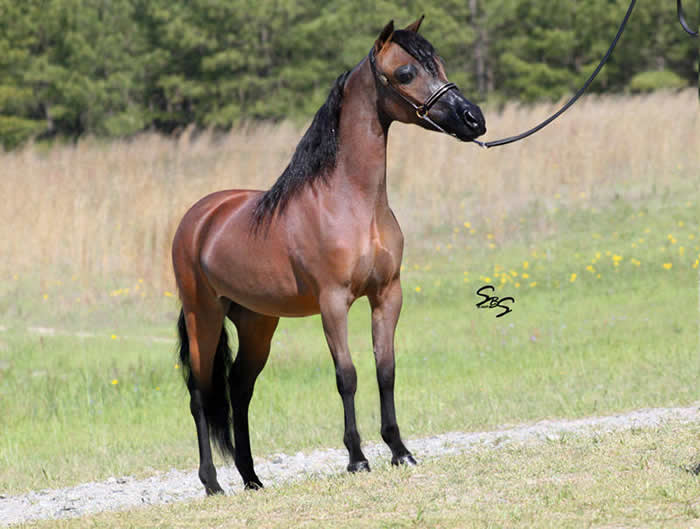 Registration #: AMHA - A185576 AMHR - 289957A
Color: Solid Bay - 32"

Foaling Date: 4/7/2008
SIRE: MOUNTAIN MEADOWS SPECIAL EXPRESS (HOF) (AKA - THE BAY PRINCE) X DAM: LUCKY FOUR TONJA
Show Record:
2009 Reserve World Champion Youth 13 and over with Junior Mare

One of the few "Prince" daughters in the WORLD! Jaden is a proven broodmare thatr we have left OPEN since we trying to downsize our breeding program.

OFFERED AT $7,500.00
with a breeding to any one of Covergirl's Champion stallions or World SUPREME CHAMPION D&S TG Ima Country Boy or Get-of-Sire World Champion, First Knights Billy Idol

Serious Inquiries Please!

LM Hawks Just Call Me Ivy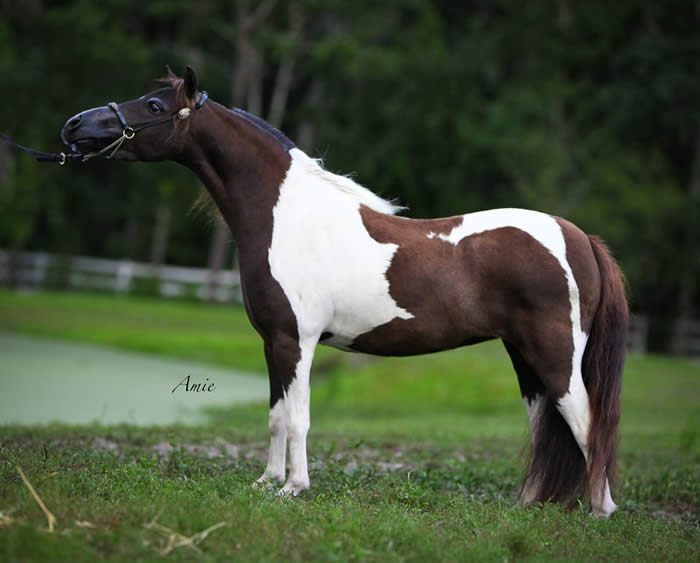 Registration # AMHA #A191431 AMHR#324655A
AMHA/AMHR Bay Pinto 32" PROVEN Booodmare
Champion Farms Nighthawk x Cottontails Teddy Bear
Here's one of those mares that RARELY is offered for sale!
Ivy is a DIRECT DAUGHTER of Champion Farms Nighthawk.
"Hawk" does not stand to ANY outside mares and RARELY do you find one offered for sale! Never mind a BAY PINTO!
And Ivy is not just "any" Hawk daughter - she is a FULL sibling to World GRAND CHAMPION PRODUCER, LM Hawks Classic Fable.
Fable is the dam to LM Idols Hawks Burton - AMHA Futurity Grand Champion.
THIS is the type of mare that can put YOUR farm on the map & in the winner's circle.
She is a PROVEN producer of show quality foals
Can be sold with a breeding to BILLY IDOL for $7,500.00
SERIOUS INQUIRIES ONLY PLEASE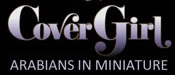 Covergirl Miniatures
southheastjc@aol.com
Charlene Eisenminger
Located in Jacksonville, Florida
(62318X) Ad updated 12/23/2017
Wingates Rebels Elegant Lady
(Miss Thing)

AMHA/AMHR 2016 Sorrel Pinto SHOW Mare
MULTI-SUPREME CHAMPION WINNER IN 2017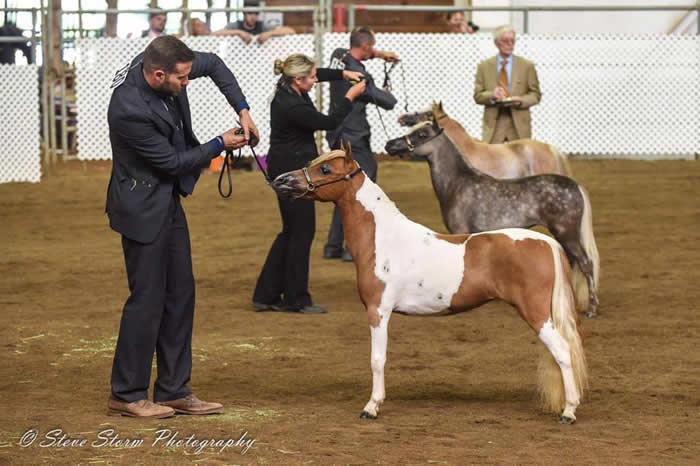 At Last Surastars Little Rebel x Wingates Mi Ali Anna


Foaled 6/09/2016

SHE'S EVERYTHING!

She's everything a breeder could wish for, in one perfect pinto package.

"Miss Thing" comes from a long line of champions with years of careful crossing to create the ideal Miniature Horse.

Her sire, "Rebel" is a World Champion Driving Horse as well as a World Champion producing sire.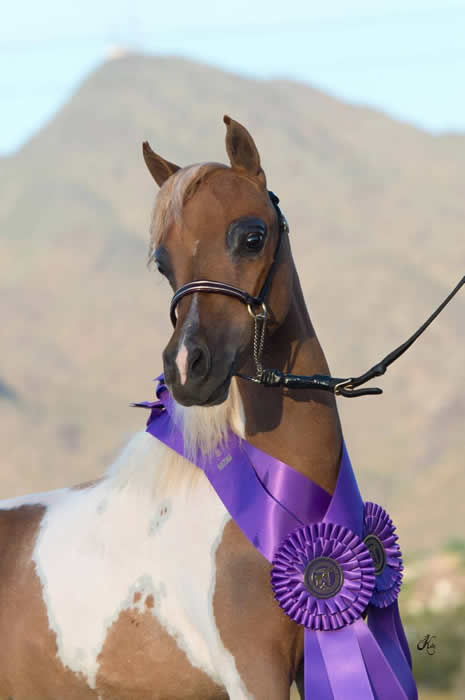 Rebel is by the famous LUCKY FOUR REBELS CHASIN RAINBOWS and out of World Champion LUCKY FOUR SUPREME SURASTAR.
On her dam's side, Miss Thing is out of World Champion, DD TOO HOTS SILK N SASSIE and by OAK BAY SALSAMIO son, OAK BAY MI AMIGO.

"Mi Amigo" is a multiple World GRAND CHAMPION producing stallion.

Miss Thing's dam is a FULL sibling to WINGATES INFAMOUS MI - 5x World Champion, World Res GRAND Champion & World GRAND CHAMPION Amateur Stallion in 2016.

Miss Thing currently measures 30" and should mature at 32".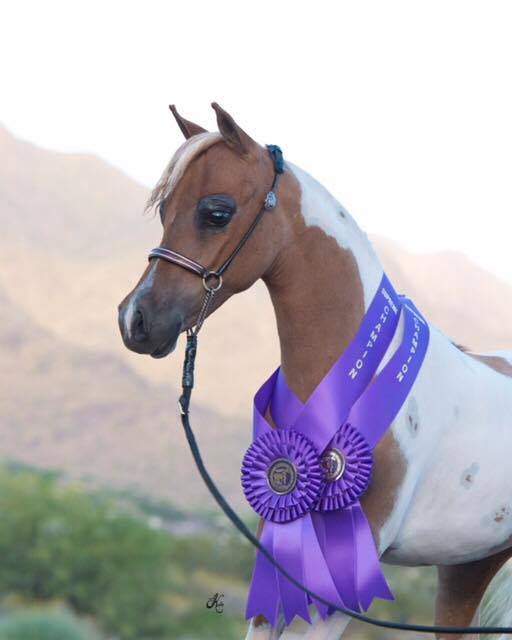 She's full of character & LOVES to show.

She has been shown successfully by youth, amateurs and in OPEN competition as well.

She is currently leading the nation in AMHA Honor Roll.
So far in 2017, this mare has accumulated the following awards:

MULTIPLE SUPREME - TOUCH OF CLASS 2017
MULTIPLE GRAND/RES GRAND MARE - NORCAL SHOWS
CHAMPION AMATEUR JUNIOR MARE - AMHA WESTERN REGIONALS
RES GRAND CHAMPION OPEN JUNIOR MARE - AMHA WESTERN REGIONALS
Looking for a home where this mare will be appreciated and promoted!
SERIOUS INQUIRIES ONLY!

Wingates Jadore Mi
(Jadore)

AMHA/AMHR 2014 32" Silver Bay Mare
Multi World/National Champion Driving/Halter Mare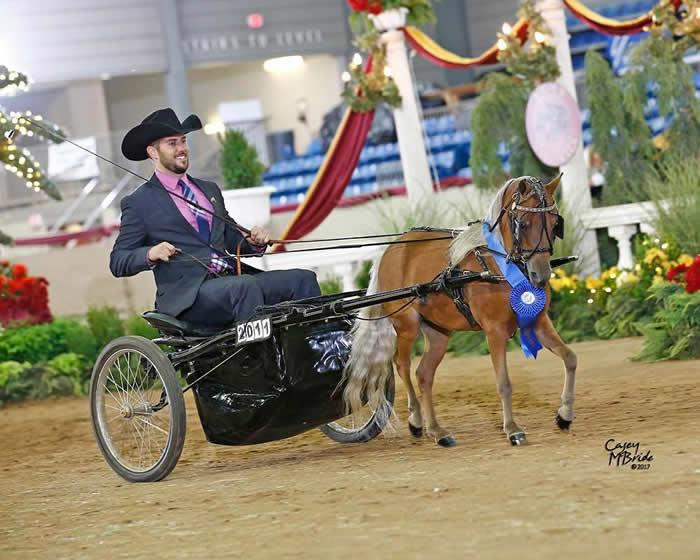 OAK BAY MI AMIGO x HILLSIDE FARMS REIGN N HAIL


Foaled 05/14/2014

For the serious buyer who will settle for nothing less than the VERY best!
If you want to start at the TOP, Jadore is the ticket for YOU!
She's already a World and National Champion as well as an AMHR National GRAND CHAMPION Western Pleasure Driving Horse.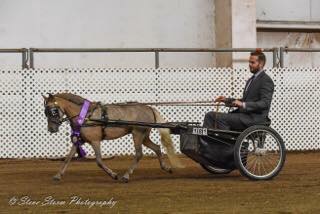 She's EASY and uncomplicated to drive and an absolute JOY to work with!
Only for sale as her owners are refocusing their breeding program to the taller ASPC/AMHR horses -
- a RARE opportunity to acquire a TOP mare who has the pedigree, personality and good looks to be the cornerstone of any top AMHA/AMHR breeding program.
Will entertain SERIOUS offers to a show or breeding home.
INQUIRE FOR PRICING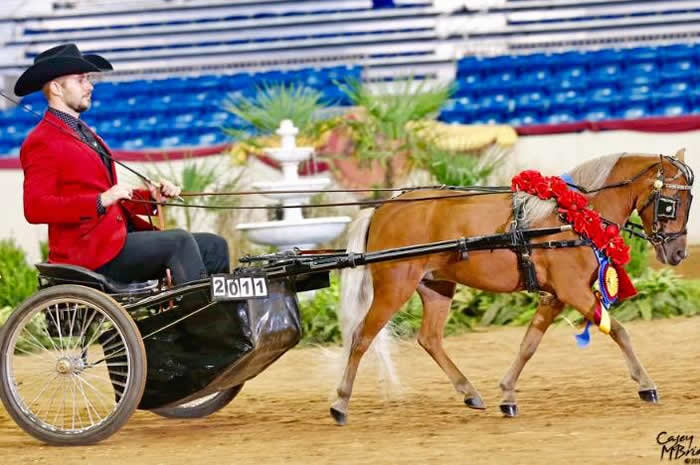 RANCHLAND ACRES
ERIN HENSON
(530) 917-4636
e.erin@sbcglobal.net
WINGATE TRAINING CENTER
Casey Campbell

Located in Vacaville, California

(62118X) Ad updated 12/21/2017
Hunterberry Hill Jazzed Up Again SE
(Jolie)
AMHA Registered AMHR (pending) 33" 2013 Gray Pintaloosa DRIVING Mare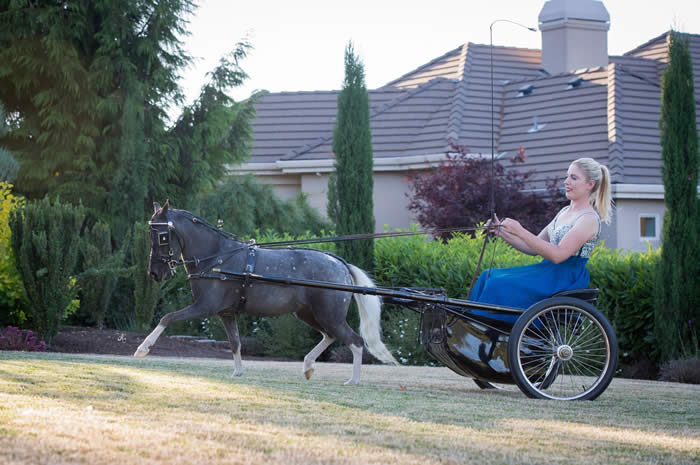 Grosshill Dandys Special Edition x Scott Creek Belle De Mistique
Foaled 4/28/2013
Are you searching for something truly SPECIAL?
Jolie possesses extraordinary ABOVE LEVEL knee and hock action -
SINGLE PLEASURE movement that should SHINE in the show ring!
This mare is Grand Champion Single Pleasure quality with the ability to produce big moving driving prospects for your breeding program.
Jolie has been professionally started in the cart by Adelyn Rowland of Hunterberry Hill Farm.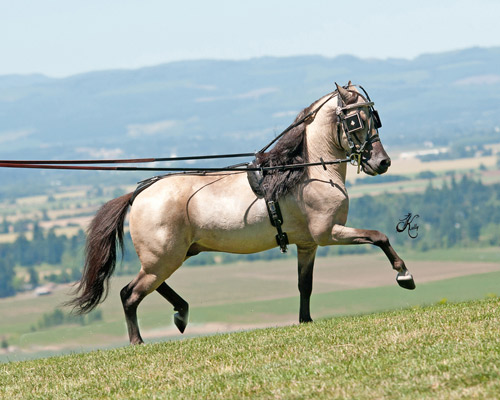 She's well started in driving and with more mileage she'll be your next driving champion.
This uniquely colored beauty is an incredible mover with a great mind.
She is a pleasure to have in the barn. Jolie is sweet, happy and easy going a true people lover!
She's a talented mare that can really "turn it on and turn it up" when asked to.
She was successfully shown in 2017 by the talented Adelyn Rowland, winning AMHA Western Regional Champion in Liberty this summer.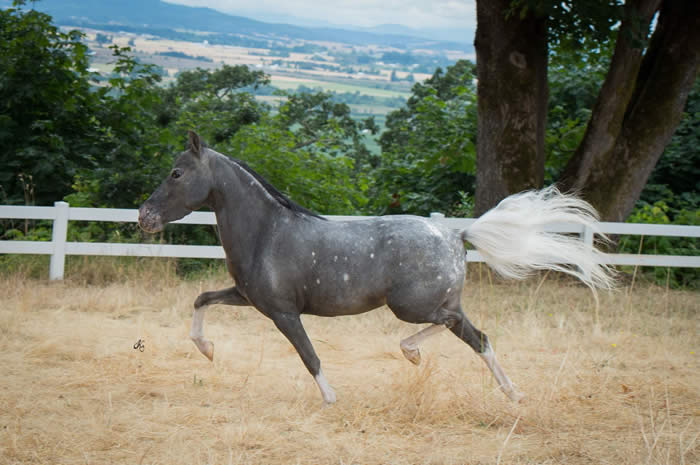 Jolie's pedigree is TOPS in the driving world.
Her sire, GROSSHILL DANDYS SPECIAL EDITION (pictured above, at left) is a direct son of AMHA National GRAND CHAMPION, RHOTENS LITTLE DANDY - Indisputably the greatest driving sire of all time.
She is the compete package of beauty and genetics for producing Halter & Performance offspring.
OFFERED AT PRIVATE TREATY
SERIOUS INQUIRIES ONLY PLEASE
INTERNATIONAL INQUIRIES WELCOME!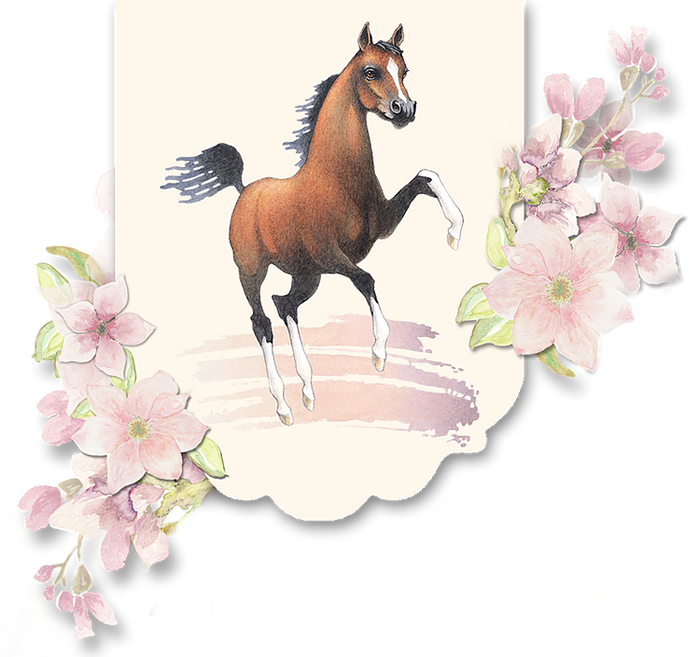 Andrea Evans
Andrea@dayspringminis.com
(425) 844-9817
Located in Duvall, Washington
(1217) Ad updated 11/8/2017
Sundance LB Fancy Teca SA
(Fancy)
ASPC/AMHR Registered 32" Arenosa Bred Black Mare
ELIGIBLE FOR AMHA HARDSHIP IN 2018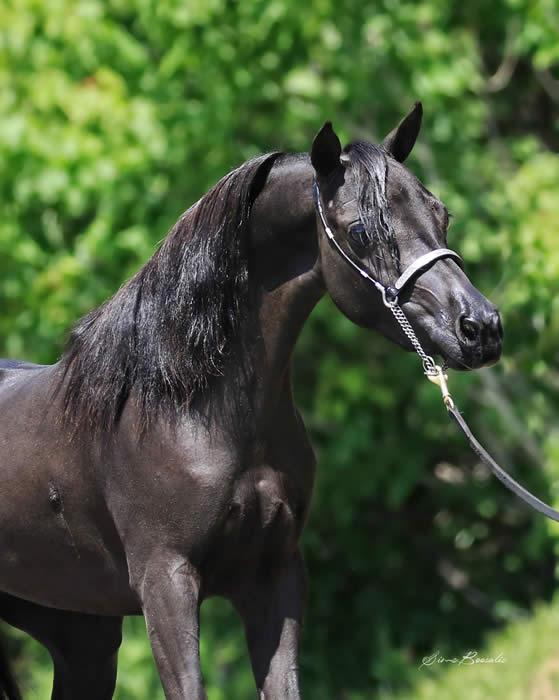 Establo Aztec x Sundance LB Fancy Baylina
Foaled 5/01/2013
Here's what happens when you combine ARENOSA top and bottom!
THIS is the type of mare that you can SHOW and win with or breed her in 2018 and produce champions for your farm.
Fancy's pedigree speaks volumes on QUALITY and type.
Her lineage boasts almost exclusive ARENOSA bloodlines and is loaded with HOF (Hall of Fame) winners.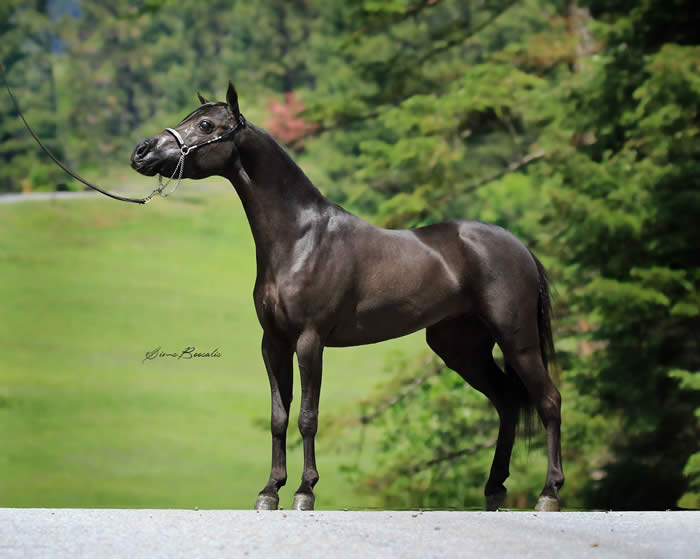 Fancy is extremely refined with a smooth "Shetland" look rarely seen in a Miniature her size.
She will easily measure under 34" for AMHA Hardship in 2018 -
- in fact she stands all of 32.5" at almost 5 years old.
Fancy could excel in the show ring & collect her share of GRANDS & SUPREMES.
We feel her true value will be as a cherished broodmare.
Her smaller stature and extreme refinement will be an asset to any progressive breeding program.
DO NOT MISS THIS ONE!
PRICED AT $9,500.00
SERIOUS INQUIRIES ONLY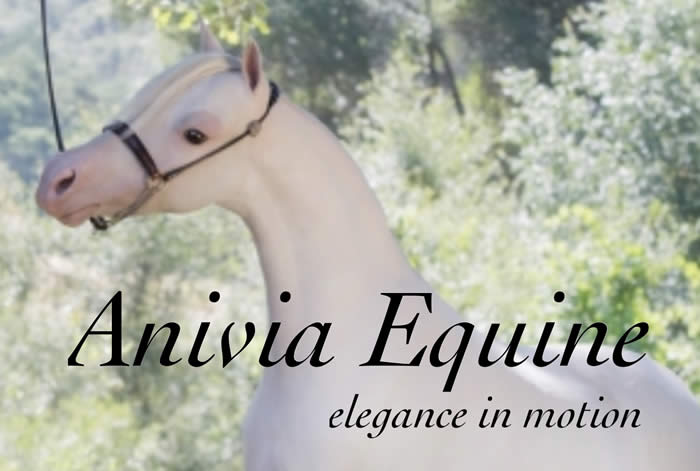 ANIVIA EQUINE
Stacy Sachen
www.anivia.com
sachen_s@yahoo.com
(773) 251-1445
Located in California
(1117) Ad updated 10/24/2017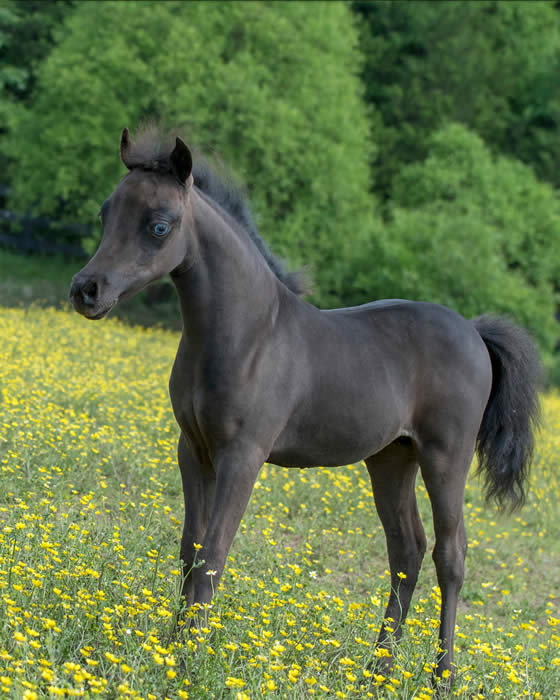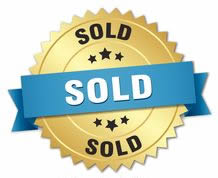 MiniEquine Tango's Timi
AMHA/AMHR (pending/guaranteed) 2017 Black Mare w/Blue Eyes
Shetland Blend Exotic SHOW Filly - Homozygous BLACK
Marystown Morning Glory
(Morning Glory)
AMHA/AMHR 2009 National Champion Bay 32" Proven Broodmare
Sells with her May 2017 black pinto colt by World GRAND Jocomotion
Marystown Heir To Glory x Deiles Girl Of Excellence
Foaled 2/14/2009
AMHR National Champion
AMHR Hall of Fame (HOF)
Full Sibling to National GRAND CHAMPION Marystown Chrome To The Max
I'm tempted to write a horrible and so no one looks at this mare and I can buy her myself - but I won't ;o)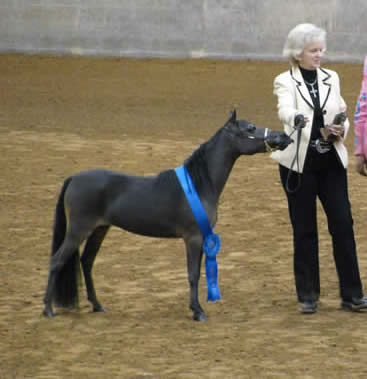 I'd certainly like to add her to MY broodmare collection.
(and she is bay, which is very close to BLACK!)
This sweet mare is a stunner!
Morning Glory just began her career as a broodmare.
We expect her to continue to produce world and national champions like her family is noted for.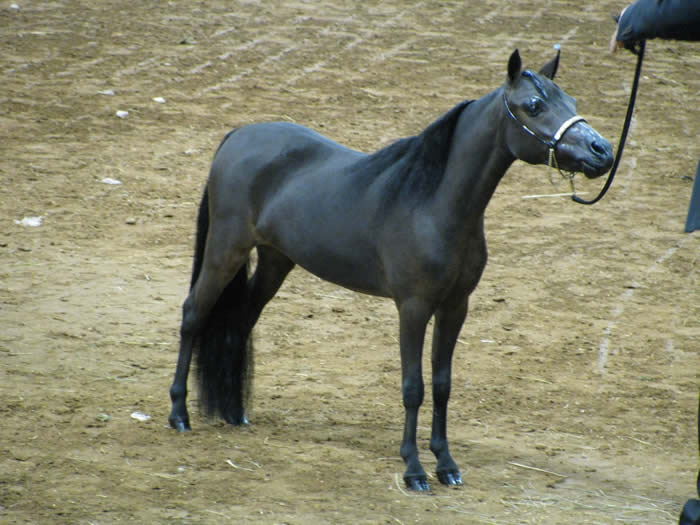 She just had a very tiny and upheaded black and tobiano colt by AMHR National Grand Champion Stallion and AMHA World Grand Champion sire D&S Jocomotion.
She is available with the colt on her and we are offering them in an extremely exciting 3-in-1 package.
PRICED AT $8,500.00
Kyle Edsell
(618) 578-4769
kyle_Edsell_2012@yahoo.com
Located in Judsonia, Arkansas
(617) Ad updated 5/22/2017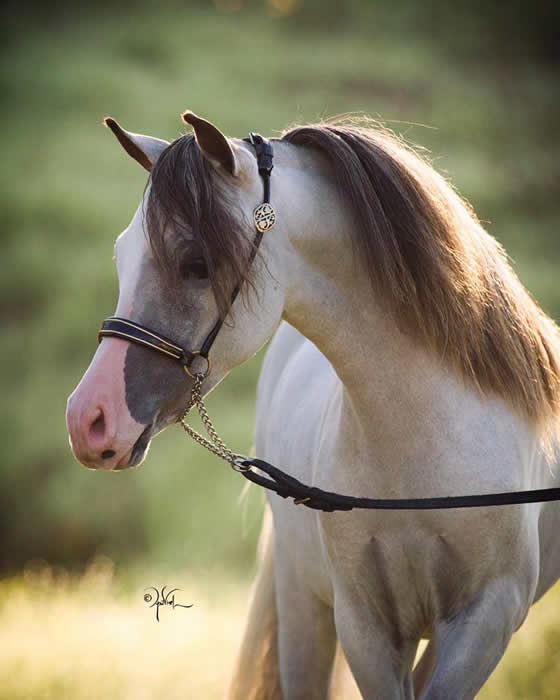 LM Idols Radiant Hawk
AMHA/AMHR 2016 Silver Buckskin SHOW Mare
DIRECT DAUGHTER OF BILLY IDOL -
BY WORLD RES GRAND PRODUCING NIGHTHAWK DAUGHTER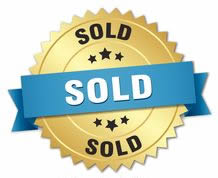 First Knights Prima Ballerina
(Ballet)
AMHA/AMHR 2017" Sorrel Mare w/Blaze
WORLD CHAMPION POTENTIAL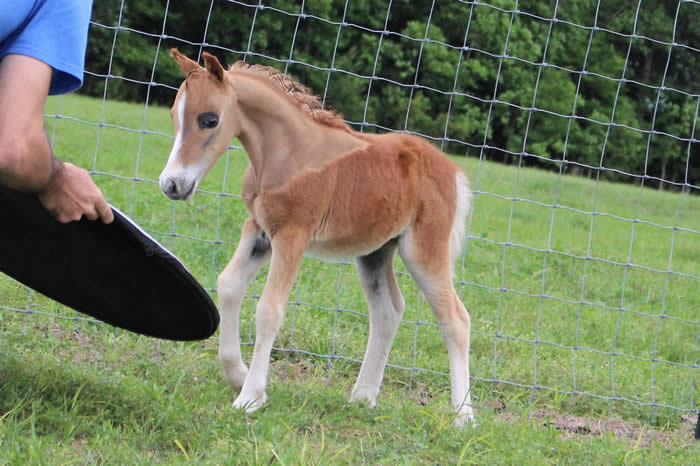 First Knights Return Of The King x Flyin Hearts Champagne And Roses
Foaled 4/6/2017
NO NEED TO WORK YOUR WAY TO THE TOP -
- WITH THIS STAR FILLY, YOU CAN START THERE!
SUPER showy and refined little mare with a pedigree to back up her good looks.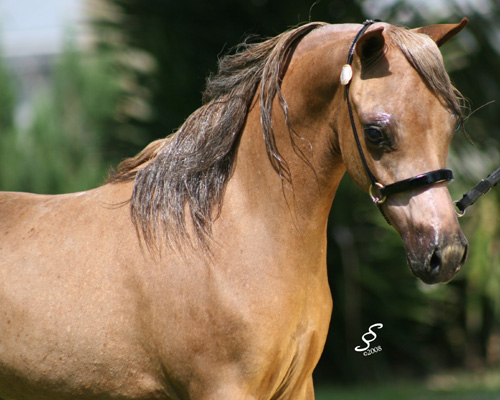 Ballet's sire, "King" " (pictured at left) is a World GRAND CHAMPION STALLION -
King is a paternal sibling to the following "great" Miniatures:
ALOHA ACRES STRIDERS BACK IN BLACK - World Grand Champion
FIRST KNIGHT STRIDERS BLACK SATIN - Multi World Champion
FIRST KNIGHT STRIDERS RED STILETTO - World GRAND Champion Futurity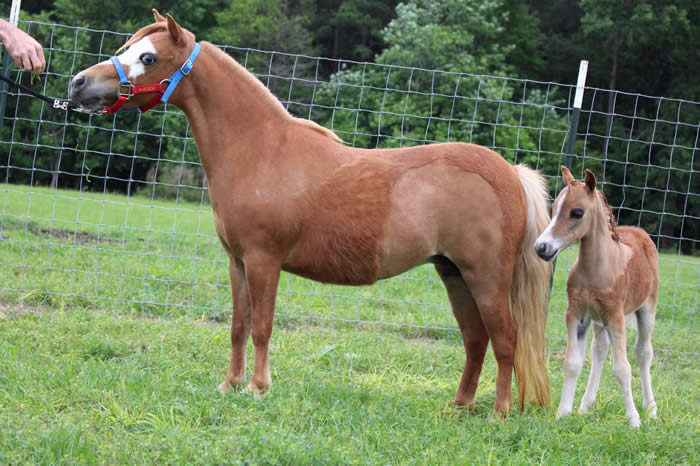 Not only that - King is a maternal sibling to some incredible champions:
FIRST KNIGHTS DIVINE DIVA - World GRAND Champion Futurity
FIRST KNIGHTS REDNECK PRINCESS - World Champion & World Champion producer
King's dam, RUNNIN BARES BLACK JACKS SPECIAL, won AMHA National Champion -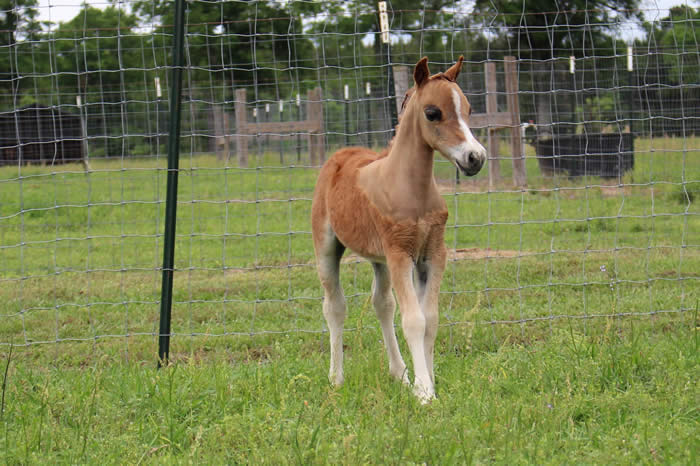 - then went on to win AMHA World Champion/Res National Champion an unprecedented FOUR TIMES in the prestigious PRODUCE OF DAM class.
Ballet's dam, FLYIN HEARTS CHAMAGNE AND ROSES (pictured above, at right) is a 2x AMHA Res World Champion.
As incredible as her pedigree is, this delicate doll has her own accolades to brag on.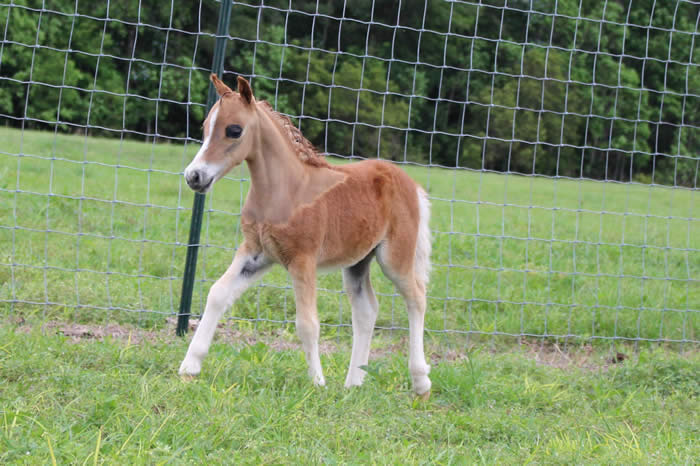 Show her now then add her to your broodmare band and produce stunning foals for YOUR farm!
We feel this filly is something quite special and would prefer she went to a serious show home.
OFFERED AT $10,000.00
SERIOUS INQUIRIES ONLY PLEASE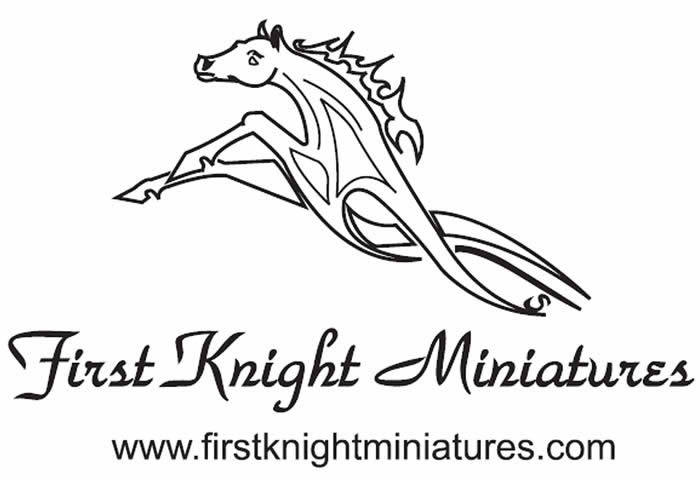 Stephani Pappas
(409) 377-3447
stephanifirstknight@gmail.com
WELCOME TO FIRST KNIGHT MINIATURES
For over 30 years, First Knight Miniatures has been dedicated to producing the highest quality Miniature Horse.
Founded by KC Pappas, her pursuit of breeding World Caliber halter horses earned her the AMHA Lifetime Achievement Award in 2010. The consistency of the First Knight breeding program is proven year after year as they are awarded World & National Champion titles. Since KC's retirement from the show ring, her daughter Stephani has taken the lead – and continued the winning tradition with First Knight horses in both Halter & Performance events.
First Knight Miniatures is supportive to both youth and amateur programs, helping to develop their skills & nurture the love and admiration for our little equines.
Located in Spurger, Texas
(417) Ad updated 9/12/2017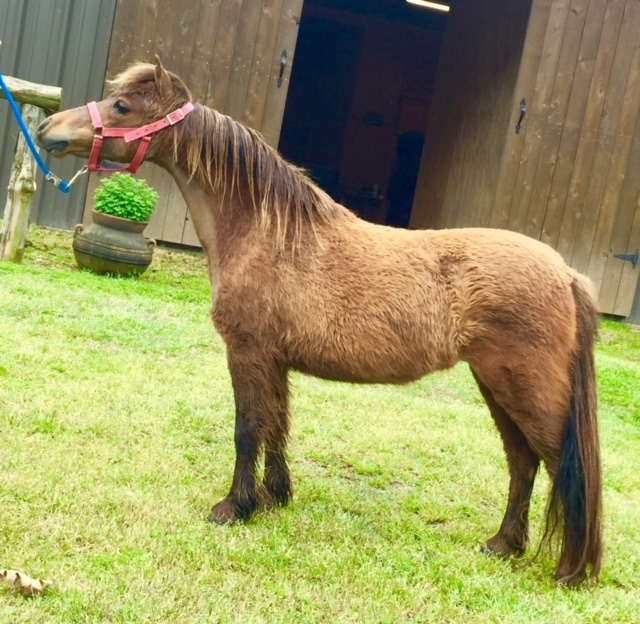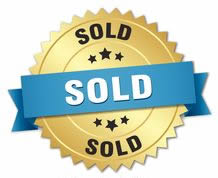 LM Hawks Bey Escape
AMHA/AMHR 2014 Bay 31.5" Show Mare
Sold from this page
LM Idols Radiant Hawk (May 2017)
Riverdances Marbled Tigress (December 2016)
RFM Inikis American Beauty (July 2016)
PHR Idols Brilliant Hawk (June 2016)
LM Hawks Bey Escape (May 2016)
LM Idols Juliette Hawk (April 2016)
LM Idols Blue Halo (April 2016) Congrats to Erin Petrilli
LM Hawks Classic Fable (March 2016)
LM Idols Contessa Hawk (February 2016)
SMHCs Rhythmic Dancer (December 2015)
2015 Shampaigne Filly by Billy Idol (November 2015)
Aloha Acres Picture The Lite (October 2015)
Aloha FRF A Silent Fawn (October 2015)
ALOHA ASPC/AMHR Shetland 2015 Chestnut Pinto SHOW Filly (September 2015)
Stars Idols Inspiration (August 2015)
Star Struck Hershey's Sweet Success (May 2015)
MiniEquine Idols SemiSweet (January 2015)
Alliance LA Mercy Me (January 2015)
Picture Perfect Rebelchase Roxyhart (October 2014)
Soldier Creek Baby Im A Star