Driving Mares offered for Sale
Buckeye WCF Summer Dance
(Summer)
AMHA/AMHR 32.5" Chestnut Mare with Chrome!- Country Pleasure WINNER!
Multiple AMHR Res NATIONAL CHAMPION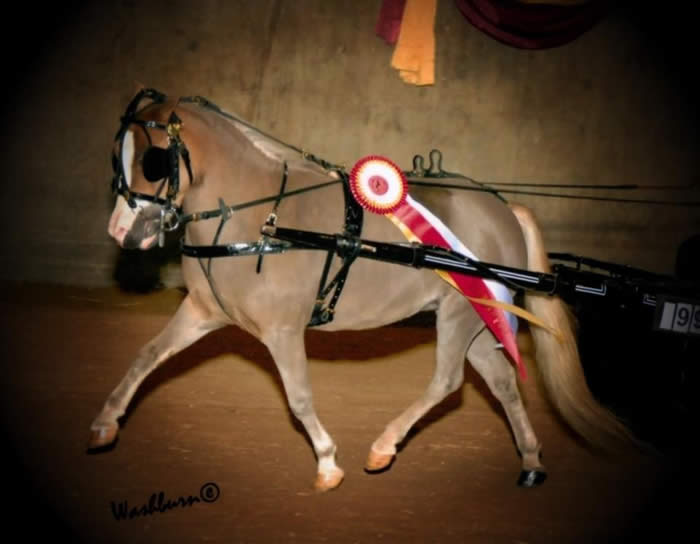 Flying W Farms Little Wardance x SPFS Touch Of Magic
Foaled 5/02/2007
Every horse bred by Buckeye WCF deserves a second look -
With that prefix, you KNOW the horse is a superior animal - carefully bred with much forethought, to ensure the best possible chance of making a CHAMPION.
Summer certainly fits the bill! This young mare is beautiful and smart.
She is a fancy mover who excels in Country Pleasure - and she's well on her way to becoming an all-around contender.
Summer has her AMHR Hall-Of-Fame (HOF) in driving and nearing her HOF in halter! She's uncomplicated - perfect for a novice but competitive enough to compete in Amateur or Open.
Want to talk PEDIGREE?! Summer is a direct daughter of War Dance who is a 2x AMHA National Champion as well as a champion producer for Buckeye WCF Farm.
His get have gone on to be wonderful producers themselves.
This is one FANCY mare at a very fair price! Show her then breed her! Regretfully offered for sale due to family health issues.
SOLD! JULY 2014
SOLD from this page:
Buckeye WCF Summer Dance (July 2014)
Lymricks Vegas Showgirl (April 2014) Congrats to the Weis Family
2 B Patsy Cline (March 2014) - sold to Sweden! Congrats to Eva Rubin!
MTC Scarlett Lass (February 2014) Congrats to Kim Audet