Miniature Stallions Priced at $1,000.00 or less

JAMiniatures Impressive Prince
(CJ)
AMHA 2016 Black Pinto Stallion - will mature 33"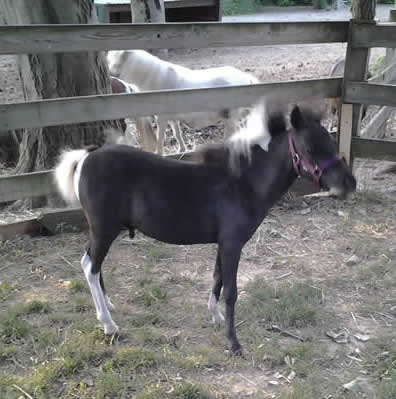 Adormes Majesty Prince x KSB Thunders Ribbons
Foaled 3/28/2016
Handsome, colorful and a doll to work with!
We are excited to offer CJ as a prospective show horse or future herd sire.
This young colt has tons to offer!
He is a minimal pinto with flashy white socks and a stark white tail.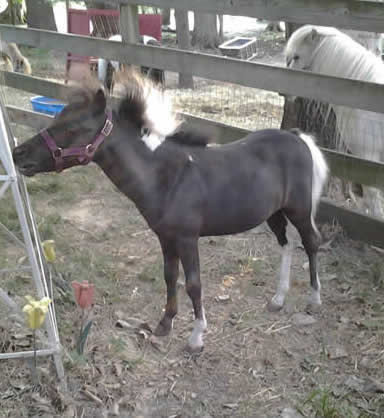 CJ will mature around 33" and be an ideal all-around candidate as well.
This young stallion is weaned and ready to go to his new home,
He has a super attitude and is easy to handle.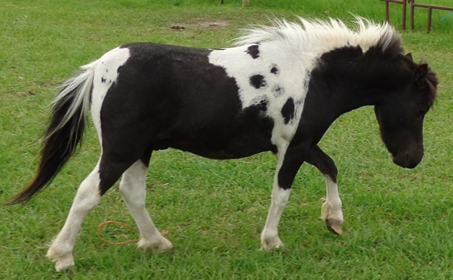 Sire Dam
Priced low at just $800.00
Proudly offered by our Page Sponsor, J A MINIATURES
J.A. Miniatures is a small farm located in North West Ohio. I have been raising and breeding miniature horses for 13 years. I'm a breeder of Top quality Miniature Horses.

All my horses are AMHA registered and some are double registered. Proven show quality miniatures.

Some of my outstanding bloodlines are Boones Little Buckeroo, Komokos Little King Supreme, Little King Buck Echo, Little King Supreme Dream, Little King Super Supreme and Bond Dynamo.
Located in Leipsic, Ohio
(616) Ad updated 4/25/2017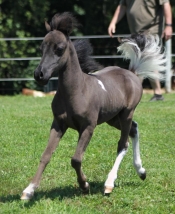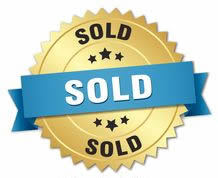 Hopkins Inspired Image
AMHA/AMHR 2016 Black Pinto FANCY Show Stallion
BY AMHA NATIONAL GRAND CHAMPION STALLION
Sexy And U Know It
(Simon)
AMHA/AMHR/WCMHR Rose Gray 2014 28" Stallion
SEARCHING FOR A SIZE REDUCER? OR TINY GELDING PROSPECT?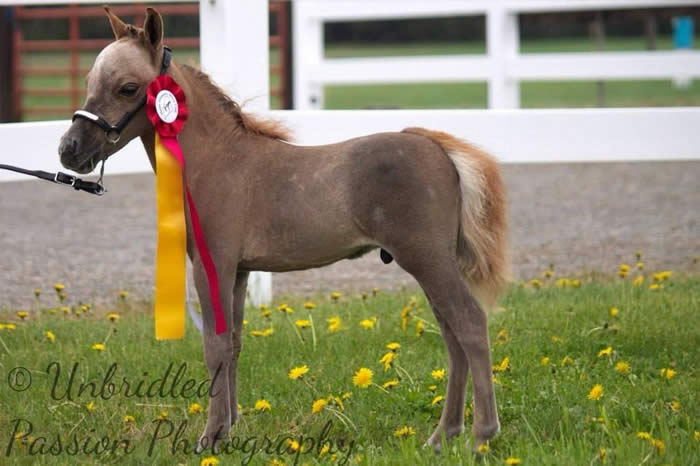 Fallen Ash Eagles Fine Art x RFM Undisputed Simply Irresistable
Foaled 4/26/2014
Even as a young foal, "Simon" has shown potential as a show horse!
In fact, he was awarded multiple championships as a weanling.
Simon has been shown successfully in both rated and open shows.
At just 28" tall, he's very correct for such a tiny stallion.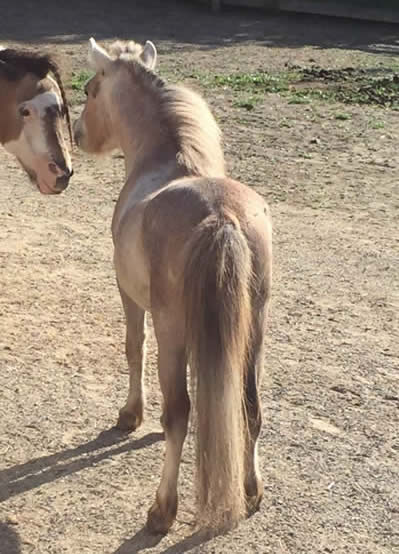 He's a pretty rose grey, lightening as he ages.
His pedigree boast some excellent bloodlines. Simon's sire, Fallen Ash Eagles Fine Art is a direct son of FALLEN ASH FARMS EAGLE SCOUT.
He is also a grandson of WITTMAACKS MICKEY MOUSE (by Gold Melody Boy).
"Fine Art" is a World Champion halter horse.
Simon's dam, RFM UNDISPUTED SIMPLY IRRESISTABLE, is a grand daughter of AMHA National Champion Get-of-Sire, NFC EGYPTIAN KINGS CREATION -
Well known for stamping his offspring with pretty heads and large, kind eyes.
Some of "Creation's outstanding offspring include:
BELOVEDS HALLELUJAH CREATION - World Res Grand Champion
BELOVEDS ALMIGHTY CREATION - World Champion
GROSSHILL EK CREATIONS STARDUSK - 2x World Champion
VERMILYEA FARMS OLYMPUS - 2x AMHA National GRAND Champion
Creation is also known as a size reducer.
Many of his winning get have matured under 30" yet competed and WON against horses of a much taller stature.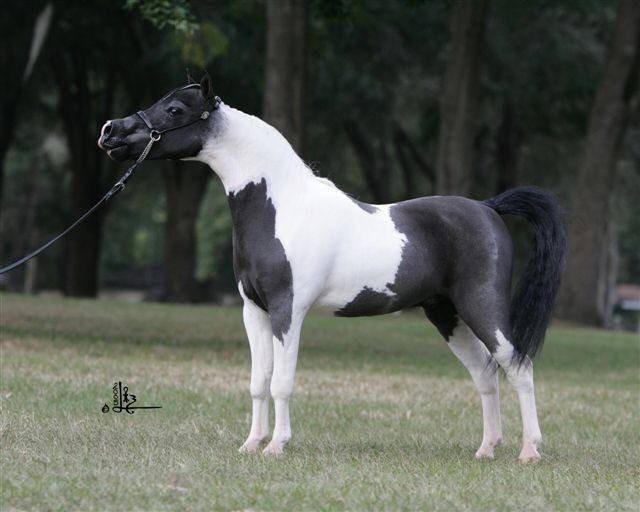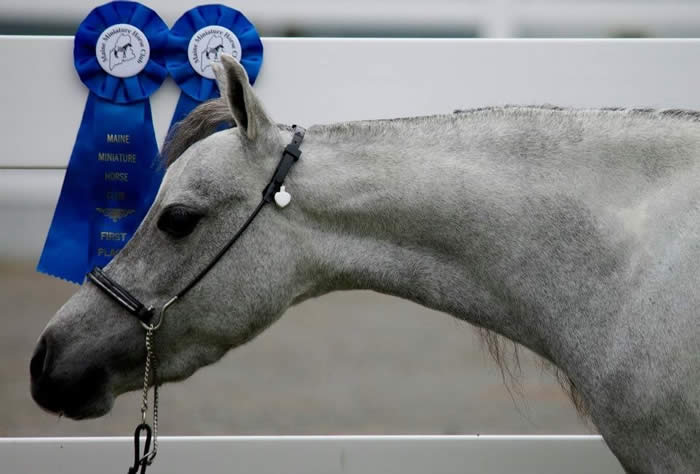 Sire: Eagle Scout grandson Dam: "Creation" grand daughter
Simon's pedigree is impressive enough to warrant him staying as a stallion.
He would also make a fun and talented gelding.
Either way - he's priced LOW and waiting for his forever home!
OFFERED AT ONLY $300.00
Jill Flaherty
(207) 671-0690
JillRN71@aol.com
Located in Southern Maine
(417) Ad updated 5/27/2017
Offered By Our Corporate Sponsor, Junior Bear Ranch in California
Junior Bear Five One Five Oh
(Five-Oh)

AMHA/AMHR 2013 Sorrel Pinto Stallion & Fancy Driving Prospect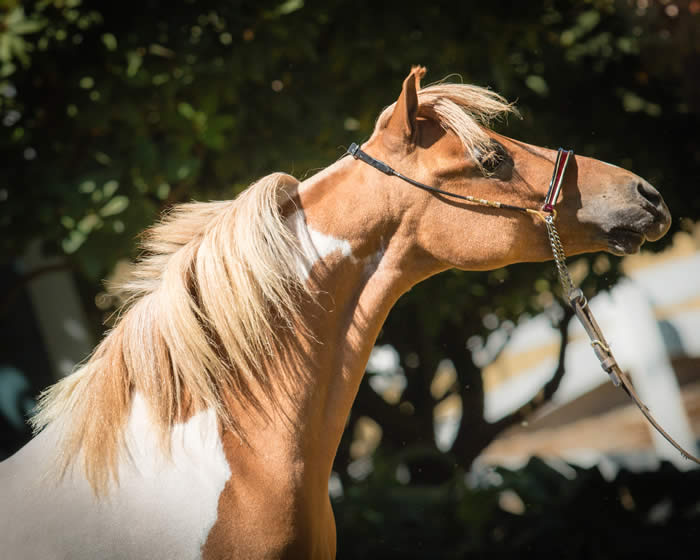 Las Doradas Buckeroo Show Girl x Lucky Four Rebels Regalaire

Foaled 5/21/2013
This pretty young stallion sure keeps some impressive company.
For starters, check out who his paternal siblings are!
Five-Oh's sire, Regalaire is the sire to:
World GRAND CHAMPION Roadster & 4x World Champion - Samis Tripoli
11x World Champion - Samis Sid Savoy
World Res GRAND CHAMPION Classic Driving - Samis Vegas Knight
(Regalaire is owned by Samis Lil Horse Ranch)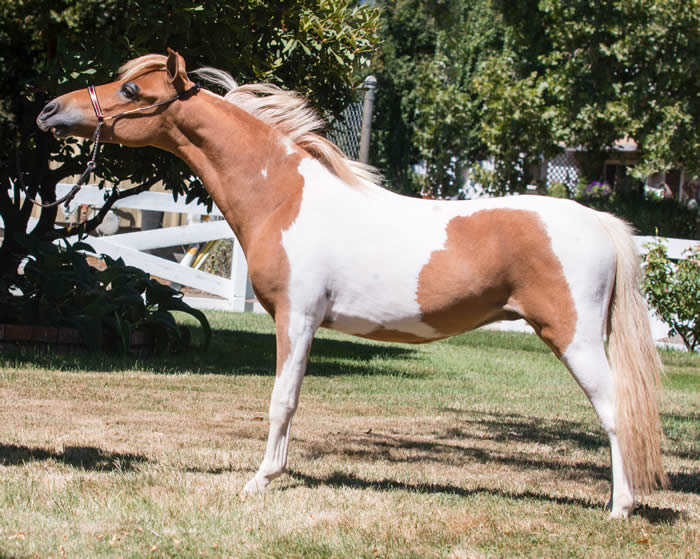 This little stallion is bred to move!
Good temperament, big eyes.
Loud color, great stretch. High knee and hock action, solid bite.
(Video will come soon)
5150 is a long-legged, long-necked, pretty moving colt.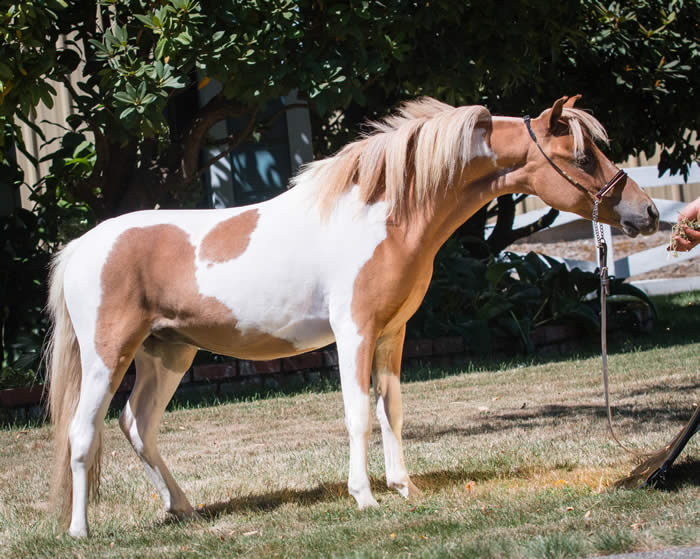 Both of his parents have thrown World Champions and this boy is the beautiful by-product of great parents!
He would be an asset to any herd as a stallion or as a gelding!
Priced to sell.
$500.00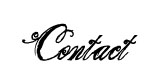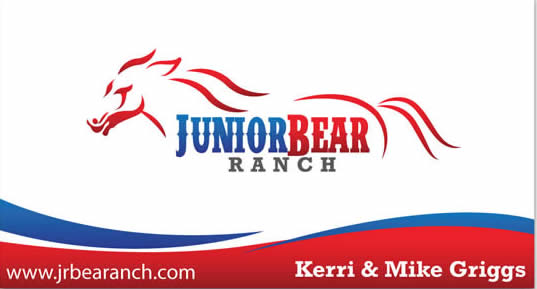 Located in California
(516) Ad updated 1/16/2017

Junior Bear Sir Tritan
(Tritan)
AMHA Unregistered 34+ Cremello Stallion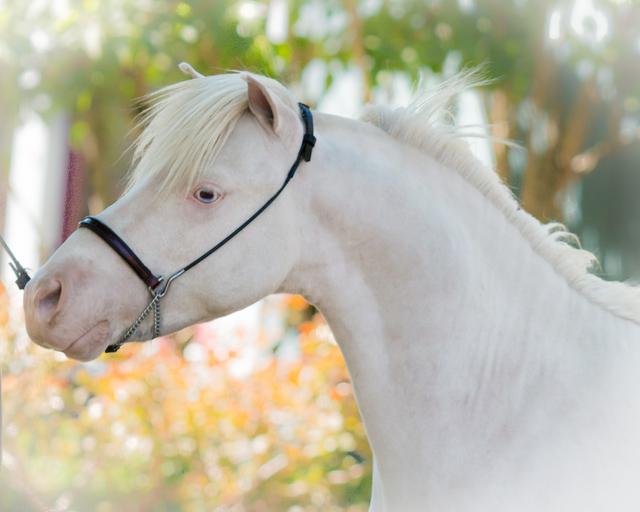 Sir Winsabuck x Junior Bear Bedelia
Foaled 5/2012
Are you a CDE (Combined Driving Events) competitor?
We are quite certain that TRITAN was bred to do just that!
His pedigree tells the story -
Tritan's sire, SIR WINSABUCK, is a World GRAND CHAMPION Single Pleasure Driving horse. His incredible show career spanned SEVEN years - and it is SO impressive, it's worth sharing:
SIR WINSALOT'S AMHA SHOW RECORD:
2005 AMATEUR SINGLE PLEAS DRIVING LV 1 WORLD CHAMPION
2005 OPEN ROADSTER RESERVE WORLD CHAMPION
2005 LADIES' ROADSTER WORLD CHAMPION
2007 YOUTH SINGLE PLEASURE DRIVING 13-17 WORLD CHAMPION
2007 AMATEUR SINGLE PLEAS DRIVING LV 1 WORLD CHAMPION
2007 AMATEUR SINGLE PLEAS DRIVING LV 2 RESERVE WORLD CHAMPION
2007 GENTLEMEN'S SINGLE PLEASURE DRIVING RESERVE WORLD CHAMPION
2008 LADIES' SINGLE PLEASURE DRIVING WORLD CHAMPION
2008 GENTLEMEN'S SINGLE PLEASURE DRIVING WORLD CHAMPION
2008 SINGLE PLEASURE DRIVING STALLIONS WORLD CHAMPION
2008 SINGLE PLEASURE DRIVING WORLD GRAND CHAMPION
2009 AMATEUR SINGLE PLEAS DRIVING LV 2 RESERVE WORLD CHAMPION
2009 SINGLE PLEASURE DRIVING STALLIONS RESERVE WORLD CHAMPION
2009 GENTLEMEN'S SINGLE PLEASURE DRIVING RESERVE WORLD CHAMPION
2010 AMATEUR SINGLE PLEAS DRIVING LV 1 WORLD CHAMPION
2011 YOUTH SINGLE PLEASURE DRIVING 13-17 RESERVE WORLD CHAMPION
2011 AMATEUR SINGLE PLEAS DRIVING LV 1 WORLD CHAMPION
2011 SINGLE PLEASURE DRIVING STALLIONS RESERVE WORLD CHAMPION
2011 GENTLEMEN'S SINGLE PLEASURE DRIVING WORLD CHAMPION
If that doesn't peak your interest, it's worth noting that Tritan's dam, Bedelia, is by 2x Res World Champion, Single Pleasure Driving, Samis Quiz Kid.
Quiz Kid is a grandson of both Shadow Oaks Top Banana AND the immortal ROWDY.
Driving talent flows through Tritan's bloodlines - he could be YOUR next driving horse deluxe!
Priced at $500.00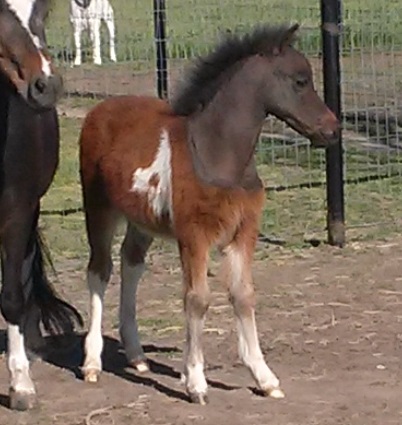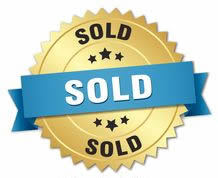 Lazy N Incendios El Jefe
(Jefe)
AMHA/AMHR 2016 Bay Pinto Stallion SHOW PROSPECT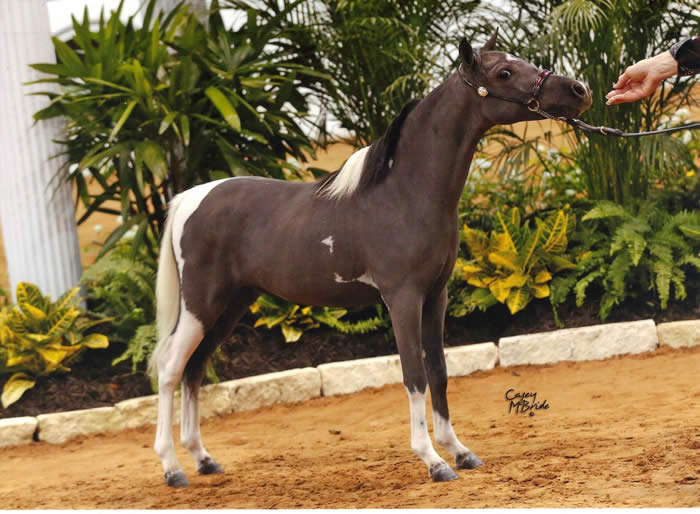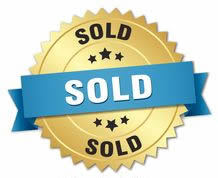 Lazy N Boleros Diego
(Diego)
AMHA/AMHR 2015 Bay Pinto Stallion by BOLERO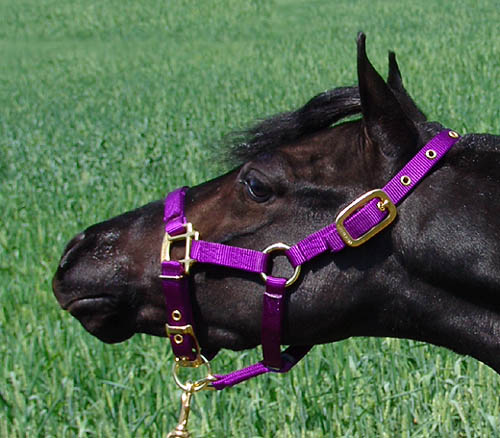 #JW200 Economy Non-adjustable Nylon Halter
3/4" 2-ply nylon, eyelet holes are burned to prevent fraying, no color choice. 
Well made Amish basic halter. (similar to photo but NOT adjustable noseband)
AMISH MADE in the USA.
Size is based on height at withers:
Small (27" - 29" horse)
Average (30" - 32" horse)
Large (33" - 35" horse)
Pony (36+ pony)
ONLY $10.00!

24/7 Call Toll Free 1-888-775-6446
VISIT OUR PRODUCTS PAGES FOR MANY MORE UNIQUE MINIATURE HORSE CLOTHING AND SUPPLIES
The Miniatures on this page are looking for good homes. Prices are very affordable - and suitable for great 4H homes or a pet home situation - some may even be free to approved homes with references!
Limited in budget, but not limited in the amount of LOVE you can give? Check out the horses in this album - priced at $900.00 or less. Many of the sellers will donate a part of the proceeds of the sale to a Mini Horse Rescue of their choice. Horses are available to loving, forever homes - ideal for 4Hers (once gelded!), companion horses or someone just looking for a wonderful "pet" mini.
Be sure to visit our Page Sponsor (on right) to view Minis available for adoption, or volunteer to be a FOSTER HOME for a Mini in need!
Please check back often!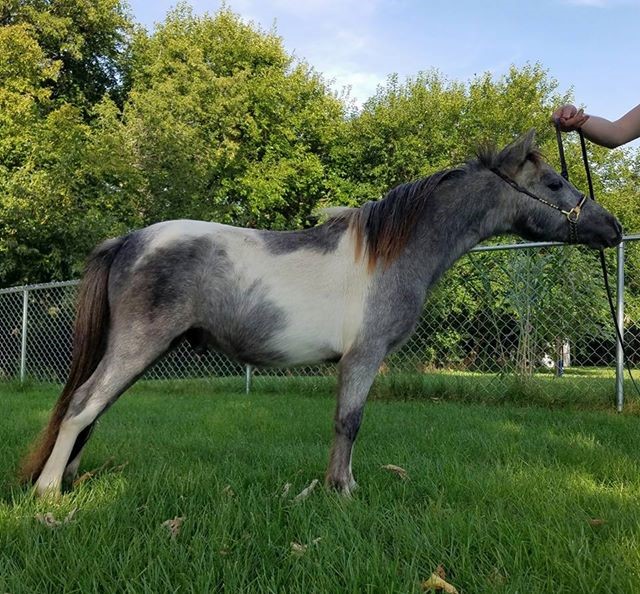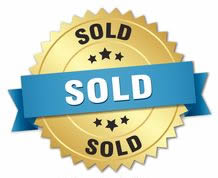 Wolf Country Carbonado Apache
AMHA/AMHR Registered 2015 Grey Pinto 30" Stallion
SOLD FROM THIS PAGE
Hopkins Inspired Image (April 2017)
Lazy Ns Incendios Deigo (January 2017)
Lazy N Boleros El Jefe (January 2017)
Wolf Country Carbonado Apache (January 2017)
ABC Prime Time Buckon Bluez (October 2016)
Lucky Four Buckdeluxe Bodacious Bey (January 2016)
JA Miniatures Undisputed Commander (October 2015)
TOF Warriors Apache Masquerade (September 2015)
Nostalgias Supreme Justice (February 2015)
Amazing Grace On Cloud 9 (December 2014)
J and J Farm CF Cherokee Warrior (October 2014)
Frodo & Moonstone (July 2014)
11 Acres Sho Me The Money (May 2014)
MJM Little Louis Vuitton (April 2014)
Tapestry Call Me Cashmere (March 2014)
"Dexter" (February 2014)
Stars Legendary Eagle (December 2013)
Stars Legendary Gangster (December 2013)
Allure Ranch Spirits Ghost Rider (October 2013)
Wonder Horses Mischiefs Little Image (October 2013)
Rainbow Ridge Crimson Knight (October 2013)
Rainbow Ridge Hawks Buckeroo Laddie (October 2013)
Coolest Unforgettable (August 2013)
LR Hennessey Spirit (August 2013)
LR Aristocrats Invader (August 2013)
TOMF Pop A Top (July 2013)
Ace (July 2013)
Brave (July 2013)
Greystone Deputy Friday Surprise (July 2013)
Romeo (July 2013)
LR Idols Prince Charming (June 2013)
Wa-Full Unique Warrior (May 2013)
Finchwood Drakkars Royal Viking (May 2013)
Scenic Echo Bouncing Scout (May 2013)
Maple Hollow Numero Uno (April 2013)
TenLs Bey Medallion (February 2013)
Bucks Grand Apostle (December 2012)