Miniature Stallions For Sale Age 3 & Over

Lucky Four Shadowbuck Johnny Angel
(Johnny)
AMHA/AMHR 2004 33" Black Pinto PROVEN Stallion
HAS PRODUCED REGIONAL CHAMPION WEANLINGS SIX YEARS IN A ROW!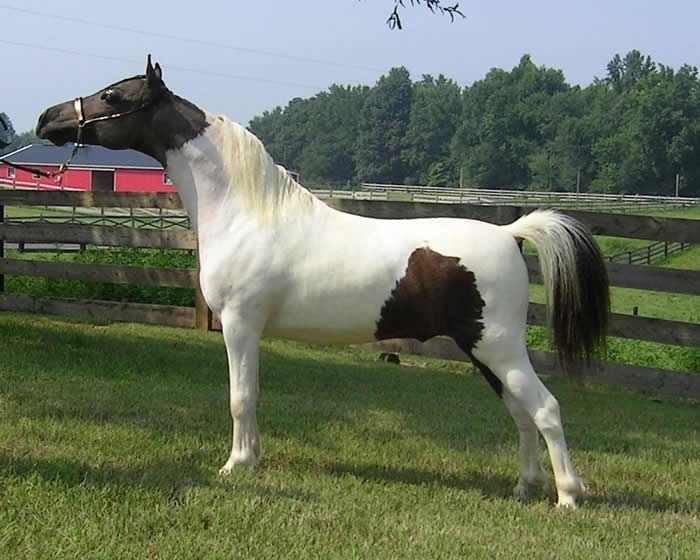 Lucky Four Black Velvet Shadowbuck x Lucky Four Rebels Real Doll
Foaled 3/30/2004
BLACK VELVET & SIDS REBEL BREEDING!
Talk about a goldmine of classical, powerful bloodlines!
Johnny has been an amazing producer for Sunny Side Stables.
Johnny's sire is a BLACK VELVET grandson.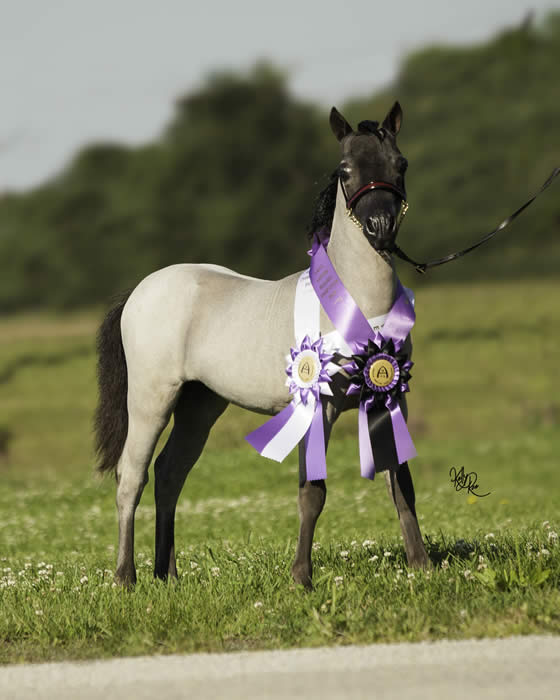 Since they have retained many of his daughters, they are offering him for sale to a serious breeding program.
He has produced numerous REGIONAL CHAMPION weanling foals at Sunny Side -
- many going on to illustrious show careers with top trainers.
See one of his most recent winners at left! Eastern Regional Champion and Res Champion Junior Mare
SUNNY SIDE O SO ABOVE N BEYOND
Since a stallion is know by what he can produce, below you can see examples of the consistent quality in his offspring.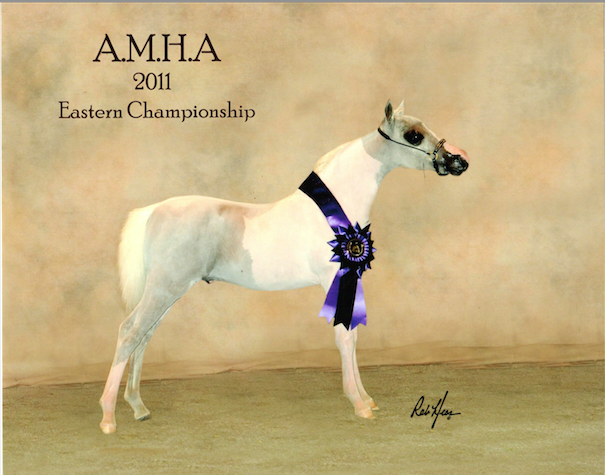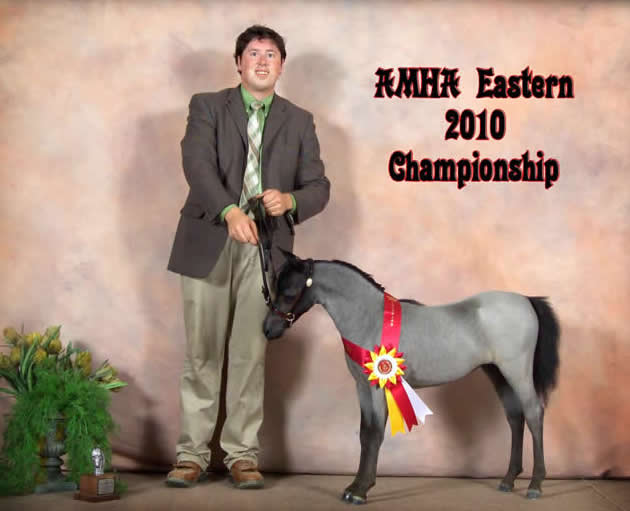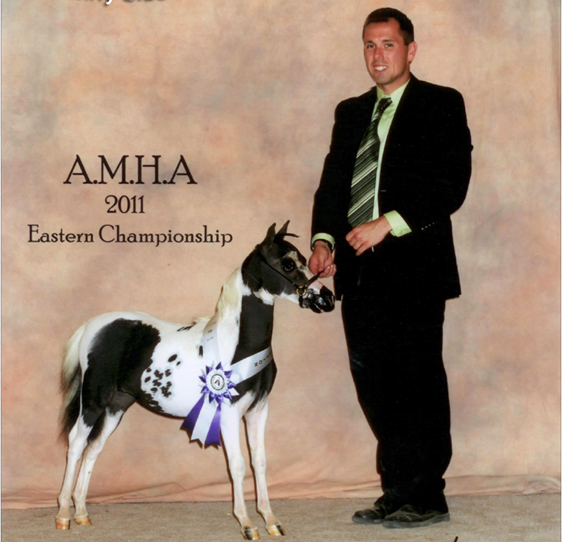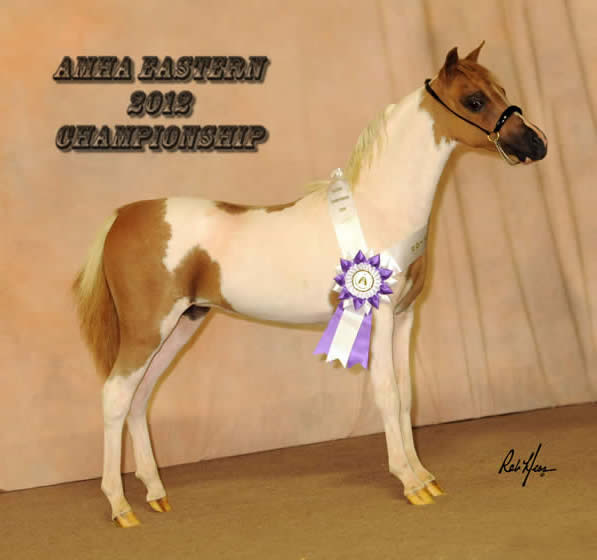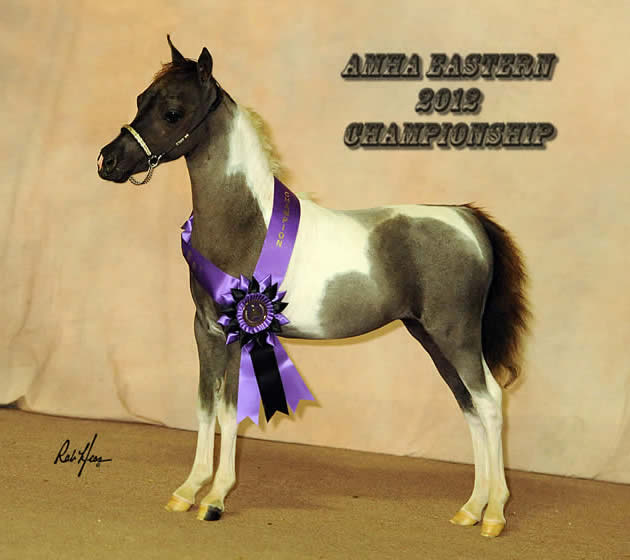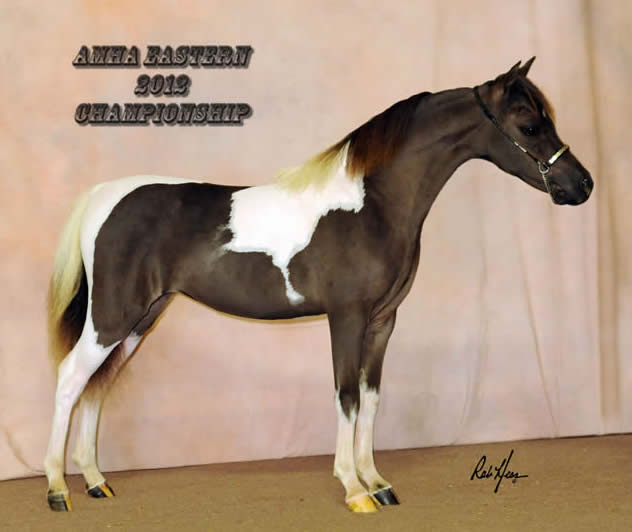 He produces CONSISTENT quality that is relevant in today's competitive show arena.
His foals are sweet tempered and easy to train.
This bloodline is becoming increasingly harder to find and still very coveted.
Johnny has the signature "Black Velvet: swan neck and tight throat latch.
His type and balance are passed down from SIDS REBEL - one of the winningest sires of all time.
Johnny's dam is a direct DAUGHTER of this iconic stallion.
Now that LUCKY FOUR FARMS has dispersed most of thier herd, it will become increasingly hard to find these amazing bloodlines!
If you are looking for a PROVEN stallion that gets his mares in foal easily and can offer top bloodlines and lots of pretty pinto babies - JOHNNY might be your guy!
Priced at $3,500.00
OR BEST SERIOUS OFFER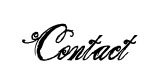 SUNNY SIDE STABLES
Ray Martin
(717) 819-9623
GrandPrix@Sunnysidestables.com
Located in Pennsylvania
(82318X) Ad updated 2/26/2018
Birch Tree Farms Knock Out Champ
(Champ)
ASPC/AMHR 2012 35" Black Pinto PROVEN Stallion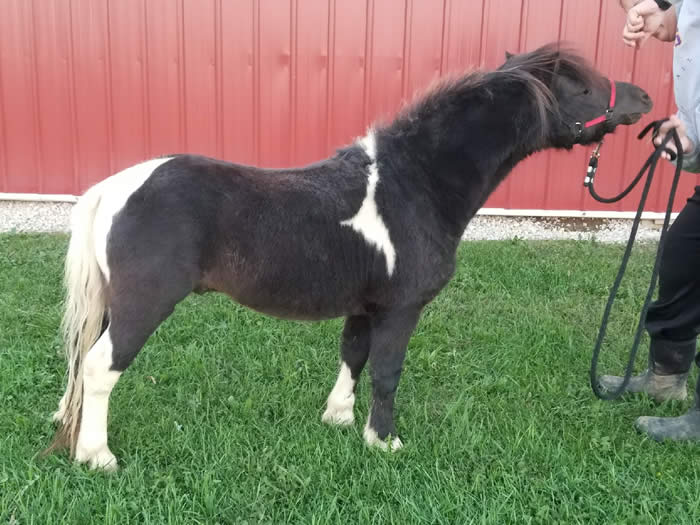 FFF ENTERTAINER'S KNOCK ON WOOD (HOF) x FFF STAR SEARCH
Foaled 5/06/2012
Graham's, Michigan & Kewpie's breeding at it's BEST!
This PROVEN stallion could be exactly what you need if you want to downsize yours mare while maintaining refinement, balance and the beautiful "Shetland" body.
His pedigree is peppered with HOF (Hall of Fame) Champions.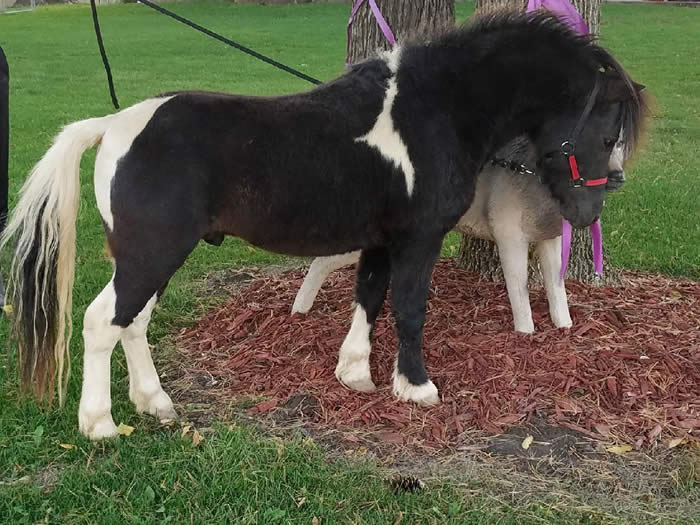 This handsome black pinto stallion is easy to handle.
He can hand or pasture breed.
He's downsized all our mares with foals all staying under 33".
If you are looking to DOWNSIZE - or breed horses eligible for AMHA hardship -
- Champ may be your guy!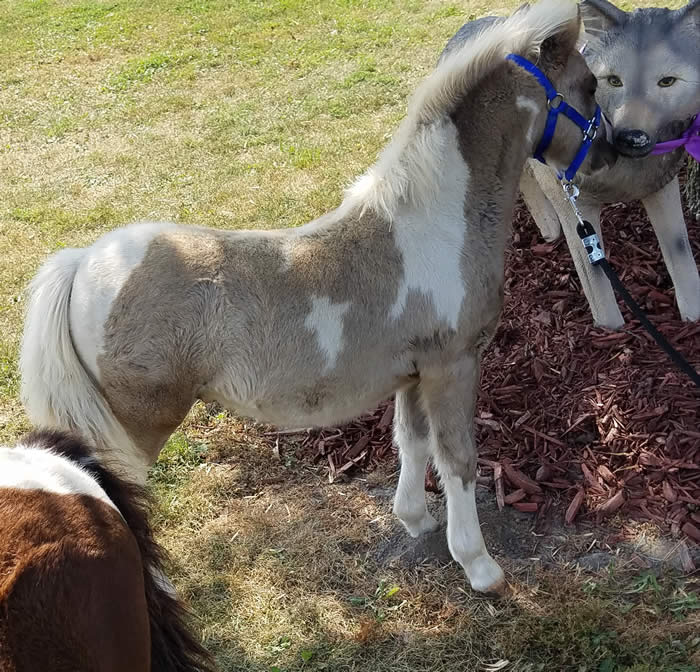 A sample of his offspring is pictured at left.
He's already produced an AMHR GRAND Champion mare.
We have no doubt he'll produce many more for his new owners!
If you strive to add fancy movement and brilliant color to your herd, don't miss out on CHAMP!
PRICED AT JUST $1,250.00 FOR FAST SALE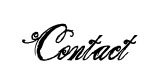 MEYERS MINIATURES
Mindy Meyer
mmeyer4752@live.com
563 880 4752
Located in Colesburg, Iowa
(1117) Ad updated 10/20/2017
CMC Maundy Man O' War
(Chief)
AMHA/AMHR Registered 2015 Chestnut SHOW Colt
PATERNAL SIBLING TO OAK BAY SALSAMIO!
Bristol Pepito x Wingates Serenade Mi
Foaled 04/02/2015
Chief is a handsome sorrel colt with a star.
He is sired by the amazing Triple Registered BRISTOL PEPITO.
Wingates Serenade Mi is a daughter of Oak Bay Mi Amigo who is now overseas.
That makes her a granddaughter of World Champion Get of Sire and multiple World Grand Champion producer, Oak Bay Salsamio.
Chief is AMHA/ AMHR registered.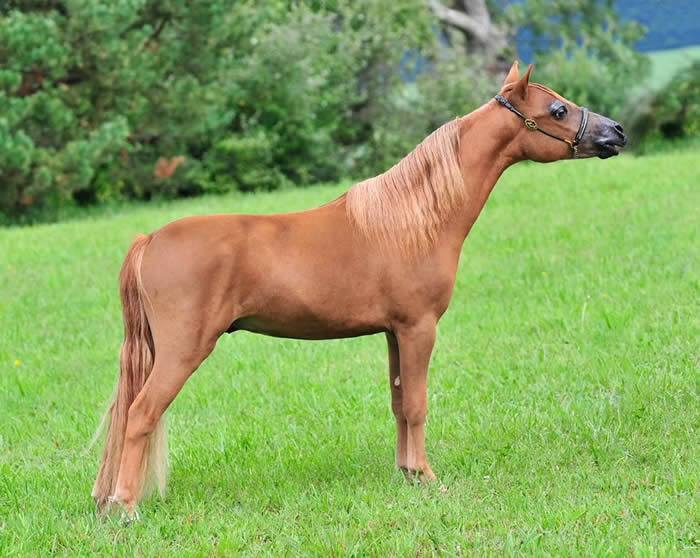 Chief was born in April 2015 with 7.5" cannon bone so we expect him to mature around 32" - 32.5".
He is a very nicely put together colt.
Chief has a pretty head, long hooky neck and straight, correct legs.
His bite is right on.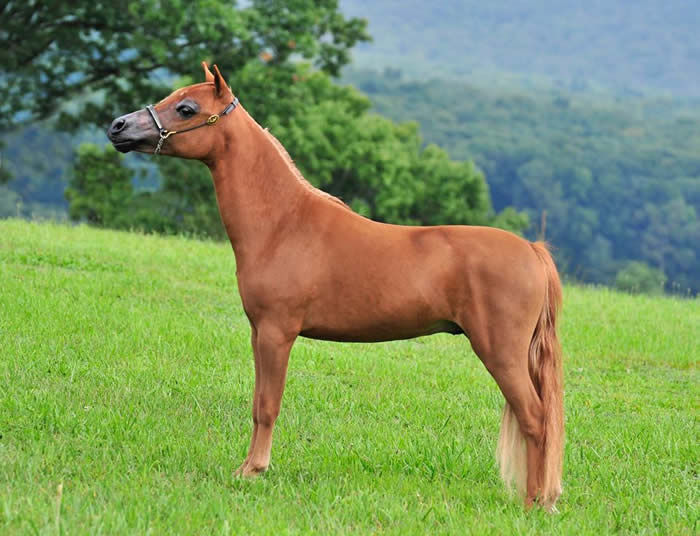 We just LOVE his wonderful personality and think you will too!
He'll make a competitive stallion and an unbeatable all-around gelding prospect.
He's priced low for his quality and TOP bloodlines. Additionally we are offering a discount if purchased with a gelding contract.
It's a WIN-WIN whatever direction you choose with this young stallion!
Proudly offered for sale
Priced at $1,000.00
(payment plan available)
Carmelites' Mini Corral
403 West County Road,
Sugarloaf  PA 18249
(570) 788-1205  -
(570) 788-3329 Fax
Located in Pennsylvania
(1016) Ad updated 6/14/2017
First Knights In The Moment
(Moment)
AMHA/AMHR 2008 32" Sorrel PROVEN Stallion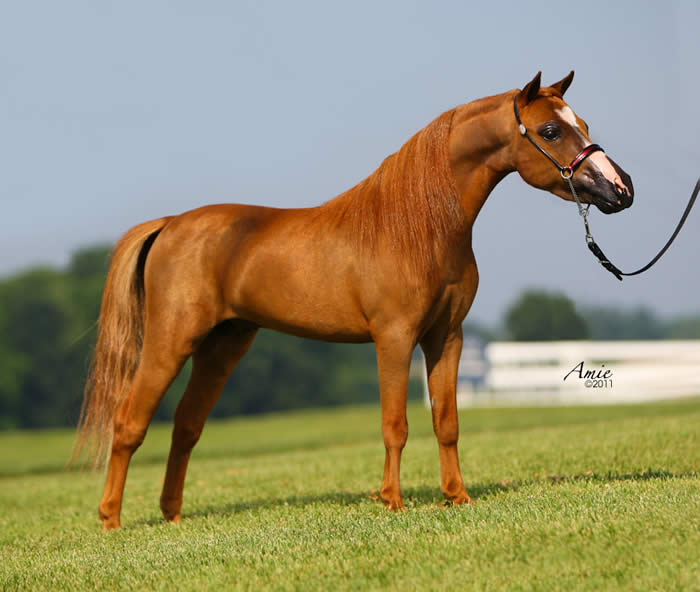 First Knights Bit O Hot Shot x Running Bares Black Jack Special
Foaled 5/28/2008
Proven DOWNSIZER for your taller mares!
OFFERED FOR SALE OR AS A LEASE - PLEASE INQUIRE FOR DETAILS!
"Moment" carries the bloodlines of some of the winningest Miniature Horses in history.
His pedigree boasts the BEST of First Knight lines.
He's a FULL sibling to Mutli World Champion and World Champion producer, FIRST KNIGHTS REDNECK PRINCESS and World GRAND CHAMPION mare, FIRST KNIGHTS DIVINE DIVA.
"Moment" has produced show quality foals for HHM and we will be retaining some of his daughters as future broodmares.
Because of this, he is proudly offered for sale - OR for lease to the perfect situation.
 $5,000.00 purchase/ inquire about lease options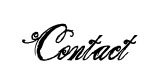 OFFERED BY OUR CORPORATE SPONSOR HOPKINS HEAVENSENT MINIATURES
BRAD & DEBRA HOPKINS
(443) 693-5169
debra@hopkinsheavensentminiatures.com
1089 Pond Neck Road
Earleville, MD 21919
Located in Maryland
(517) Ad updated 10/11/2017
Sonoita Highlands Darth Vader
(Vader)
AMHA/AMHR 2002 31.5" Black Appaloosa Stallion
5x AMHA World Champion - and he DRIVES!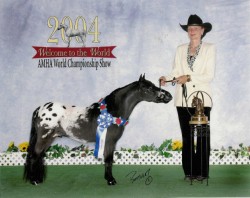 Another Dimensions DWBs Invader x Picture Rocks French Silk
Foaled 6/23/2002
Talk about flashy AND talented!
Vader is a boldly marked black appaloosa stallion with FIVE World/Res World Champion titles to his credit.
He's also the NWMHC multi High Point Champion in Halter, Color, Driving AND he's an All-Around Champion!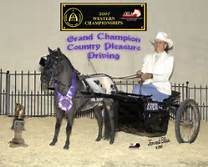 He's as talented as he is pretty too -
- Vader is broke to DRIVE. In fact he's an AMHA GRAND CHAMPION in Country Pleasure Driving.
He's simple and uncomplicated with a great worth ethic and a desire to please.
This brillianlty marked boy is an extremely well mannered stallion.
Vader is a PROVEN sire who has passed along his appaloosa characteristics to many of his offspring.
He's balanced and correct with clean straight legs, strong hip and a darling, expressive face.
$6,500.00
Cherie Smith
(503) 917-9097
cherietrainctr@aol.com
Located in Dallas, Oregon
(1117) Ad updated 10/8/2017
Hopkins Image On Fire
(Fire)
AMHA/AMHR 2012 PROVEN Sorrel Stallion
2X AMHA RESERVE WORLD CHAMPION STALLION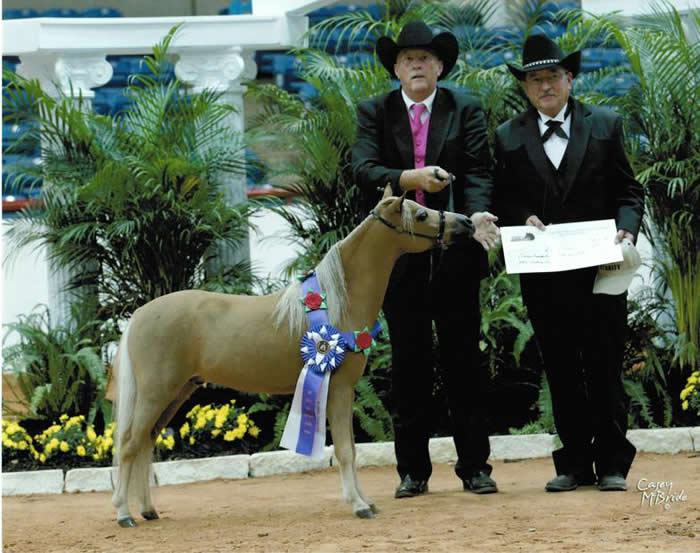 Alliance Unforgettable Image x Little Kings Joanna Jubilee
Foaled 3/20/2012
What more could you ask for?
FIRE is already a 2x Res World Champion, multi GRAND CHAMPION stallion and a SUPREME Champion.
He's also a PROVEN producer of show quality foals.
We have retained his offspring to show then breed and so we are proudly offering FIRE for sale.
He's an easy stallion to manage.
Fire can be hand bred or pasture bred.
He could easily be fit up and go back into the show ring.
His pedigree is ROYALTY.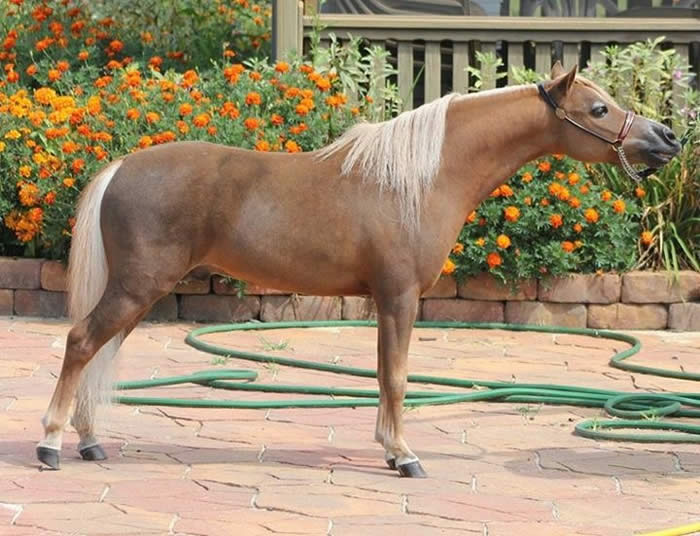 Fire's sire, Alliance Unforgettable Image, is an AMHR National Champion and National Reserve GRAND CHAMPION Stallion, Under.
Unforgettable Image is also a 5x AMHA World Champion in DRIVING.
Fire's dam is a 2x AMHA World Champion producing mare carrying the BEST of Little King bloodlines.
$3,000.00
LET'S MAKE A DEAL!
~ Below is one of Fire's foals - pictured so you can see the QUALITY he produces ~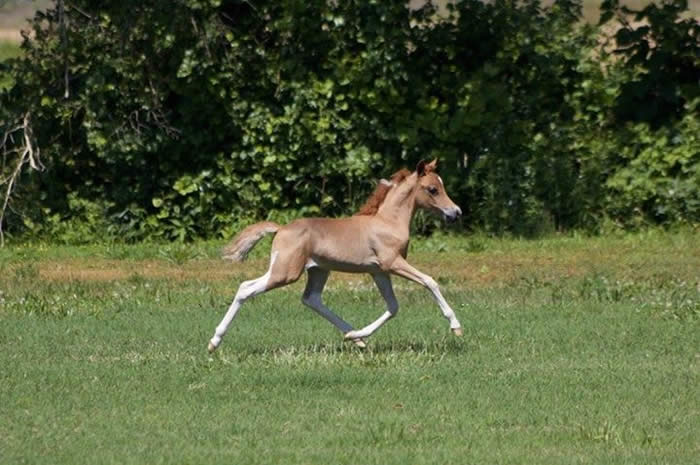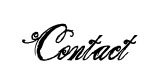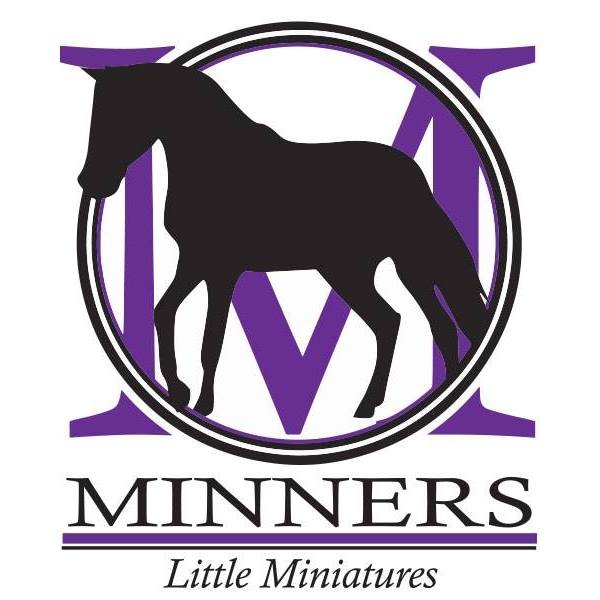 Kacie Minner
klminner11@students.desu.edu
(302) 242-9999
Located in Delaware
(1117) Ad updated 10/7/2017
CMC On Eagles Wings
(Wings)
20 AMHA/AMHR 28.75" Black Pinto Stallion
4x RESERVE WORLD CHAMPION EAGLE SCOUT SON!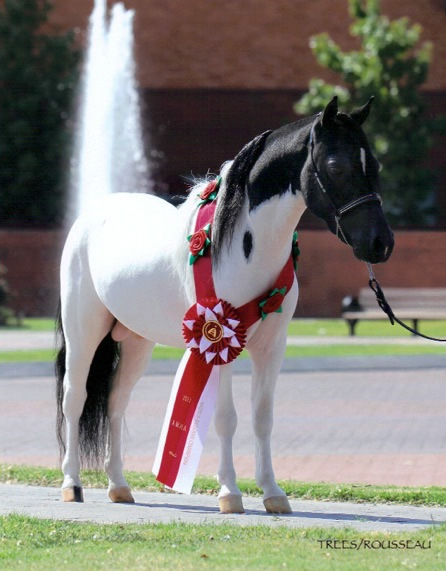 Fallen Ash Farns Eagle Scout x Fallen Ash Scouts Not Forgotten
Foaled 5/28/2009
It's SO hard to find a TINY Miniatures with "horse-like: proportions -
- but check out this PROVEN stallion!
His foals are outstanding and he produces SMALL.
Sadly offered for sale as we regroup after losing one of our precious stallions to a freak accident.
Wings is small and correct with a pretty head and bright, cheery attitude.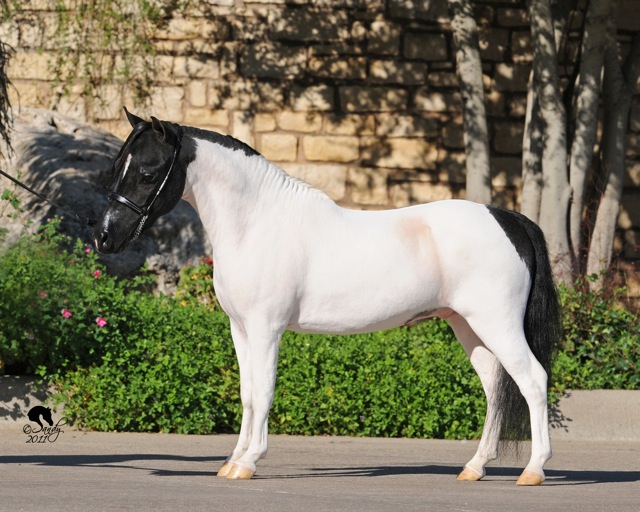 He SAFELY measures under 30" and would be competitive as a Senior Stallion (or even a Senior GELDING!)
His pedigree is TOPS -
- Wings is a son of Get-of-Sire World Champion and World GRAND CHAMPION producer, "Eagle Scout".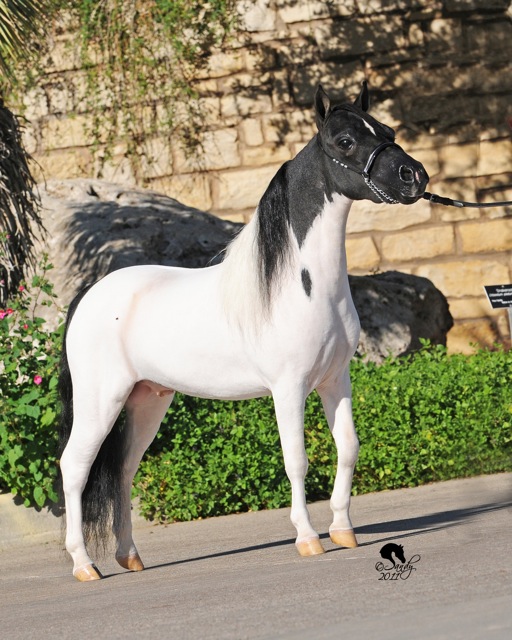 "Small" runs in his lineage -
- in fact Eagle Scout has produced the World GRAND CHAMPION Heritage Horse FALLEN ASH FARMS EPIC EAGLE (for World Champions 30" or Under)
and World GRAND CHAMPION Amateur Mare (at just 31" tall!) FALLEN ASH EAGLES OLYMPIAN DREAM.
Wings is out of a daughter of the epic L&D Scout and goes back to the Gold Melody Boy SON, WITTMAACKS MICKEY MOUSE on his dam's side.
Check out a few of his offspring pictured below!
This stallion would be an asset to any progressive breeding program looking to produce TINY and correct foals.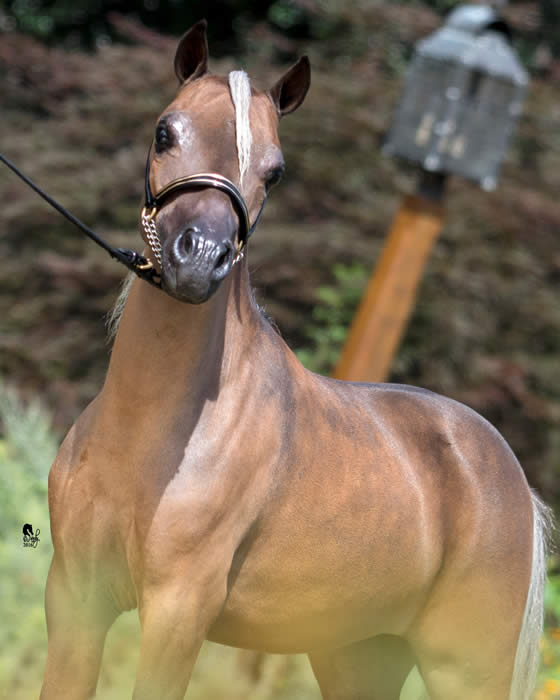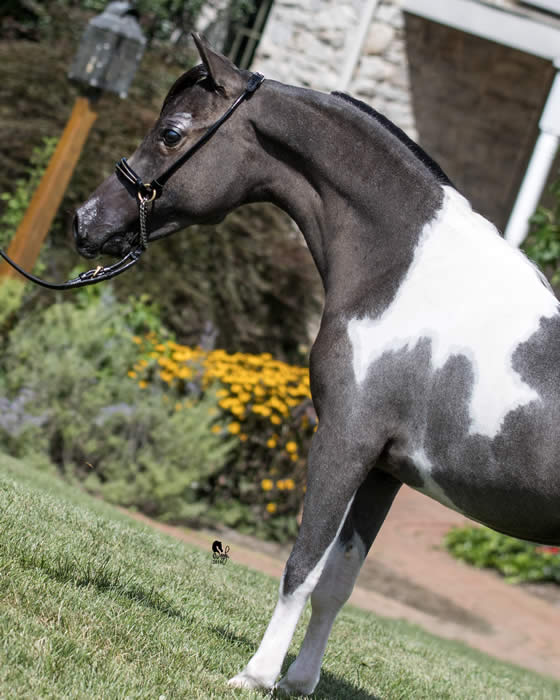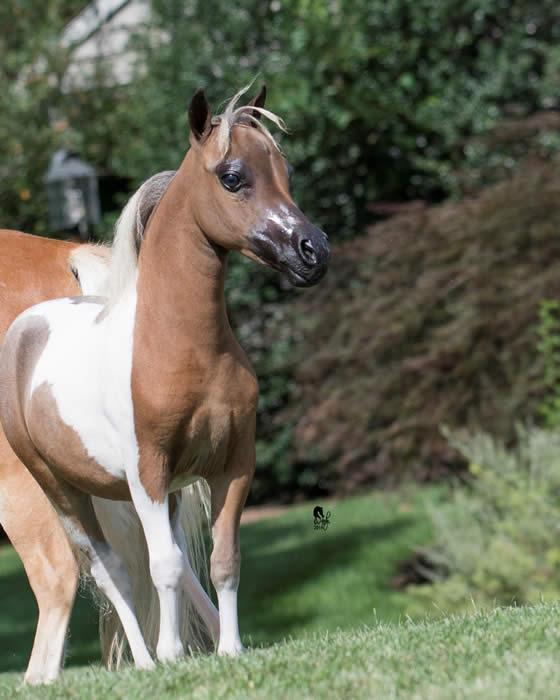 PRICED AT $3,500.00
LET'S TALK!
OFFERED BY OUR CORPORATE SPONSOR AZARIAH MINIATURES at MEADOWIND FARM

Located in southeastern, Pennsylvania, Azariah Miniatures at Meadowind Farm is a small farm with a goal of selectively breeding refined miniature horses that will be competitive in the show ring, strengthen your breeding program, or bring joy to your family.
Our horses are chosen for their correct conformation, excellent temperaments, balanced, elegant movement, and strong bloodlines.
While our site is under construction, please feel free to contact us 
Azariah Miniatures
at Meadowind Farm
Julie Good
Manheim, PA
717 725-7784
azariah@meadowindfarm.com

"And Indeed, a horse who bears himself proudly is a thing of such beauty and astonishment that attracts the eyes of all beholders; no one will tire of looking at him as long as he will display himself in his splendor." ~~Xenophon
Located in Pennsylvania
 (1017) Ad updated 10/27/2017
HM Leatherwood Uno Armani
(Manny)
AMHA/AMHR 2012 33" Bay Champion SHOW Stallion
KY MINIATURE HORSE BREEDERS ASSOCIATION FUTURITY NOMINATED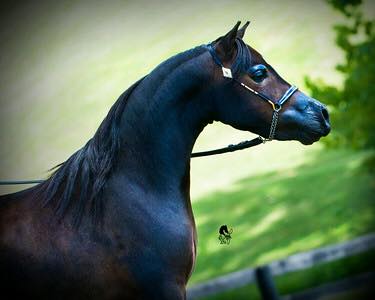 Majolicas Leatherwood Dreamboy x Ten Ls Uno Painted Promise
Foaled 4/01/2012
EARN MONEY WHILE YOU SHOW!
Manny is KyMHBA nominated - so EVERY Open/Amateur point you earn at any AMHA will get you cash back at the end of the year!
Some smart owners get hundreds of dollars back every year.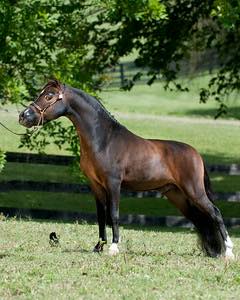 Manny is SWEET, SMART and SHOWY.
He would be a fun and talented driving horse, pretty enough to compete in halter.
In fact as a yearling he won Champion AMHA Honor Roll AOTE Yearling Stallions!
What fun it will be to have a show horse that will PAY his WAY as you collect the ribbons!
We feel Manny would make an amazing all-around GELDING if his new owner chooses.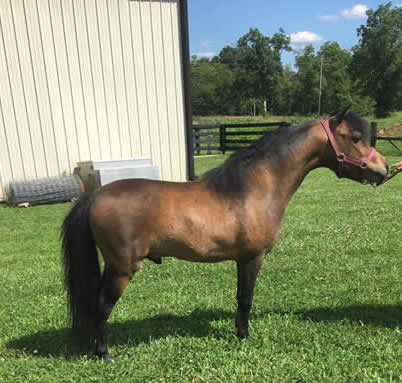 Of course his pedigree suggests he would be an awesome breeding stallion if you decide to keep him as your herd sire.
His sire is by Little Kings Leatherwood Buckeroo -
- the sire to 3x AMHA World SUPREME CHAMPION Libertys Miss Kentucky.
Manny's dam is a grand daughter of AMHA National GRAND Champion, SIERRA DAWN UNO DE MAYO.
Whichever direction you choose, you can't go wrong with Manny!
He's affordable!
OFFERED AT $1,900.00
AGENT:
Laura Tennill
TEN L TRAINING CENTER
tenl16@aol.com
(502) 643-5024
Located in Shelbyville, Kentucky
(917) Ad updated 8/17/2017
Exclusive Offerings from our JSW Farms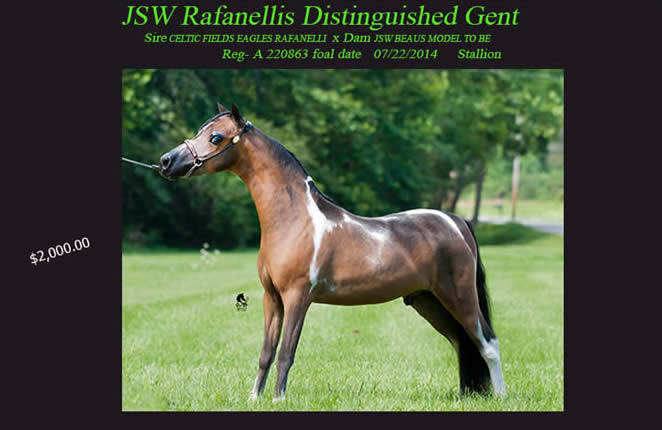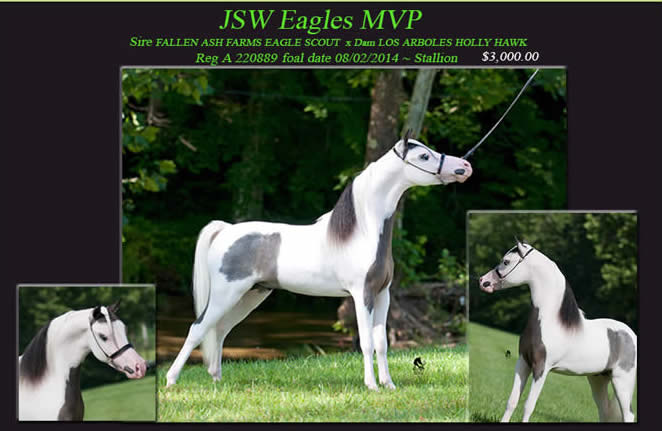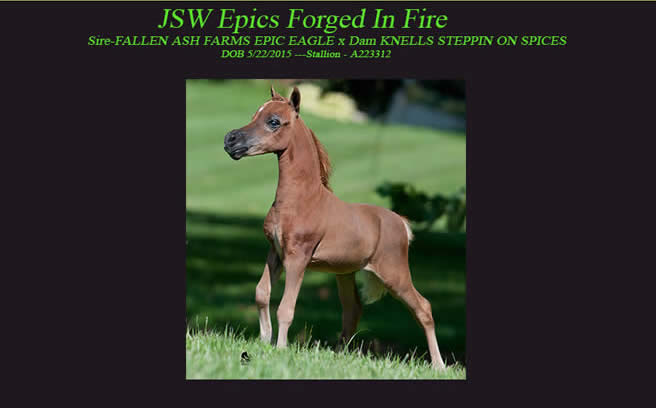 Proudly offered by JSW Farm

info@jswfarm.com
(606) 743-4436
Horses located in Kentucky
(817) Ad updated 7/25/2017
LM Hawks Mandalay Bey
(Cash)
AMHA/AMHR 2013 35"Bay w/blue eye Proven Stallion
DIRECT SON OF CHAMPION FARMS NIGHTHAWK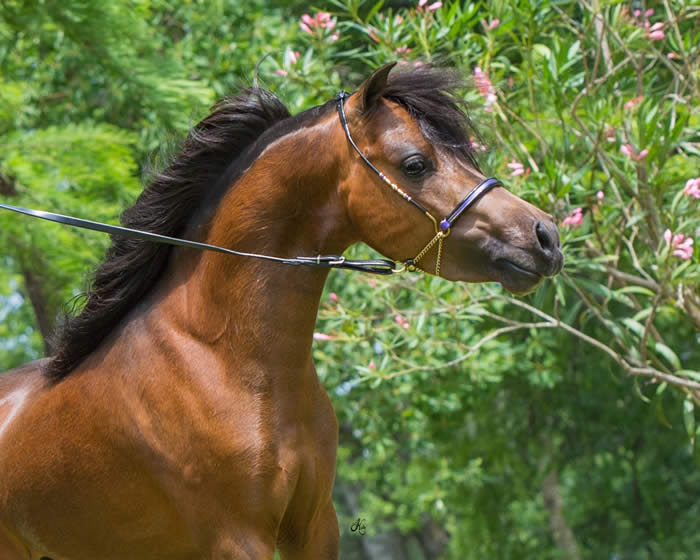 Champion Farms Nighthawk x Buckeye WCF Dance Until Dawn
Faoled 6/13/2013
PROVEN son of NIGHTHAWK - ready for his own herd of mares! 
 I have LOVED this stallion since he was a foal!
From his rich blood bay to his bright blue eye, Cash is every breeder's dream..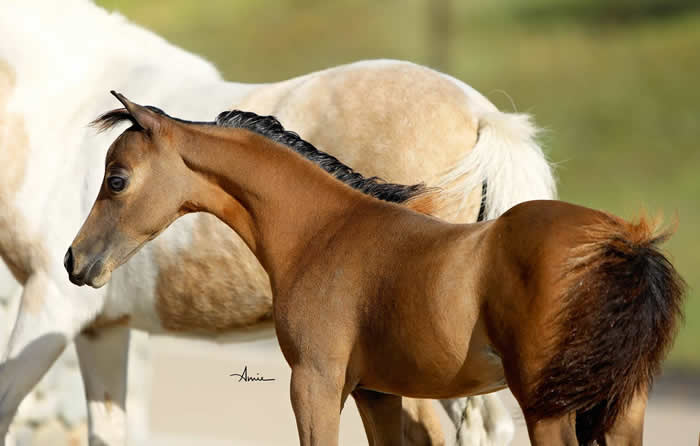 He comes from a line of champions that's hard to top.
His dam is a multi-World Champion producing mare.
His sire is the amazing producing stallion, 2x Get-of-Sire World Champion, CHAMPIONM FARMS NIGHTHAWK.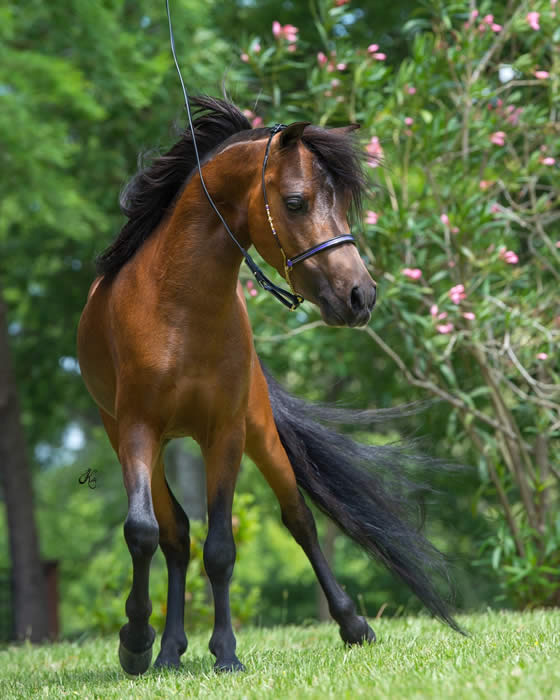 - and CASH is a perfect example of the "Nighthawk" hooky neck and sweet, showy attitude.
He's AMHA & AMHR registered although he measures closer to 35".
We bred him and are OVER THE MOON with his ability as a sire.
See for yourself, above, right! That's a recent foal by Cash.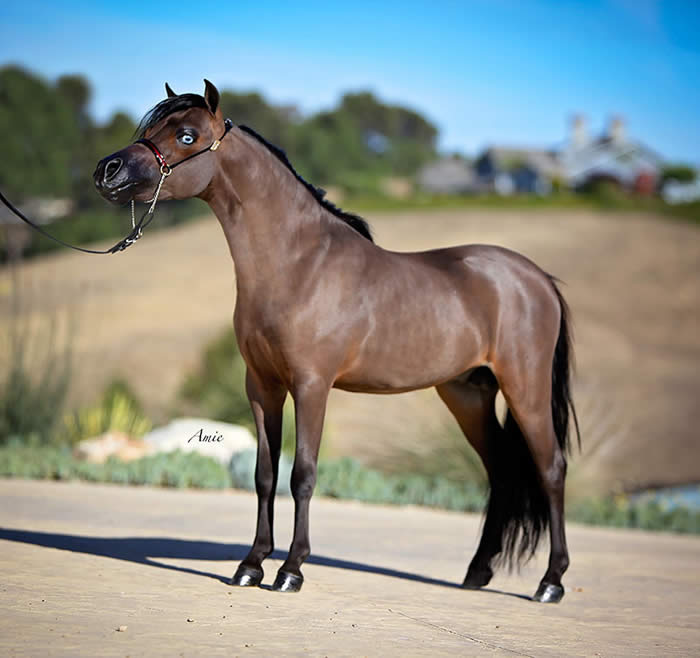 (foal owned by Painted H Ranch in California)
The photo at right is Cash as a yearling so you can see his bright BLUE EYE!
PRICED AT $2,5000.00
++ Serious inquiries only please ++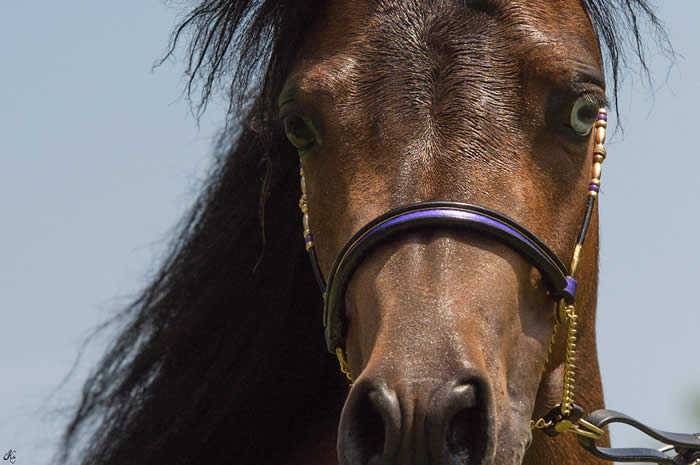 OFFERED BY OUR CORPORATE SPONSOR:
Janet King
3837 FM 1643
Winnsboro, Texas 75494
903.629.3234
606.584.4231
jfk657@yahoo.com
Located in Winnsboro, Texas
(217) Ad updated 10/25/2017
Adormes Majestic Prince
(Prince)
AMHA/AMHR 2010 29.5" Black Pinto PROVEN Stallion
PINTO LOVERS - THIS STALLION WILL ALWAYS PRODUCE PINTOS!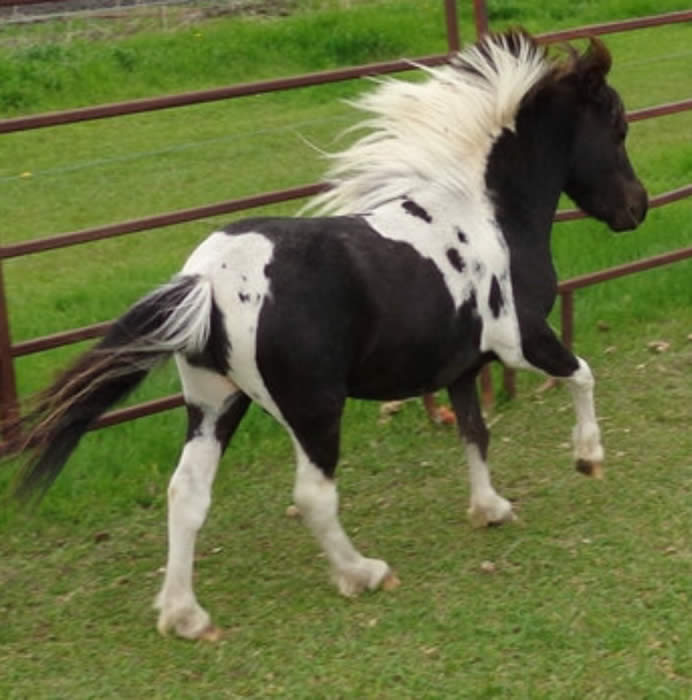 Thiunders True Copy x JJs Hilltop Lady Bug
Foaled 5/18/2010
Who doesn't LOVE a black pinto?
And what makes PRINCE extra special?
This young stallion is homozygous for pinto -
- that means every foal will have color and/or chrome!
His super cool "paw prints" are just icing on the cake.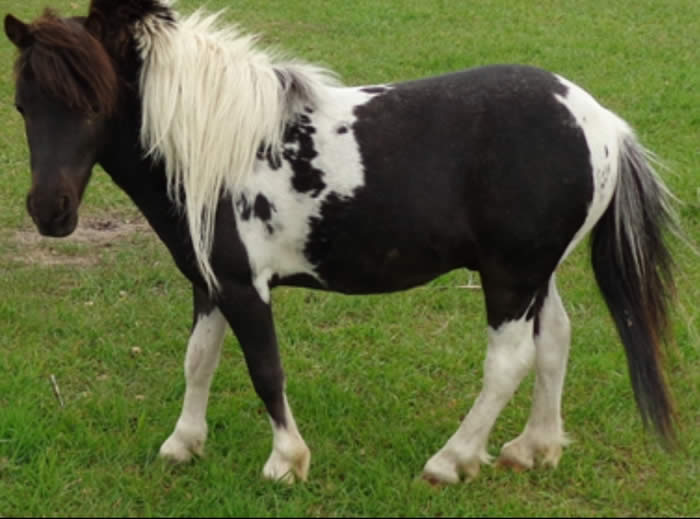 Prince is a tiny stallion at just 29.5"
He has been used lightly for breeding and has produced foals with pretty color that will mature small.
JA Miniatures has added an outcross stallion to their herd and so is proudly offering this pretty pinto for sale.
$2,500.00
J.A. Miniatures is a small farm located in North West Ohio. I have been raising and breeding miniature horses for 13 years. I'm a breeder of Top quality Miniature Horses.

All my horses are AMHA registered and some are double registered. Proven show quality miniatures.

Some of my outstanding bloodlines are Boones Little Buckeroo, Komokos Little King Supreme, Little King Buck Echo, Little King Supreme Dream, Little King Super Supreme and Bond Dynamo.
Located in Leipsic, Ohio
(1217) Ad updated 11/24/2017
Davinas Dash N Cash Remi
(Remi)
AMHA/AMHR 2015 Black/Bay Leopard Appaloosa Stallion
WILL MATURE UNDER 30" - MEASURES 27.75" AS A 2 YEAR OLD!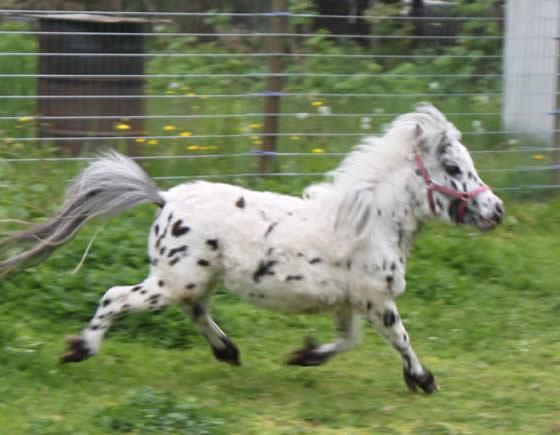 Ardencraig Allegros First Edition x Tailwinds Sparkle Plenty
Foaled 6/03/2015
LOVE SPOTS?! IT DOESN'T GET MUCH BETTER THAN THIS!
Remi is a striking leopard appaloosa that is projected to mature under 30",
He has tons of "tiny" behind him and we expect that he'd make a great downsizer for your colorful breeding program.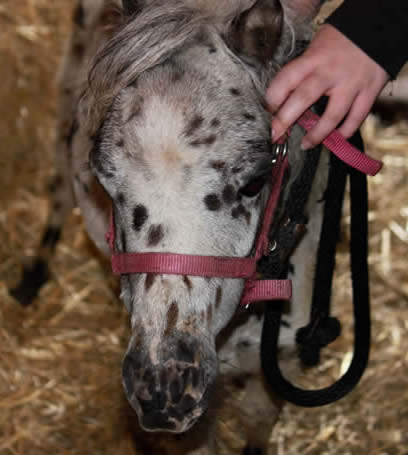 Both his sire & dam measure under 30".
Remi measures 27.75 at over 2 years old!
In fact, his paternal grandsire, ZARZUELAS ALLEGRO is a World Champio7n Senior Stallion, 28" & Under!
He's hairy in the photos but looking through the "fuzz", Remi is fine featured with a balanced, correct build.
His spots are just a bonus!
He has his Health Ceritficate, Coggins and stallion certificate from the vet, certifying that both his testicles have descended.
PRICED AT $5,500.00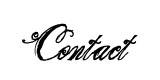 M. Ryder
LIL ACHERS MINIATURES
(604-858-0141
lilachersminis@hotmail.com
Located on the BC/WA border, 45 Minutes from Sumas, Washington
(917) Ad updated 9/5/2017

RFM Inikis Thunder Storm
(Storm)
AMHA/AMHR 2015 Black Pinto 31.75 Stallion w/Blue Eyes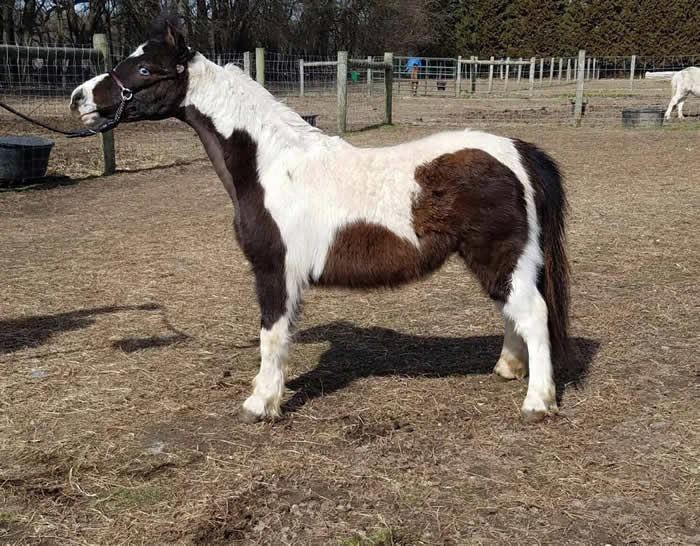 RFM Thunders Iniki x Reeces Orion Thunder
Foaled 07/28/2015

Storm is the last Iniki son born in the US.
"Iniki" is a Reserve World Champion as well as a World Champion producing stallion.
Storm is double bred on AMHA National Champion REECES THUNDER HAWK.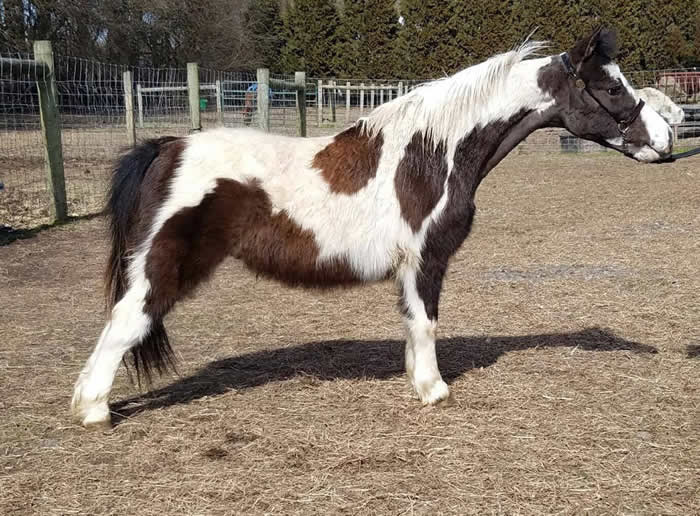 Storm's dam is a lovely Pintaloosa mare.
She is a grand daughter of 2x AMHA Res National Champion, BREWERS ORION COMMANDER.
She goes back to the iconic ORION LIGHT VANT HUTTENEST.
Thunder has classically correct conformation, a pretty head and ultra long neck.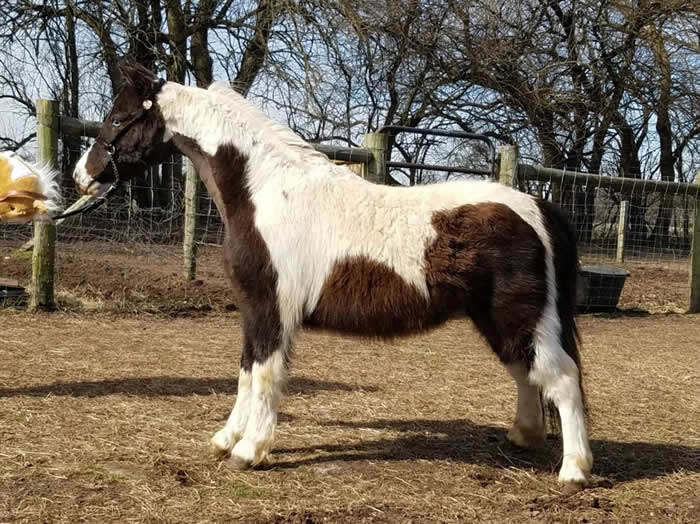 His BOLD pinto markings are just an added bonus!
Priced at $3,500.00

Zee Jays Smokey Mountain Rain
(Rain) 
ASPC/AMHR Registered 31" 2014 BLACK Stallion
SMALL ENOUGH TO HARDSHIP INTO AMHA & BECOME TRIPLE REGISTERED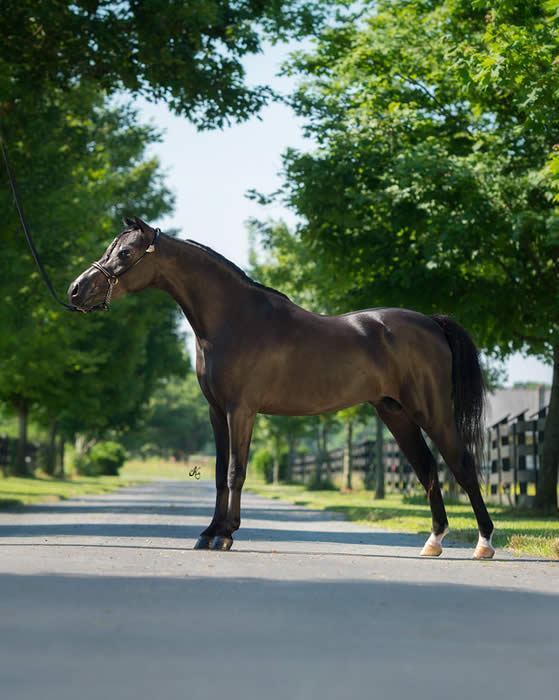 Wa-Full Unique Waylon  X   Woodmeres Smokey Mountain Rain
Foaled 06/13/2014 
Rain is a handsome young Shetland with an enviable pedigree.
His bloodlines have the proven ability to enhance any breeding program by adding extreme refinement and a smooth, elegant "Shetland" body.
At just 31" tall, he will be easy to measure into AMHA as a five year old.
He has a pretty head, nice neck and a level top line.
He was shown at the 2016 AMHR National Show and was Fourth in Two Year Old Stallions 33" and Under.
He was the smallest horse in his class.
Rain does have a tiny blue dot in one eye.
With his pedigree, size and good looks, he should be an invaluable breeding stallion!
Price $6,000.00
Located in Delaware
(417) Ad Updated 10/7/2017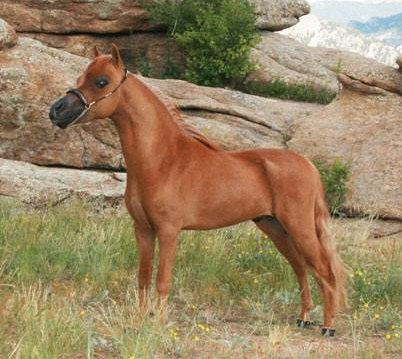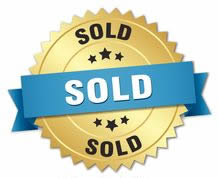 Indian Peaks Prime Time Pick
AMHA/AMHR 31.5" Sorrel PROVEN Stallion
AMHA Res World Champion Stallion

Sold from this page:

WF Cutty Private Dancer (February 2018)

Ten Ls Sunny Side Winsom Buff (February 2018)

Lucky Four Rebel Supreme Noble Cause (Jan 2018)

Triple K Jokers Ima Star (December 2017)

RHA Redis Loaded Dice (December 2017)

Otts Champagne Sparkle (November 2017u)

Indian Peaks Prime Time Pick (November 2017)

Ten Ls Illusion In The Buff (July 2017)

LM Idols Reaux Hawk (June 2017)

Aloha Acres Top Associate (May 2017)

Lucky Four After Dark Grand Prix (May 2017)

Sunny Side Rebelsupreme Extremedreme (May 2017)

Lucky Four Rebelsupreme Top Billing (March 2017)

Fallen Ash Eagles Dark N Dynamic (February 2017)

Aloha Acres Silent Full Moon Rising (January 2017)

Covergirls Rock Sache (January 2017)

Menagerie's Legacy's There'll Be Talk (December 2016)

Lucky Four Dominos Thunderation (November 2016)

Alliance Excalibur (October 2016)

Zephyr Woods Tido (October 2016)

Wingates Dare Mi (September 2016)

R Bar S Dun Dollar (August 2016)

Stars Get Loud (July 2016)

Little Kings Bagheera Buckeroo (July 2016)

StarFire Rhythms Black Thunder (June 2016)

Riverdance Desperado (June 2016)

Wingates Electrify Mi (May 2016)

Manipulators Buckingham (May 2016)

Riverdances Ruler Of My Heart (May 2016)

Covergirls Sinatra Ize Me (May 2016)

Riverdance Majority Of One

Conders Majority Rules

Jones Idols Real E Blue (February 2016)

Cool Ridge Finally Breakin Out (April 2016)

Conders Exceptional By Design (April 2016) Congratulations to Gail Lord!

SVM Mister Chromatic (April 2016)

DVM Rebs Seymour Blues (March 2016)

Lucky Four Buckdeluxe Bodacious Bey (January 2016) - going to Kansas

Hyde Away Farms Dandys Little Tigger (January 2016)

Double Destinys Buckeroo Too (December 2015)

White Tails BLTS One Gallant Rush (November 2015)

Vermilyea Farms Candymans Superhero (November 2015)

McCarthys Hersheys Swirl (October 2015)

Black Mountains Boy Wonder (September 2015)

Obsessive Dream WCF (September 2015)

Southridge Double Jeopardy (August 2015)

Black Mountain Majestic Kingston (July 2015)

FR LM Idols Troubadour Hawk (July 2015)

Mountain Meadows Priority One (July 2015)

Buckeye WCF In Your Wildest Dreams (June 2015)

Reflections Beyond Stardom (May 2015)

Cross Country Ericas Hearts Afire (March 2015)

Riverdances Play It Again Sam (February 2015)

Covergirls Harlequin Romance By Ace (December 2014) Heading overseas

Fallen Ash Eagles Dark N Dynamic (December 2014)

Realitys Full Of Presence (October 2014)

Ravenwood Aristocrat Ohh Behave (October 2014)

Fallen Ash Scouts Majesty (September 2014)

Fairwinds Aztecs Promise Me Grand (September 2014)

Lymricks High Wins (September 2014)

Lymricks Bravado (September 2014)

Misty Rose Paladin (August 2014)

Daysprings Kings Reign (August 2014)

Ravenwood You Will Remember (August 2014) Heading to Australia!

Rocking M 3T Rock N Rebels Revenge (July 2014)

Cacta Woods Duke Of Earl (July 2014) Sold to New England

Oak Bay Salsas Tomatillo (July 2014) Heading to Ohio

Little Kings A Billion Bucks (June 2014) Sold to Vermont

Ranger Creek VCR Valentino (June 2014) Sold to TEXAS

Alliance Uno Valentino (May 2014) Sold to Wyoming!

Sequoia Mimes Movie Maker (April 2014)

Rainbow Ridge Rouge Creation (April 2014)

LM Hawks I Walk The Line (April 2014)

Darmonds GGs Shadow (April 2014)

CMC Eagles Evensong (March 2014) Heading to PA!

Ten L Spirits Afterglow

Poco De Oro Idols Golden Hawk (March 2014)

Terry Jean's Fort Knox (February 2014)

Lucky Four Black Velvet Buck N Buck (January 2014)

Los Arboles Idols Claim To Fame (December 2013)

Uno Apollo (December 2013) - On LEASE for 2014

Laurel Acres A Blaze N Masquerade (October 2013)

Maple Hollows Little Bit O Magic (September 2013)

Graham's Little Stylemaster (August 2013)

Fallen Ash Farms Handsome Eagle (September 2013)

Alliance Star Wars (August 2013)

Clear Brooks Twinkle In The Night (August 2013)

First Knights Legendary Icon (July 2013)

High Cotton Vaders Twisted Heart (July 2013)

MTC Positraction (July 2013)

Sunset Hill Desert Serenade

Cross Country Private Terms

Los Arboles Sea Hawk

Alliance Rodeo Red

MTC Robin Hoods Little John

Caldwells Photo Finish

Little Kings Junior Jock

Another Dimension Very Remarkable

Crestviews Little Running Feather

LM Hawks Kodakrome

GFR Scouts Starlight Express