Mini Horse Auctions & Events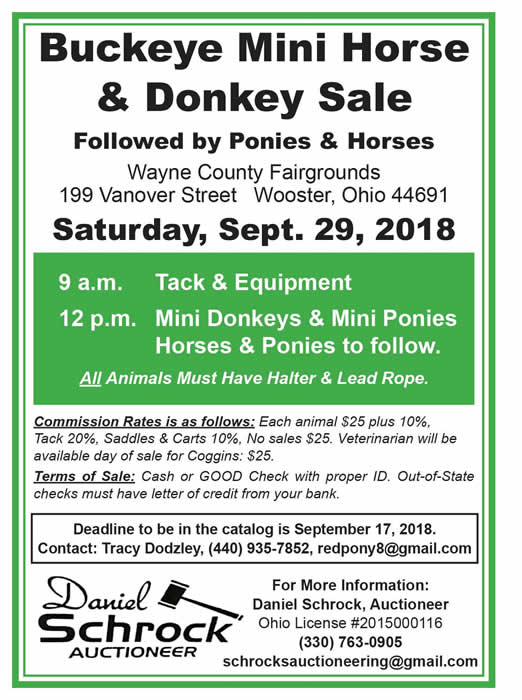 EARLY CONSIGNMENTS FROM ALOHA ACRES & DVM FARMS!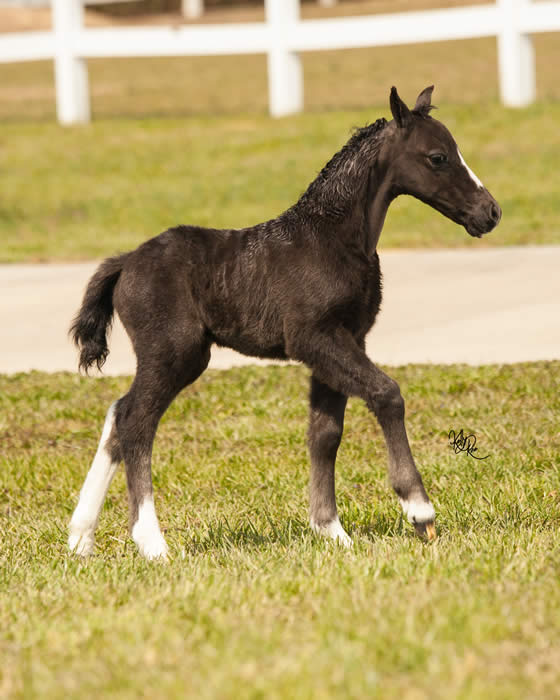 2018 ASPC/AMHR Colt
Caldwells Little Sky Lite x McCarthys Miss Kitty
Consigned by Aloha Acres
slcbmd@yahoo.com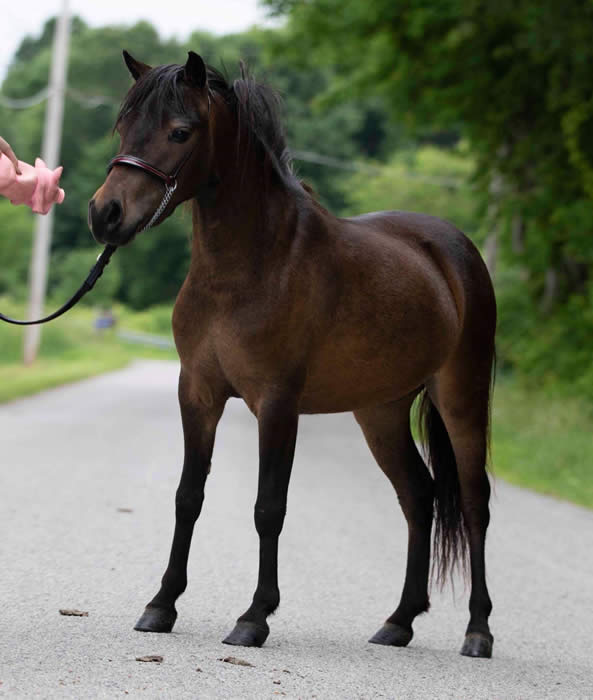 LOT #25
Hopkins The Jokers Jacqueline
2014 Bay Mare - BRED for 2019
Sired by multi World Champion
Buckeye Mini Horse and Donkey Auction

Horse and pony catalog list

1. Dwarf, 5 yr black PINTO Dwarf gelding!

2. Dwarf, 4 yr palomino pinto dwarf mare!

3. 5 yr Buckskin pinto mare AMHA AMHR 32" she is a Granddaughter of BOONES LITTLE BUCKEROO!

4.Timber Ridges sheez Tottaly Slick, weanling sorrell pinto filly AMHA AMHR application 26.5" A cute refined filly, her sire is a black pinto Rowdy grandson,her dam is a Overo.

5. JSW MIRROR OF MAGIC 9 yr dark bay PINTO tovero mare, AMHA 31 inches tall, DIRECT daughter of FLYING W FARMS BLUE BOYS MAGIC MAN! She had a beautiful bay filly this year. Open for 2019!

6.Hallie, 11 yr silver bay pinto mare AMHR 34" sells open.

7. FALLEN PINES FINAL Obsession, yearling Buckskin colt AMHA AMHR 29"

8.Born 2/2/17 bay pinto gelding AMHR ASPC

9. 4 Year old SILENT PARTNER daughter Black Mare IN FOAL for 2019 to World GRAND Champion stallion Buckeye WCF Neon Rainbow *FEATURED HORSE**

10.JMW rebs Sirius Lee Sensational 5 yr palomino mare AMHA reg and REGIONAL CHAMPION as weanling,29.75" granddaughter of BILLY IDOL had a gorgeous bay filly this year. Who we are pertaining and expect to be highly competitive next year,open

11.RMHF ROCKSTAR IDOL COLT 45 ,yearling silver dapple colt AMHR reg. Can be AMHA at buyers expense, has some shetland background on dam side, NATIONAL'S Contender 2017 placed TOP 10 Exceptional breeding measures 27" currently!

12.Hurricane is a Buckskin stallion born 5/18 AMHA AMHR his dam Lady Lee is a world champion, and out of Fallen Ash Bloodline, this is your future show horse!

13.2 yr sorrell pinto mare AMHR ASPC

14. Sally is a 7yr grade mare 29"

15.weanling sorrel white colt AMHA AMHR eligible both parents are homozygous for tobiano gene sire 30" black white, dam 34"black white. Dam was 2011 AMHA Eastern Regional Champion weanling filly!

16.weanling bay pinto mini filly should mature 33"!

17.Oreo,10 yr black w/gelding 36" broke to ride and drive

18. 2 yr grey mare AMHR ASPC

19. Weanling black and white mini filly AMHR she is homozygous and will stay small

20.White Tails Outta Love, 6 yr sorrel mare with blaze AMHA reg, 33" granddaughter of the Famous BOONES LITTLE BUCKEROO vet checked confirmed in foal to our herd Sire Jones Blue Boy's Texas Tornado for 2019 foal!!

21.Timber Ridges Honey Eclipse born 2001 palomino mare 34" this pretty mare is a Rowdy granddaughter,goes back to Gold Melody Boy she has had 14 foals, her 2018 colt is in the sale,vet checked in foal for 2019 to a black pinto Rowdy grandson!

22. 2 yr black roan AMHR mare!

23.PACIFIC CALICO QT 9 yr very loud Black white mare 31.5 " AMHA very showy with ink spots, been in with black splash stallion for a 2019 foal due end of June, tested Tt and Ee will always throw pintos! Wow don't miss this colorful mare!

24.8 yr Leopard appy stud, bright blue eyes and always throws blue eyes on his foals!

25.Hopkins The Jokers Jacqueline - AMHA/AMHR 2014 34" Bay mare BRED for 2019

26.weanling Black PINTO mini stud colt!!

27. 5 yr sorrel mare AMHR ASPC possibly bred!!

28.2 yr black roan stud AMHR wow!

29. DSF Belle's country weanling pinto colt AMHA app.

30.weanling silver bay pinto stud AMHR eligible shown at Wayne county fair and took 2nd, his dam also took 2nd!

31.Sugar baby 11 yr sorrell Overo mare AMHA AMHR 33.75" pedigree includes Rowdy,and goes to Gold Melody Boy 4 Times,very good brood mare has had 9 foals, her 2018 Filly is in the sale,pasture bred for 2019 to a Black pinto Rowdy grandson!

32.11 yr grey mini mare well broke exposed for 2019

33.12 yr black appy mare AMHR broke single and double her full sister is hip. #34

34.11 yr Chesnut appy mare AMHR broke single and double

35.13 yr red roan mare AMHA 33" started riding and ground driving ,a Granddaughter of BOONES LITTLE BUCKEROO

36.Ellie,bay mare14 yr AMHA AMHR 30.5" sire Fallen Ash Farms Desighner Label Dam is Philla Blazes Toy Empress.Ellie was a awesome show horse who holds many CHAMPIONSHIPS and was twice AMHA NATIONAL TOP 10! ELLIE IS DNA Tested and has given us some beautiful foals!

37.Fallen Pines Break The Bank yearling filly AMHA AMHR 32"

38. 6 yr bay mini gelding 32" well broke to drive!

39.Happy Times Dreamin Up A Storm Weanling Black White Stud AMHA AMHR eligible only 23 inches tall he is Homozygous for the tobiano gene!

40.9 yr sorrell mare AMHR ASPC

41.Miss a Black white mini mare 32.75" exposed to Buckskin Overo stud nice mare!

42.DSF Dusty Lane,Weanling pinto stud AMHA AMHR app.

43.11 yr Black White AMHA AMHR World class Triple Reg, stud 26.5" produces very small foals, wow!

44.weanling Black Filly AMHR app. BUCKEROO pedigree

45.weanling AMHA AMHR

46.yearling black mare AMHR ASPC top pedigree

47.2 yr palomino mini stud 29" wow

48. 2 yr black white mini horse gelding

49. Weanling red white mini filly very small

50.PRINCESS 2 yr Black White 30" Filly AMHA AMHR very correct good tempermant, Grandsire Flying W Farms Little Wardance

51.sissy a 3 yr! Black White mare 31.5 " has been exposed to black white stud, here is a really colorful mare!

52.6 yr grey pinto driving gelding very fancy

53. Weanling AMHA AMHR

54.yearling filly RFM Genesee Everlasting Love AMHA AMHR

55.weanling black white colt AMHA AMHR eligible both eyes are blue very flashy and uoright sire upright sire 30" dam is 33" black white!

56. TBA

57.Timber Ridges Slick And Splashy weanling stud sorrell pinto AMHA AMHR app,28" a alert and correct colt he is a double bred Rowdy! AND Has the looks of a winner!

58.Frosty is a 3 yr palomino stallion 28 "

59.3 yr bay white mare mare broke to ride

60.6 month old red white mini colt

61.1 yr Buckskin mini colt

62.Jagermeister is a perlino yearling stud AMHA AMHR sire Ten L S Rock in the Buff, Dam is GRF postard from paradise has long neck and nice backline, his sire is a multiple AMHA world top 10 winner,and Producer of many AMHA Champions,he is DNA Tested and parentage qualified, wow!!

63.Mission Impossible is a 7 yr black white mare AMHA AMHR 32" very gentle easy going mare, very correct!

64.weanling mini sorrell pinto filly

65.9 yr grade black white mare exposed to black white Homozygous stallion for 2019!

66.6 yr black white gelding broke to ride and drive 38 inches tall

67.6 yr gelding 38 inches tall sells ,with 66. They are half brothers

68.12 yr grey pinto mare 38" this mare has been on the pony wheel for the last 6 years she is super gentle and good for the kids.

69. Weanling mini appy stud has lots of color

70.5 yr dark grey mare broke to ride and drive

71.Silver is a 10 yr blue roan mini gelding 36" broke to ride and drive this is a very pretty gelding.

72.yearling grey white stud colt halter trained 30"

73. Weanling AMHA AMHR

74.8 yr palomino mini mare AMHR reg,

75.7 yr Dunn mare AMHR ASPC reg, 37.5"

76.7 yr grade mini appy gelding very sharp

77.DSF Chance weanling Buckskin stud AMHA AMHR app,very nice colt!!

78. 32" red dun pinto mare exposed to 28" black white Homozygous stud!!

79.prince 4/18/17 black colt AMHA AMHR sire and dam are both Top 3 and Top 10 producer's

80.weanling AMHA AMHR

81. 11 yr black white mare AMHR ASPC

82. 6 yr gray gelding broke to ride and drive!

83. Tank 7 yr black white gelding 28.5" Matt Ferringer

84.Kegleys Free Style choice a 30.5" bay mare AMHA exposed to our Look At Me palomino stud from 10/21/17 thru 7/26/18

85. 31" chocolate mare exposed to 28" black white Homozygous stud, this is one pretty mare!

86. TBA.

87.10 yr black white mare 40" broke to ride and drive!

88.Fallen Pines Sweet Temptation 4 yr mare AMHR 33" green to drive

89. Timber Ridges Slick Sugar 5/25/18 sorrel pinto Filly AMHA AMHR application 28" a sharp filly Sire is a black pinto Rowdy grandson,dam is a loud colored frame Overo ,has good confirmation!

90. Philla Blazes Toy Empress bay mare born 2000 AMHA AMHR she has been a wonderful brood mare over the years,her background is FLYING W BLUE BOY her offspring have done well in the show ring sells open!!

91.Caldwells Image of Tango 4 yr black white AMHR ASPC stud,this boy has exceptional pedigree! Grahams breeding both ways! He is 38" tall has been used for breeding sibling just went to Congress Champion and RESERVE GRANDCHAMPION foundation stallion

92.7 yr bay mini gelding AMHA AMHR broke to ride green to drive

93.2 yr black white ASPC stud approx 40" and is well started in harness is 100% sound will make a nice pleasure horse or stallion

94.4 yr Buckskin mare AMHR ASPC mare 38" tall

95.Timber Ridges Velvet Detail 13 yr black pinto stud 32.75" he is Lab tested homozygous his pedigree goes to BOONES LITTLE BUCKEROO GOLD MELODY BOY and ROWDY, his foals are always colorful and have a refined look!!

96. Weanling AMHR ASPC

97.Nate is a 8 yr black gelding 33" broke to ride and drive single and double, kid safe!

98.6yr bay mare 29" exposed to black white Homozygous stallion for 2019!

99.Mccalls CB Viola 10 yr silver Buckskin pinto ASPC 41"

100.Timber Ridges kay cee Eclipse born 2001 Black White mare AMHA AMHR 33.5" this is a Rowdy granddaughter,and also goes back to L D SCOUT! She has had 13 foals and we are keeping her 2018 foal as a stallion prospect,vet checked in foal for 2019 to a Black pinto Rowdy grandson!

101.3 YR Roan gelding 32" kid broke to ride and drive

102.DSF Snickers weanling Buckskin stud AMHA app.

103. TBA.

104.WEANLING Grade white mini stud, very cute!

105.Jan is a 3 yr black mini mare 35" she drives,has been used for lead line riding!!

106.weanling red white colt AMHA AMHR app.

107.8 yr sorrell white mare broke to ride!

108. Black White mini stud reg

109.7 yr Black white mare has a few pawprints, been running with black white Homozygous 28.5 stud!!

110.4 yr chocolate white mare kid broke to ride and drive very sharp

111.Blue eyes is a 7 yr grade Black White mare 31.5 has been exposed to a Black White stud.

112.10 yr brown mini stud!

113. Weanling AMHR ASPC

114. RD ACE OF SPADES Black pinto Stud, 32.5 AMHA AMHR Sire is Oak view Triple Crowns Rebel this a Really nice stud who is a RESERVE NATIONAL CHAMPION

115.6 yr grey pinto mini mare

116. TBA

117.sorrell mare 40" broke to ride very easy to catch,very gentle a real babysitter!

118. BRITTANY is a 13 yr paint mare kid broke to ride also drives 100% traffic safe and sound in foal to black white stud, A 10 yr old showed this pony!

119.Hackney gelding broke to drive!

120.Bay mini gelding small

121. 10 yr black pinto mini mare with lots of color and small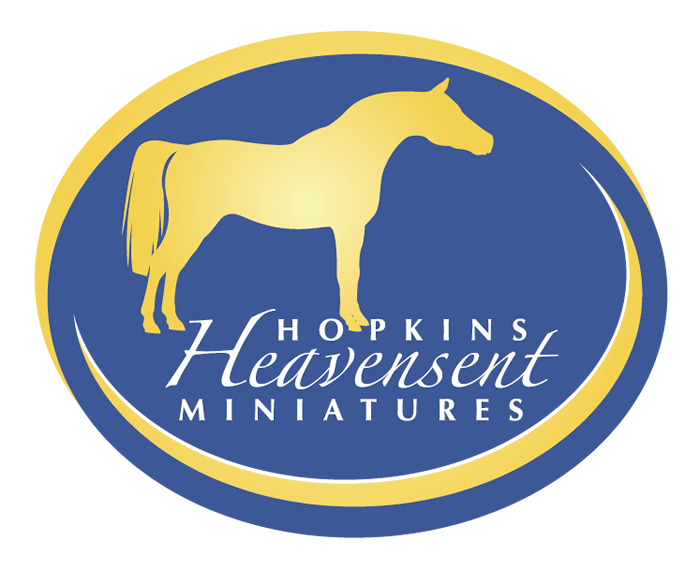 SPRING SALE & OPEN HOUSE EVENT!
April 28, 2018
AMHA GELDING INCENTIVE FUND
ONLINE AUCTION EVENT!
AUCTION HAS ENDED! THANK YOU ALL FOR YOUR GENEROUS BIDS!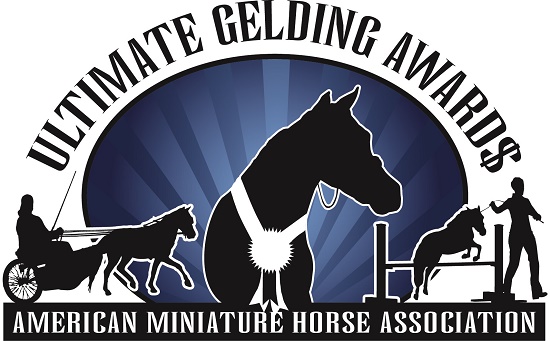 The AMHA Gelding Incentive Fund is back, and we think you're gonna LOVE it!  Show your support for our geldings by bidding on some of these AMAZING items that have been so generously donated.  All of the proceeds from the auction will benefit the GIF. 
The Gelding Incentive Fund will give back to the top ten point earners at the World Show for each of the following divisions: Youth/YOTE performance, Amateur/AOTE performance, Open performance, Junior halter (all points combined from all halter classes entered), and Senior halter.  Most performance classes will be included in the point tabulation--not just gelding-exclusive classes!
HIGHSELLING AUCTION ITEMS BELOW:
** Multi World Champion & Regional Grand Champion Gelding
POCO DE ORO PEPITOS PICASSO
Donated by Barbara Hibbard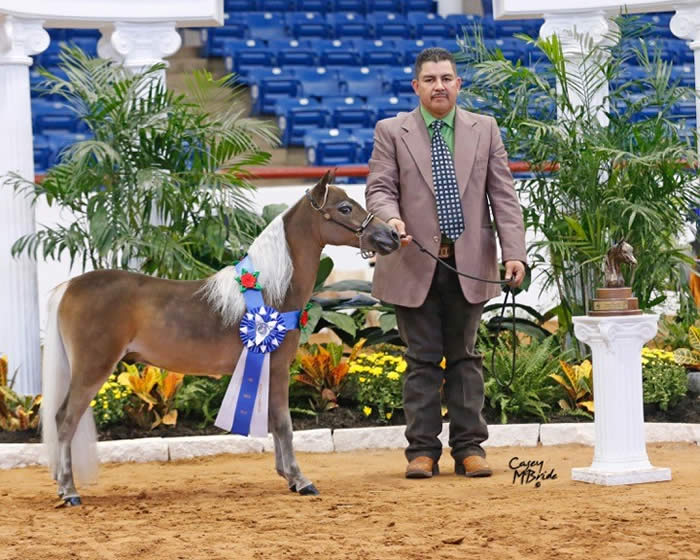 Picasso is currently located in Texas
Comes with 2 free AMHA 2018 World Show class entries (class entry fees donated by AMHA)
HIGH BID $1,000.00
** COVERGIRL MINIATURES 2018 BREEDING TO ANY ONE OF COVERGIRL'S WORLD CHAMPION STALLIONS
Stallions available include: (pictured in order)
LM IDOLS ROCK SOLID HAWK
COVERGIRLS IDOLIZE THIS
LM IDOLS FABIAN HAWK
LM IDOLS SOPHIES TROPHY HAWK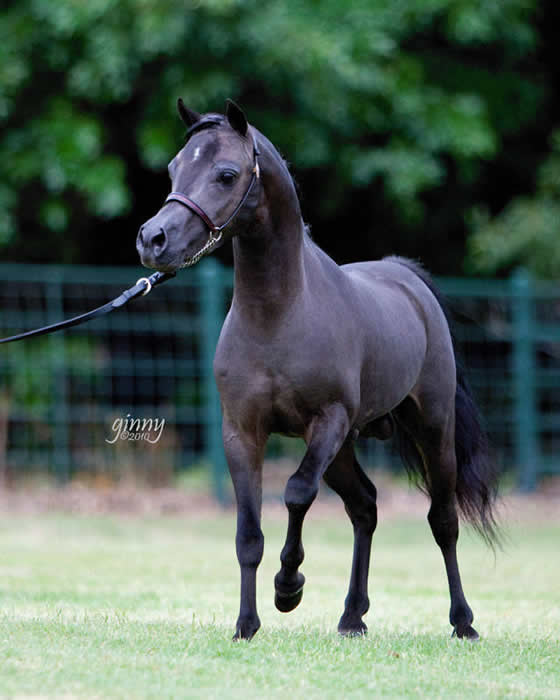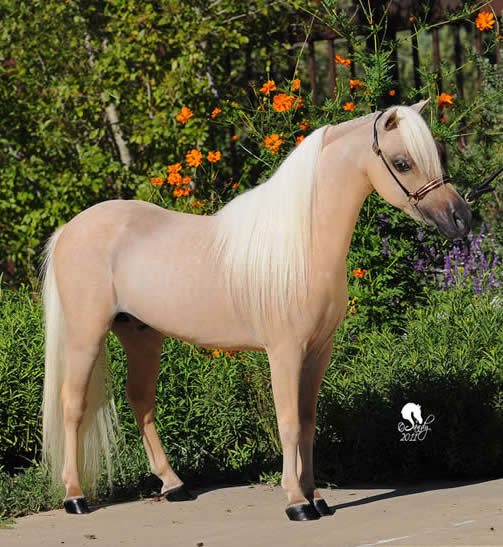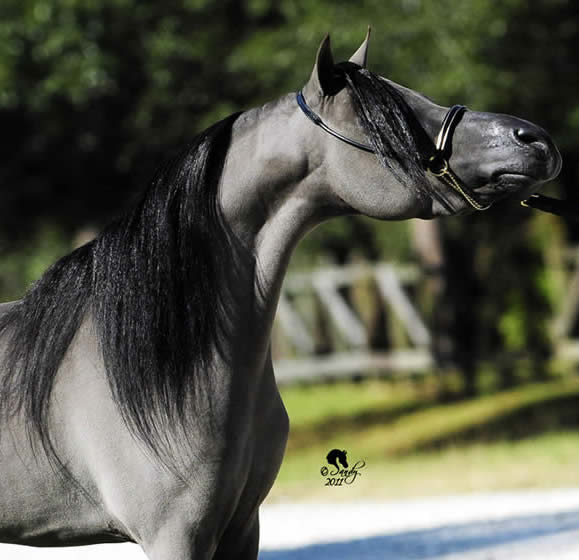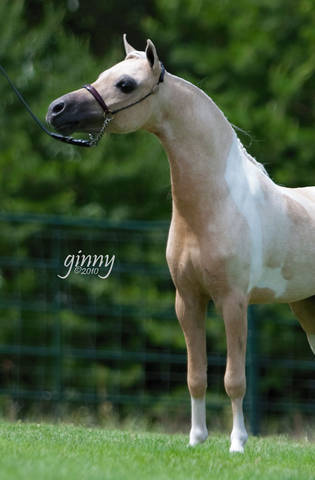 MARE CARE ADDITIONAL
Donated by COVERGIRL MINIATURES
Charlene Eisenmenger
HIGH BID $850.00
The New and Improved Gelding Incentive Fund!
The Gelding Incentive Fund (GIF) Program has changed! 
The newly adopted program varies from the GIF programs of previous years so please be sure to familiarize yourself with the new program.
You need to NOMINATE your gelding prior to the start of the World Show.  You can access the nomination form here: http://www.amha.org/pdf/ws/GIFNominationForm2017.pdf

The purpose of the GIF continues to be the promotion of registrations and transfers of AMHA geldings by increasing their value through a monetary incentive encouraging their exhibition in the show arena. The GIF is meant to incentivize the use of geldings as all-around horses in the show arena.  As such, beginning at the 2017 World Show, the GIF will be distributed to the top ten overall point winners in Open performance, Amateur/AOTE performance, Youth/YOTE performance, Junior halter, and Senior halter.  Each division will be allocated an equal proportion of the funds to distribute to the winners. In order to be eligible for the GIF, a gelding must be nominated each year.  A gelding can be nominated for a non-refundable fee $50 per division for the first division nomination, $45 per division for 2 divisions, $40 per division for 3+ divisions at anytime during the show-year through the closing date of entries of the World Show. The postmark of the nomination will determine the timeliness of its submission.  Late nominations will be accepted for a non-refundable fee of $50 per division (no discounts for multiple divisions) up to the official start of the first class of the World Show.
Full list of rules for the new GIF can be accessed here: http://www.amha.org/pdf/ws/RulesForGIF.pdf
Aloha Select Sale & Open House September 30, 2017
11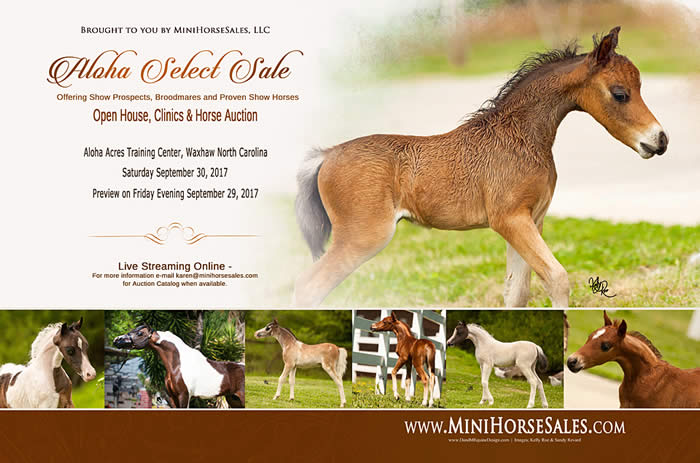 AUCTION RESULTS FROM THE ALOHA SELECT SALE SEPTEMBER 30, 2017
LOT #1 ALOHA ACRES IM SUPER COOL -2016 AMHR MARE ~ $1,100.00
LOT #2A BREEDING TO ALOHA STALLION (#1) ~ $2,100.00 (NEON)
LOT #2B BREEDING TO ALOHA STALLION (#2) ~ $2,050.00 (CANDYMAN)
LOT #2C BREEDING TO ALOHA STALLION (#3) ~ $2,000.00 (MASERATI)
LOT #3 RHAPSODYS RICOCHET - 2009 TRIPLE STALLION ~ $14,500.00 +++
LOT #4 BAR B MY SILENT HEART - 2013 A/R BRED MARE W/FOAL AT SIDE ~ $6,500.00 *
LOT #5 ALOHA ACRES LOOKIN FANCY - 2017 R/SHETLAND RES NATIONAL CHAMPION FILLY ~ $5,100.00
LOT #6 JHK MARIOS GLAMOUR GIRL 2011 R/SHETLAND BRED MARE ~ $4,150.00
LOT #7 ALOHA ACRES DESIGNED BY NEON - 2017 TRIPLE COLT ~ 4,600.00
LOT #8 ALOHA FRF BRANDY LITE - 2017 A/R SORREL PINTO FILLY ~ $2,500.00
LOT #9 ALOHA ACRES CALDWELLS WHITE DIAMOND - R 2013 BRED MARE ~ NO SALE (INQUIRE FOR PRICE!)
LOT #10 ALOHA ACRES SPRINGHILL HELEN SILENT LITE - 2016 A/R MARE ~ $3,250.00
LOT #11 ALOHA ACRES TWYLITE PRINCESS - 2015 NATIONAL CHAMPION R/SHETLAND MARE $11,100.00 ++
LOT #12 ALOHA ACRES A GUIDING LITE - 2016 R/SHELTLAND BLACK STALLION ~ $2,300.00
LOT #13 ALOHA ACRES A LITTLE BIT OF SILENCE - 2016 A/R 29" BLACK PINTO SHOW FILLY ~ $3,600.00
LOT #14 ALOHA ACRES SILENT SERINITY - 2011 A/R BRED MARE W/FOAL AT SIDE ~ $3,500.00
LOT #15 JHK MARIOS RUBY ECHO - 2014 R/SHETLAND BRED MARE ~ $4,750.00
LOT #16 ALOHA ACRES SPARKLE N SPIN - 2010 WC A/R MARE W/COLT AT SIDE ~ NO SALE
LOT #17 JHK MARIOS CALL ME STAR - 2011 R BRED MARE W/FILLY AT SIDE $4,750.00
LOT #18 ALOHA ACRES WHITES ALL WRIGHT - 2017 R/SHETLAND FILLY ~ $6,250.00 *
LOT #19 JHK MARIOS PRINCESS - R/SHETLAND 2011 BRED MARE W/COLT AT SIDE ~ $6,500.00
LOT #20 CALDWELLS POSITIVELY ELITE - R/SHETLAND 2014 BRED MARE ~ 4,000.00 *
LOT #21 CALDWELLS CALICO KATE - 33" 2014 R/SHETLAND BRED MARE ~ $7,700.00 +
LOT #22 ALOHA ACRES SHES A SILENT KICKER - 2009 A/R BRED MARE ~ NO SALE (INQUIRE FOR PRICE)
LOT #23 TYLERS KASHMIRE SAPPHIRE OF LTF - R/ SHETLAND 2013 BRED MARE ~ $6,750.00
* DENOTES HORSE WAS SOLD FOR RESERVE PRICE AFTER AUCTION ENDED
+++ HIGH SELLING HORSE IN SALE
++ SECOND HIGHEST SELLING HORSE IN SALE
+ THIRD HIGHEST SELLING HORSE IN SALE