Updated February 7, 2016
THANK YOU FOR VISITING FHF MiniHorseSales LLC
This site was created after seeing a need for sellers to more selectively market their quality horses to prospective buyers. At the same time, we have created a site where buyers can be certain that the horses listed are honestly represented.
Enjoy our site & find the Miniature Horse of your dreams!
FEBRUARY 2016 FEATURED CORPORATE PARTNER

FREE MONEY! (AND TONS OF FUN!)
Want a little extra spending money - AND be able to peruse some wonderful Miniature Horse websites at the same time?
MHS is giving away MONEY! Yup! A VISA gift card valued at $25.00!
The lucky winner will be drawn on March 1, 2016
ANYONE can play but gift card can only be used in the USA (not my rules!)
SIMPLY COMPLETE THE QUIZ BELOW!
Send your answers by email to karen@minihorsesales.com (or message the correct answers to our FB page (found on the right column of this page) Be sure to number your answers!
SUBJECT LINE SHOULD READ MINIHORSESALES WEBSITE QUIZ
We'll draw a random winner from all correct entries and mail the gift card with our thanks!
We'll need your address AND email with your entry (and hopefully you don't mind that we use your address to send occasional emails & specials from our sponsors on this site.) We do NOT sell emails and the emails will only come from MiniHorseSales LLC
Entries must have 100% of the answers correct!
One entry per person/email please
ALL ANSWERS CAN BE FOUND ON OUR CORPORATE SPONSORS AND CORPORATE PARTNER WEBSITE - all linked from this home page
(and if this is successful, we'll be doing more games like this each month!)
So - Are you ready?!
1.Which of our Sponsors/Partners has a Junior Stallion named FOUND MY SPOT?
1, Which Sponsor/Partner is located "East of the Emerald City"?
3. What Sponsor/Partner has a 2015 foal for sale named UPTOWN FUNK?
4. One farm has mares named SHEEBAH, SYRIA & SHIRAZ- which is it?
5. We have a Sponsor/Partner who also has mini pigs and mini donkeys for sale on their site. Who?
6. One Sponsor/Partner even offers ultrasound services! Do you know which one?
7. Which Sponsor/Partner has a GYPSY HORSE named Coca Cola?
8. A gelding named HOT STORMY NIGHT - Which farm has him on their GELDINGS page?
9. Which Sponsor/Partner has "Our little piece of country in the city"?
10. Who has "SURPRISE EDITION" on their Mares page?
11. How about a "TOTALLY FABULOUS" Stallion? (that's his name!) - which website?
12. Which Sponsor/Partner has a very patriotic (complete with flag!) photo on their home page?
++ BONUS QUESTION ++ (no wrong answer!) Which was your favorite of all our Sponsor/Partner sites you visited to find the quiz answers?








VISIT OUR CORPORATE SPONSORS TO SEE MORE HORSES FOR SALE!
Featured Corporate Sponsor

We are a Miniature Horse Ranch located in Southwestern Idaho about 40 minutes north of Boise and 15 minutes south of Ontario, Oregon.
We Breed, Sale, and Show AMHR/ASPC Miniature Horses
We started our Miniature Horse Business in 2002 with AMHA/AMHR Mini's where we showed and bred Mini's for 13 years. In 2014 we decided to change direction to our new AMHR/ASPC breeding Program and purchased AMHR/ASPC Stallions and Mares with quality Pedigree's and Confirmation; most have Show Records of their own. Our Miniature horses will continue to be shown so watch for them in the Show Ring. Several of our Mares have already produced National and International Champions such as RHA Unique Thunder, RHA Unique Desperado, RHA Run Away With The Wind (Australia), Firefalls Walker Dark N Handsome, Noblebrook's Klassic Kreation (Canada), and Noblebrook's Radiantly Red (Canada). You can view their Championships on our website.
Starting in 2016 we will have AMHR/ASPC and a few AMHR only foals for sale. Visit our website (www.hydeawayranch.com) to view our beautiful Stallions and Mares. While there be sure to visit our Foal Page as each year our new Foals start arriving in early February so we can attend shows later.  Our Mares are on Foal Alerts and are watched closely so we are there for their births.
The Quality Bloodlines from both the Miniature, Shetland and Arenosa lines are:  Lee-Land Unique, Wa-Full Unique Legend, Red Rock Kid Lee, Michigan's Heir To The Throne (HOF), Z.J.'S Windwalker (HOF), B & L's Mr. Palomino's Proud, Kewpies Topper of Arenosa, Kewpie Doll's Oracle, Kewpie's Classic Mucho of Arenosa, Graham's Painted Dove, J-J's Painted War Chant Kid, Kewpie's Klassic Kreation of Arenosa, Queen Anne's Jet, Sids Rebel, Cross Countrys Call Me Sire, Lazy N Red Boy, and Glenns General Patton.  
MEET ONE OF OUR 2016 CORPORATE SPONSORS!
STONE MOUNTAIN HORSE COMPANY (SMHC)
Located in Ohio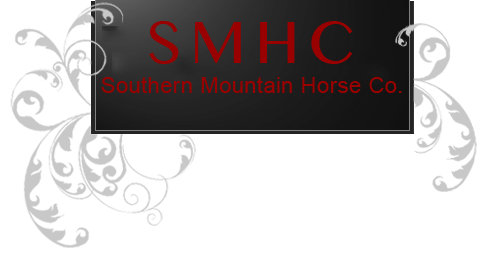 Welcome to SMHC Miniature Horses.
We have been raising and showing National Champion Miniature and American Shetland Horses since 1986.
We specialize in breeding the Miniature Shetland, which means that they are registered as a miniature (AMHR) and also as a classic shetland (ASPC) due to their bloodlines. Our ponies are known for their excellent conformation, movement, gentleness, beauty and show ring presence. Our primary goal always has been to breed and raise the best Miniature Horse possible. We to do this by long-term planning and implementation.
Currently we are using 7 outstanding stallions and over 100 brood mares to certify the proper balance between genetic diversity and line breeding.
We offer a wide selection of premium AMHR/ASPC Horses for Sale ranging from young show prospects to proven stallions and mares.
We are so excited about our 2015 foals, they have been the best we have raised.  
We will be adding our 2015 Foals as we can, so check back often.  We have 31 foals so far and all but one are black and white. While we make every effort to post new horses for sale online we sometimes get a little behind.
We hope you enjoy your visit to our new website and encourage you to contact us if you have any questions about our horses

More About FHF Mini Horse Sales LLC
The horses listed on this site are not owned by Mini Horse Sales/Frost Hill Farm/Karen Rudolph (unless noted) but owned by caring and educated horse people looking to find the best possible match of horse & new owner. MHS is proud to be the agent for this spectacular group of Miniature Horses.
If you are interested in having your horse listed on our site, please email karen@minihorsesales.com.
MHS specializes in connecting sellers with buyers to ensure a perfect match between horse & human.
MiniHorseSales will market your horse on our very active site with e-mail blasts (4000+ contacts), paid Facebook advertising and on our Facebook fan page with over 59,000 fans, full page ads in the AMHA Miniature Horse World magazine as well as direct contact from our large list of horse people looking for that "perfect" mini match.
All of the horses for sale are kept current on vaccinations, deworming, farrier trims, and dental teeth care. We invite your questions and do our best to honestly represent our horses. We are here to answer your questions now and after the sale of the horse to offer a nice transition for our horses and their new owners. We want our horses to be placed in caring homes and will do what we can to insure a good fit between a particular horse and their future owners.
The horses listed are all AMHA and/or ASPC/AMHR registered unless noted.
The 'good home' factor is important to us, and if you are the perfect home, we will never be insulted by a sincere offer. Please feel free to contact us with questions, comments or just to "talk minis".
Helpful Hints - Marketing Your Miniature Horse
By Karen Rudolph – www.minihorsesales.com
Be a cheerleader! Does your horse have a winning show record? An awesome temperament? Is he a PROVEN producer? Does he/she have a CHAMPION pedigree (close-up, as in champion SIRE, DAM, grandsire, grand dam or champion siblings) – those are all worth bragging rights. Just be sure you have proof to back it up (If you are selling, OR buying a lot, subscriptions to AMHA & AMHR Studbooks are extremely valuable. Even if the horse won the aforementioned awards before you owned him, his winning show record belongs to the HORSE and you can use it to promote his sale.
Be realistic. You can't be "barn blind" when selling horses. Pedigree is important, but it is not the "end all" – your horse needs to stand on their own merits. A "great great grandson" of some famous stallion is NOT enough to justify a huge price tag.
Be Professional.  Always.  Selling can be frustrating – people can be frustrating. Don't be offended by offers, A lower offer from someone who will show and promote your horse/breeding may be worth considering (and remember you can always counter offer) and don't get frustrated by emails from "kids" – they are the future & CAN be prospective buyers.
Be thorough - PHOTOS are what FIRST attract buyers – ONLY post ones that flatter your horse. I'm a big fan of nice pro photos. They will draw the potential buyers in and get them interested in finding out more about your horse – BUT also have available OTHER non-pro photos ready.  Foreign buyers, especially, want to see GOOD photos of your horse - left & right side, front and back, and bite. When you take these photos, be sure you are level with your horse, NOT looking down, as that distorts the horse's proportions. MOST people cannot see through 2 inches of hair (myself included) so if you cannot provide photos of your horse clipped, consider holding off on selling until you can – OR be prepared to take LESS money for your horse. A VIDEO is also extremely important for any horse – ESPECIALLY one that is selling as a driving horse.
Be patient. Some horses sell fast and others may not, but don't sound desperate or you may scare off potential buyers.  Then refer to #1 – are you being realistic on your selling price?
Be honest. This should probably be #1 on the list. Don't make outrageous claims that are false ("unbeatable in the show ring" for a horse that has never been shown; "perfect conformation" for a horse that has many visual flaws) If your horse has issues that may affect the sale, don't "forget" to disclose them (locking stifles, retained testicle etc.)
Be responsive. REPLY to requests and questions! Sounds simple – but it's hard to keep up sometimes. Check your "spam" folder (or "other" mailbox if you are posting on Facebook) I run an active sales site for Miniature Horses and get messages EVERY day from people – telling me they messaged the owner of horses for sale on the site with no response. Hard to sell a horse that way.
Be prepared. HAVE those good "pasture" photos & bite photos handy! Want to really be on top of the game? – how about a VIDEO of the horse being measured, so buyers know your facts are accurate. Be prepared to answer lots of questions – the higher the selling price, the more questions the buyer is apt to have. There are LOTS of nice horses on the market today. If you want to sell YOURS, be prepared to work for the sale.
Be grammatically correct. Use spell-check to check spelling before you post your ad AND then DOUBLE CHECK spelling. Your horse should have correct CONFORMATION, not conFIRMation.  You need to SELL your horse, not SALE your horse. It's a good idea to let someone proofread your work before it is posted. YOU know what it is supposed to say, so you may be skimming over errors in the text (I'm REALLY good at that!)
Be positive. If you horse is priced right, sound, sane & as advertised, with flattering photos and a clear, factual description, he/she WILL sell.

Testimonials From Some Of Our Happy Customers
Thank you Minihorsesales.com and Karen Rudolph for finding my gelding the perfect new home! Karen had him up on her site and on Facebook in a matter of hours with a beautifully written ad. She also assisted me with talking to potential new buyers which was extremely helpful since this was the first horse I have sold, and it only took two weeks ro find the perfect buyer. Did you know MiniHorseSale's Facebook page has over 60,000 fans?! WOW! With that many contacts anyone who is selling a horse needs to contact Karen now!
Jenny Zonghetti, Sharon, MA
(Sold LM Idols Kashmir Hawk - October 2015)
Thanks for helping me find the perfect mini!  He is everything and more! 
Dot Maggio
(purchased Royal Oaks Painted Berry - March 2015)
We would recommend this site to anyone ...I know I keep snooping ...horse people ..we are all a little crazy  ...LOL thanks again Karen.
Joan, Canada
I highly recommend Karen Rudolph's website www.minihorsesales.com and her Facebook page as well.  What a great service to the miniature horse industry; such quality horses listed on this site.  I purchased 2B Patsy's Tribute To Gina after seeing her on the website, and couldn't be happier!  A great place to connect buyers and sellers!
Terri Rogers, Riverview Stable, TN
We couldn't be happier with our gelding, Dom!!!! Thank you Karen, we wouldn't have known about him if it hadn't been for Mini Horse Sales. (via Facebook)
Linda Cameron-Davis, Pippin Hill Farm, Maine
I highly recommend Minihorsesales.com and Karen Rudolph. I sent her my horses to list and they were up and viewable on her website quickly. Karen has many contacts and ways to advertise, so your horse will be marketed in every possible way. Karen is very easy to work with and she takes the time to cover every detail about your horse, and will bend over backward to accommodate you and your listing. We have been connected with many perspective buyers through Minihorsesales.com. Anyone who is looking to get exposure for their sale horses NEEDS to contact Karen...... You won't be disappointed!
Kristina Slobody - Sawmill River Farm, West Brookfield, MA
Karen is a wonderful, enthusiastic horsewoman who brings her energy and dedication to promoting the miniature horse. She not only lists horses for sale, she promotes them and works very hard to connect folks with the right horse for them. She was invaluable in the sale of my colt, Brookhavens Knight Dreams, and because of that I will continue to support her and rely on her to help me connect with future potential buyers.
Merry Black - Brookhaven Miniatures, Summerfield, NC
A very special thank you to Karen Rudolph for her help in selling my colt Aloha Acres A Silent Partnership. I am amazed how fast her response was to me when I asked for her help. Not only did he sell within a very short time but Karen's professional help with dealing with prospective buyers was simply amazing. Can't say enough good things about her.
Connie B Heath - NC
I had my weanling filly, MiniEquine A Ravenwood Christmas, listed on the Mini Horse Sales website. Chrissy sold to a Very Good home, which was important to me. With the network of contacts Karen Rudolph has in place and the quality of horses being sold by her, I would recommend Karen for all your sales!
Sandy Revard - Mini Equine Farm/MiniEquine Photography, Catlett VA
If you are looking for someone professional and genuine to help you sell some horses, Karen is it! My dad and I have done a lot of local advertising as well as on Lil Beginnings with no luck. Karen offered to help us, and help us she did! We have recently just sold a yearling filly with Karen's help. Not only does she write up a really well written ad, but she helps find a good match for your horse! I will continue to use Karen to help me sell horses in the future.
Megan Herrick - South Frontage Miniatures - CT
I am thrilled that I was able to purchase a beautiful Show Halter and absolutely flipped out when I found such a stunning little filly for sale; exactly what I was looking for. Startling to find out that the seller was located only 20 miles from where I live. (We both live in FL). I hope others will be as lucky as I was when they utilize your website. Regards,
Carolyn Dunaway - Auburndale, Florida
~ A Little More Info ~
I'm Karen Rudolph, and I've been selling horses on my farm website (frosthillfarmminiatures.com) for quite some time. Since it had become so successful for me I decided to branch out and have a website exclusively for marketing nice quality miniature horses.
The cost to list is $50.00 for the first horse and $35.00 for each additional horse LISTED AT THE SAME TIME.
If you would like your horse listed on additional pages (for instance, if you have a driving gelding, he could be listed on the Geldings 3 & Over page AND the Driving Geldings page - and if he was also a Shetland, he could be on that page as well) the cost is an additional $15.00 per page.
Listing will remain on site for 4 months, unless the horse is sold sooner.
CORPORATE SPONSOR LISTING SPACE IS SOLD OUT FOR 2015! CONTACT US ABOUT BECOMING A PAGE SPONSOR TO PROMOTE YOUR FARM OR SMALL EQUINE BUSINESS!
If you would like to be on the waiting list to become a sponsor in 2016, please email karen@minihorsesales.com
Page Sponsorships are available on any page except the home page.
Your farm name/business will be listed on the right side column of the ad, including a link to your site. Our site gets over 4,000 hits per day - take advantage of our high volume traffic to promote YOUR farm! 12 month page sponsorships are $125.00, and professional designed ad can be created for $75.00.
Send Paypal to: justablaze@comcast.net
Snail Mail to:
Karen Rudolph
11 Agawam Ave
Hampstead NH 03841
I will design ad and will promote your horse on the sales website, on FaceBook and also do e-mail blasts, post ads on popular horse sites & promote the sale horses through full page ads in the AMHA Miniature Horse World magazine.
Please note -
USE THIS EASY TO FILL OUT FORM TO SUBMIT YOUR SALE HORSE ADS:
I would need the following info:
Registered name (nickname also)
Date of birth
Sire & dam (I can look all that up on Studbook)
Projected height
Color (if it isn't apparent)
Temperament
Show records, if any
PRICE and
Any other info you want me to include in the ad
MOST IMPORTANT - nice, quality photographs! I Only need a few (2-3 would be ideal) but can't sell without good pics! The horse would have to be clipped and prepped in the photos as if he/she was heading to a horse show.
There is NO additional fees unless you would like me to handle all the inquiries as the contact person.
If so, I can do all the correspondence with the potential buyers or put your name/number/email/website as the contact. Just let me know! There is a 12% commission charge for this service.
Send inquiries to karen@minihorsesales.com
HOPE YOU ENJOY YOUR VISIT!
Please bookmark our site and come back soon - new horses added often!
What exactly IS a Miniature Horse?
From Wikipedia, the free encyclopedia
Miniature Horse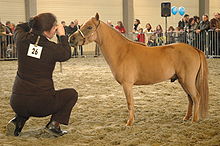 Miniature horse at show in Europe
Distinguishing features
Small size, with horse phenotype 34–38 inches (86–97 cm) as measured at the last hairs of the mane
Alternative names
Mini horse
Common nicknames
Mini
Equus ferus caballus
Miniature horses are found in many nations, particularly in Europe and the Americas.
The designation of miniature horse is determined by the height of the animal, which, depending on the particular breed registry involved, is usually less than 34–38 inches (86–97 cm) as measured at the last hairs of the mane, which are found at the withers. While miniature horses are the size of a very small pony, many retain horse characteristics and are considered "horses" by their respective registries.
They have various colors and coat patterns.
Miniature horses are friendly and interact well with people. For this reason they are often kept as family pets, though they still retain natural horse behavior, including a natural fight or flight instinct, and must be treated like an equine, even if they primarily serve as a companion animal. They are also trained as service animals, akin to assistance dogs for people with disabilities. Miniature horses are also trained for driving, equine agility and other competitive horse show type events.
Characteristics and registration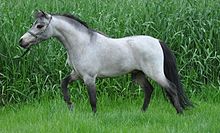 There are two registries in the United States for Miniature Horses, the American Miniature Horse Association (AMHA) and the American Miniature Horse Registry (AMHR). The AMHA was founded in 1978 and was dedicated to establishing the Miniature horse as a distinct breed of horse.[1][2] Many of the international organizations are associated with the AMHA, including clubs throughout Canada and in several European countries.[3] The AMHR is a division of the American Shetland pony Club and was established as a separate registry in 1972.[4] Worldwide, there are dozens of miniature horse registries. Some organizations emphasize breeding of miniatures with horse characteristics, others encourage minis to retain pony characteristics. Along with registries for miniature horses in general, there are also breed-specific registries, such as several for the Falabella horse.[5]
In the AMHR, Miniatures cannot exceed 34 inches at the withers (which the AMHR defines as located at the last hair of the mane). There are two divisions in AMHR - the "A" division for horses 34 inches (86 cm) and under, and the "B" division for horses 34 to 38 inches (86 to 97 cm).[6] The AMHA requires that horses stand under 34 inches. Horses of any eye or coat color, and any form of white markings, are allowed to be registered. The AMHA standard suggests that if a person were to see a photograph of a miniature horse, without any size reference, it would be identical in characteristics, conformation, and proportion to a full-sized horse.[1] According to the AMHR, a "Miniature should be a small, sound, well-balanced horse and should give the impression of strength, agility and alertness. A Miniature should be eager and friendly but not skittish in disposition."[4]
They are generally quite hardy, often living longer on average than some full-sized horse breeds; the average life span of miniature horses is from 25 to 35 years.[7] However, there are also some health issues that are more frequently found in miniature horses than their full-sized relatives. Overfeeding is a common problem in miniature horses, leading to obesity; this is especially true when owners are used to owning full-sized horses. Dental issues, including crowding, brachygnathism (overbites) and prognathism (underbites) are frequently seen, due to having the same number of teeth in a much smaller mouth. They can also experience retention of deciduous teeth (baby teeth) and sinus problems from overcrowding. The combination of a propensity for overeating and dental problems can lead to an increased occurrence of colic. A major metabolic problem seen more frequently in miniature horses is hyperlipemia, where an appetite-reducing stressor can cause the body to break down significant amounts of fat, overwhelming the liver and potentially leading to liver failure. Reproduction is also more difficult in miniature horses, with a higher incidence of difficult births and a greater potential for eclampsia. The majority of the health problems seen more frequently in miniature horses are easily rectified with proper feeding and maintenance.[8]
History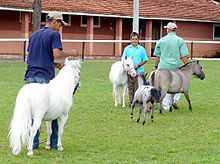 Miniature horses were first developed in Europe in the 1600s, and by 1765, they were seen frequently as the pets of nobility. Others were used in coal mines in England and continental Europe.[9] The English began using small ponies in their mines after the Mines and Collieries Act 1842 prohibited the use of young children as mine workers. Shetland ponies were most frequently seen, although any small, strong ponies that would fit in the small mine shafts were used as pit ponies. The first small horses in the United States date to 1861, when John Rarey imported four Shetland ponies, one of whom was 24 inches (61 cm) tall.[2] Additional small British horses, as well as small Dutch mine horses, were brought to the US throughout the late 1800s.[10] These small horses continued the work of their British relatives, being employed in the coal mines of the eastern and central US until the mid-1900s.[2] In the 1960s, public appreciation for miniature horses began to grow, and they were increasingly used in a number of equestrian disciplines.[10]
The Falabella miniature horse was originally developed in Argentina in the mid-1800s by Patrick Newell. When Newell died, the herd and breeding methods were passed to Newell's son-in-law, Juan Falabella. Juan added additional bloodlines including the Welsh Pony, Shetland pony, and small Thoroughbreds. With considerable inbreeding he was able to gain consistently small size within the herd.[11]
The South African Miniature Horse was developed in South Africa and has a wide range of conformations represented in its population. Some resemble miniature Arabians, while others appear to be scaled-down versions of draft horses.[12] Wynand de Wet was the first breeder of miniature horses in South America, beginning his program in 1945 in Lindley, South Africa. Other breeders soon followed, with many using Arabian horses in their breeding programs. In 1984, a breed registry was begun, and the national livestock association recognized the South African Miniature Horse as an independent breed in 1989. There are approximately 700 miniature horses registered in South Africa.[13]
Uses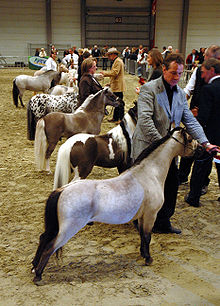 There are many horse show opportunities offered by registries and show sanctioning organizations worldwide.
Many classes are offered, including halter (horse conformation), in-hand hunter and jumper, driving, liberty, costume, obstacle or trail classes, and showmanship. Miniature horses are also used as companion animals and pets for children, the elderly and the handicapped, as they are generally less intimidating than full-sized horses.[9] While miniature horses can be trained to work indoors, they are still real horses and are healthier when allowed to live outdoors (with proper shelter and room to run) when not working with humans.[14]
Controversies
Horse or pony?
There is an ongoing debate over whether a miniature horse should possess horse or pony characteristics. This is a common controversy within the miniature horse world and also is a hot debate between mini aficionados and other horse and pony breed owners. While technically any member of Equus ferus caballus under 14.2 hands (58 inches, 147 cm) is termed a "pony," many breeds, including some miniature breeds, actually retain a horse phenotype and their breed registry therefore classifies them as horses.[citation needed]
Some miniature horse breed standards prefer pony characteristics such as short, stout legs and elongated torsos, while others prefer ordinary horse proportions.[15] Even the name is in dispute, terms such as "Midget Pony" and "Pygmy Horse" used in addition to "Miniature horse" and breed-specific names such as Falabella. The level of controversy is reflected by the presence of over 30 different registries for miniaturized horses or ponies just within the English-speaking world.[16]
Dwarfism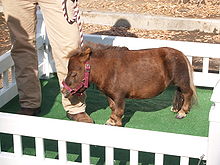 Thumbelina - a Dwarf mare (lef)
Dwarfism is a concern within the miniature horse world. Dwarf horses, while often setting world records for size, are not considered to have desirable traits, generally have incorrect conformation, and may have significant health and soundness issues.[8] Therefore, many miniature horse registries try to avoid accepting minis affected by dwarfism for breeding stock registration.[17] In 2014, a commercial DNA test became available for one set of dwarfism mutations. The four mutations of the ACAN gene are known to cause dwarfism or aborted fetuses in miniature horses. The test does not detect the mutations that cause skeletal atavism in miniature horses and some ponies, or the osteochondrodysplasia dwarfism seen in some horse breeds.[18]
The oldest living horse on record was a miniature horse affected by dwarfism named Angel who lived with the Horse Protection Society of North Carolina and lived to be over 50.[7] The current record holder for the world's smallest horse is also a horse affected by dwarfism, Thumbelina, who is fully mature but stands 17 inches (43 cm) tall and weighs 60 pounds (27 kg). Though she has received considerable publicity, her owners have publicly stated that she will not be bred.[19] In 2010 a 6-pound (2.7 kg) miniature horse foal named Einstein challenged Thumbelina for the title of the World's Smallest Horse in part based upon the idea that there should be a separate world record category for the smallest non-dwarf horse.[20]